Exeter College is supporting four carbon emissions reduction projects this year, that will not only help fight climate change but also help communities in Rwanda, Kenya and Bulgaria.
A step towards carbon neutrality
Reducing emissions of greenhouse gases is essential if we are going to prevent potentially catastrophic climate change.
Exeter College is determined to be part of the solution. We are stepping up to the challenge by working with students, Fellows and staff to select carbon offset projects from around the world that the College will support.
Each project removes, reduces or avoids greenhouse gas emissions while assisting local communities.
What is carbon neutrality?
Our carbon footprint is the greenhouse gas emissions we cause, expressed as carbon dioxide equivalent (CO2e). To achieve carbon neutrality we must reduce our carbon footprint and offset any outstanding carbon emissions. Carbon emissions can be offset by removing the equivalent amount of carbon dioxide from the atmosphere or preventing the equivalent amount of carbon dioxide from entering the atmosphere in the first place.
We recognise that it is important to prioritise reducing emissions, which minimises the need for offsets. Equally, offsetting emissions can be an important part of an environmental strategy, particularly where reducing emissions is challenging or will take time, as is the case given our historic buildings.
A step change
Exeter College is reducing its carbon footprint by using renewable energy sources as well as cutting direct and indirect energy consumption. But we acknowledge that we are facing a climate emergency and we must do more, now. 
That is why we have teamed up with AlliedOffsets, for the second year running, to offset the carbon emissions from the College's day-to-day operations. With their help and input from Exeter's students, Fellows and staff we are supporting a number of emissions reduction projects around the world. 
How much of the College's emissions are we offsetting?
We have calculated our energy consumption from the College's day-to-day operations in 2021 and this year will offset 1,830 tonnes of carbon emissions, roughly equivalent to the carbon absorbed by a forest of 80,000 trees every year.
The breakdown of these calculations includes:
735 tonnes of CO2e from the use of gas
Avoiding 366 tonnes of CO2e from electricity by using renewable energy sources
22 tonnes of CO2e from mains water consumption
174 tonnes of CO2e from our UK students travelling to and from College
872 tonnes of CO2e from international student travel
100 tonnes of CO2e from food and drink
An annual reduction of 74 tonnes of CO2e from the atmosphere by responsible management of College-owned woodland and grassland
While this covers the emissions from the College's own operations and some Scope 3 emissions, we know it will not offset the entirety of our carbon footprint. However, we also know it's a significant and necessary step in the right direction.
You can read more about how we estimated our carbon footprint here.
Emissions reductions projects
In discussion with AlliedOffsets, a panel of undergraduate and postgraduate students, Fellows and staff have chosen a selection of projects that will help prevent climate change. The projects are registered and the potential emissions reduction figures for each project verified and accounted for to ensure they are additional (i.e. they represent an emission reduction or carbon removal that would not have taken place without the offsetting activity). The projects will not only deliver meaningful reductions in greenhouse gases, but also provide socioeconomic benefits for local communities.
In May Exeter's students, Fellows and staff voted to determine the allocation of support between four projects as follows:
Restoring and repairing boreholes to provide clean drinking water to Rwandan communities, removing the need to boil water for purification, significantly reducing greenhouse gas emissions: offset 120 tonnes of CO2e
Distributing improved biomass cookstoves for more sustainable, economic and healthier household cooking in Kenya: offset 173 tonnes of CO2e
Distributing high-efficiency biomass cookstoves to households in Rwanda, addressing several critical public health challenges caused by indoor air pollution: offset 1,051 tonnes of CO2e
Recovering Methane in a wastewater treatment plant in Bulgaria, reducing emissions and producing energy: offset 486 tonnes of CO2e
You can find out more about the projects here.
The College will now purchase these carbon credits with support from a generous donor.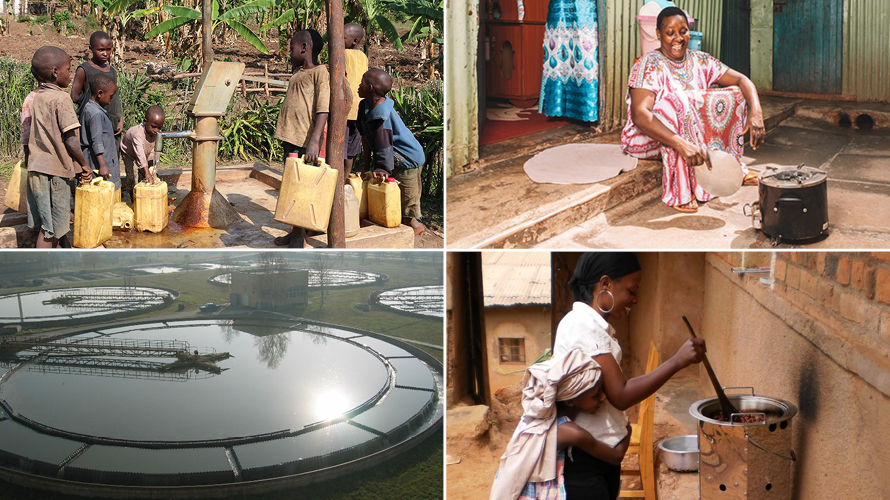 Clockwise from top left: clean drinking water in Rwanda; biomass cookstoves in Kenya; biomass cookstoves in Rwanda; a wastewater treatment plant in Bulgaria.
How Exeter College reduced its carbon footprint in 2021
We are taking steps to reduce the College's carbon footprint by including ESG considerations in our decision-making processes, as well as by cutting energy consumption, waste and other causes of emissions.
Last year we also offset 1,050 tonnes of carbon dioxide emissions from the College's day-to-day operations.
We allocated support between four projects in proportion to the number of vouchers each one received:
Recover methane from landfills in Ecuador and convert it into electricity: offset 193 tonnes of CO2e
Protect indigenous communities in Peru by reducing deforestation and land degradation: offset 550 tonnes of CO2e
Distribute fuel-efficient stoves to households in Guatemala to replace inefficient open-fire cooking: offset 124 tonnes of CO2e
Invest in improved technologies in Malawi including clean cook stoves and promote better and more efficient kitchen and firewood management practices: offset 183 tonnes of CO2e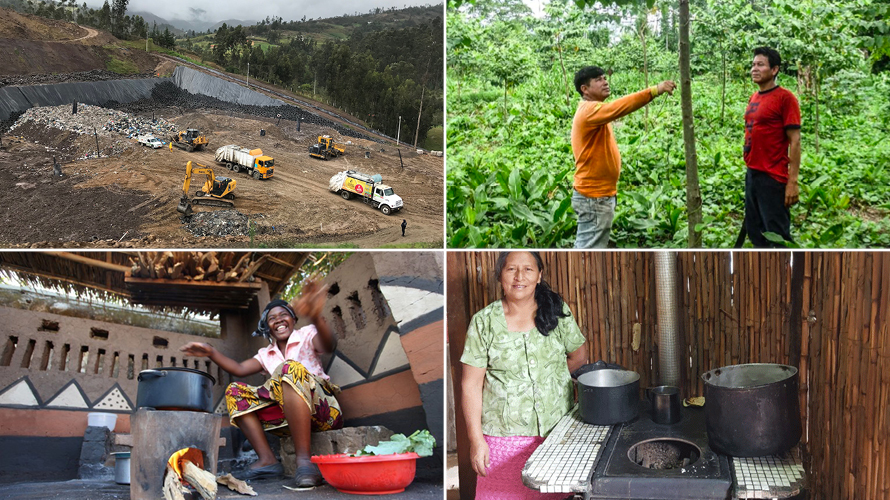 Clockwise from top left: landfill in Ecuador; reducing deforestation in Peru; fuel-efficient stoves in Guatemala; clean cook stoves in Malawi.
Reaching net zero carbon
Before talking about being carbon neutral, or reaching 'net zero carbon', we believe it is important to understand what those words really mean. How big is our carbon footprint? How much can we reduce it? And how quickly? These are difficult and complex questions that we are already exploring and a newly appointed Sustainability Coordinator will help us to get answers to such questions. 
Meanwhile it makes sense to start cutting and offsetting carbon emissions straight away. Preventing catastrophic climate change tomorrow means taking action today. 
We embrace our responsibility to do that, and also acknowledge that offsetting carbon emissions in no way diminishes the need to cut our carbon footprint as quickly as possible. You can read more about what Exeter College is doing to become more sustainable here. 
Research and education
Research and education are vital to preventing climate change and we are proud that so much is being done across the University of Oxford to improve our understanding of climate change and to create innovative solutions. 
A crisis such as the climate emergency should be tackled in as many ways as possible. We believe that cutting and offsetting carbon emissions are crucial actions we should take, alongside research and education, to prevent irreversible climate change. 
Accountability and impact
Detailed information is available about the four projects Exeter College is supporting and each is carefully audited to ensure that they meet their objectives. You can find out more about the projects here. 
Next steps
Exeter College has committed to continuing to measure, reduce and offset emissions from its own operations. You can read more about that pledge here. 
Further reading
The UK government is the first major economy to pass net zero emissions law. There are a number of websites where you can read about the legislation and more about the details and challenges of reaching this goal. 
You can find out more about carbon offsetting in general from climateimpact.com, carbonfootprint.com, voluntarycarbonmarket.org, and onetreeplanted.org.