Exeter College has a proud history of catering at a high level for events of varying sizes.
Our Head Chef, Mark Willoughby, has a passion for creating exciting menus. He creates winter and summer menus to make the most of the seasonal ingredients.  The current menus and wine list are available upon request.
Dining Hall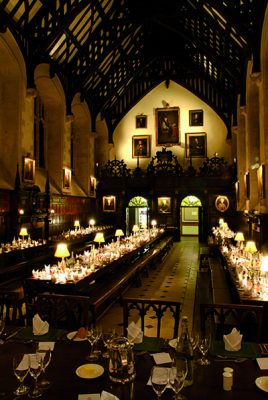 The Dining Hall, dating back to 1618, provides an historic setting for all conference meals and is especially suited to banquets. We are fortunate to offer the Dining Hall throughout term as well as in the vacation. The long polished oak tables can accommodate a maximum of 154 guests, with a minimum number of 40 during the week and 120 at weekends.
Rector's Lodgings
A unique experience for your guests. All the Colleges in Oxford have a Rector's Lodgings or equivalent. They are private residences for the head of the college and are closed doors in all but Exeter College. Our Rector has agreed for the ground floor to be used for commercial bookings, so we can have drinks receptions for up to 90 people or an intimate dinner for 30 in the Drawing Room. There is also a private walled garden outside the room and this can be used for pre-dinner drinks.
Old Bursary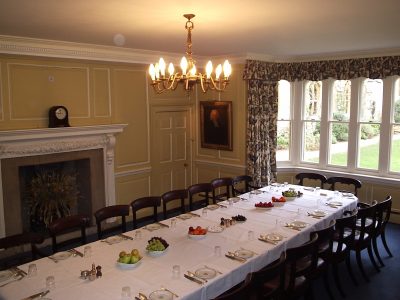 Used daily for Fellows lunch, the Old Bursary can be used for private dinners. Dating back to the 17th century, the room has views of the Fellows' Garden and the Front Quadrangle. The room is suitable for dinners for up to 20 people.
Fellows' Garden
This walled garden has spectacular views of the Radcliffe Camera and the Bodleian Library. In summer the garden can be used as a venue for drinks receptions for up to 400 guests. Marquees are allowed on the lawn, and we can arrange drinks, canapés or a full bar in the garden.
Further Information
For more information, please see the 'Guide to Banquets'.