Exeter holds inaugural Three-Minute Thesis competition
Imagine trying to distil your DPhil research and explain it to a non-specialist audience in just three minutes. No props, no gimmicks, and absolutely no extensions. Just 180 seconds to explain your thesis better than anyone else. Those are the rules of the Three-Minute Thesis© competition, created by the University of Queensland.
On 30 April Exeter College held its first ever Three-Minute Thesis tournament. Six graduate students described their research to an audience and panel of judges at Cohen Quad's FitzHugh auditorium, with topics ranging from the history of English typefaces to the modern banking system. As well as revealing some of the remarkable research being conducted by graduate students at Exeter College, the competition challenged students to develop skills that will be invaluable after they complete their studies.
A panel of judges made up of Fellow in English Jeri Johnson, Fellow in Physics Garret Cotter, and alumnus Bill Westwater (1986, Modern History) decided the winner and runner-up, while the audience voted on the recipient of the 'people's choice' award.
The entrants were:
Shiri Heffetz, MSc in Mathematics and Foundations of Computer Science: 'From social networks to voting systems'
James Misson, DPhil in English (History of the Book): 'What English looks like'
Franziska Poprawe, DPhil in Philosophy: 'How ought we to reason?'
Xuan Wang, DPhil in Management Studies – Financial Economics Pathway: 'Money Creation in Modern Banking System'
Rina Ariga, DPhil in Cardiovascular Medicine: 'Predicting the unpredictable with a heavy heart'
Till Weidner, DPhil in Systems Engineering: 'Optimising the urban resource nexus with large-scale urban horticulture and decentralised organic waste management'
All of the contestants stepped up to the challenge admirably and delivered interesting, highly condensed talks. Particular congratulations to Rina Ariga, who was awarded first place by the judging panel and also scooped the People's Choice award for her talk about hypertrophic cardiomyopathy and ways of identifying people with this life-threatening condition. The judging panel awarded second place to Till Weidner, who talked about ways of making food production more efficient in urban environments. We would like to thank all of the contestants for taking part and providing such an enjoyable evening.
You can listen to four of the six talks using the audio tool below, as well as view the slide for each of those four contestants: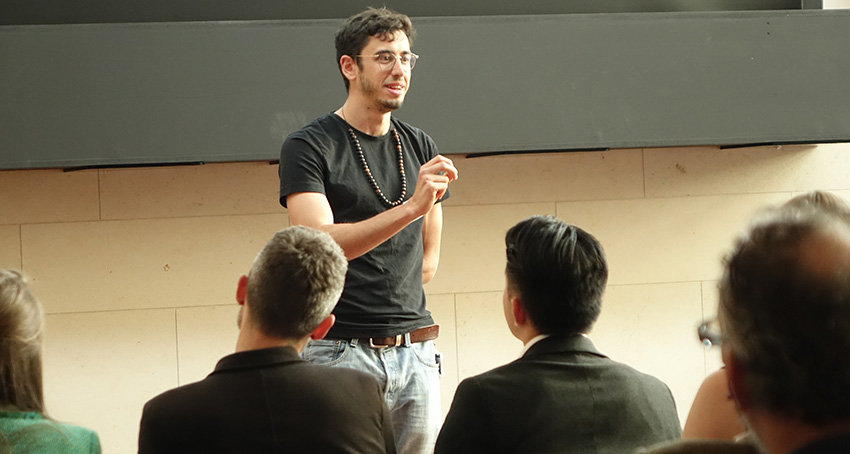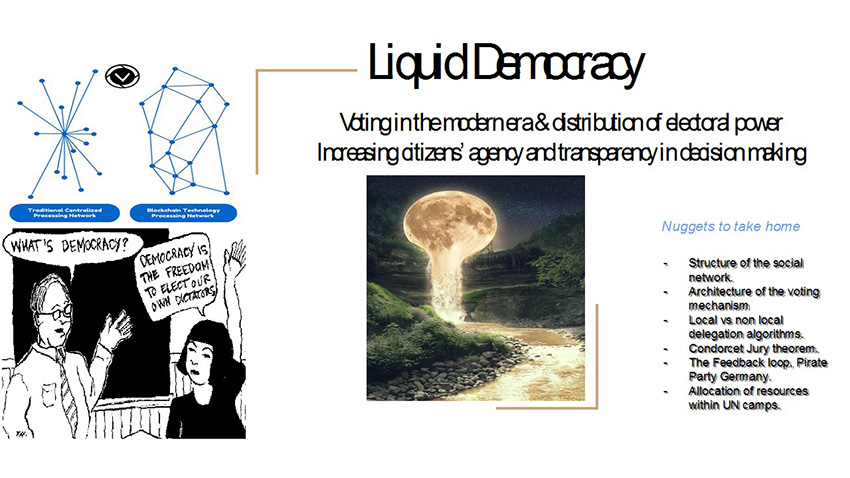 Above: Shiri Heffetz, 'From social networks to voting systems'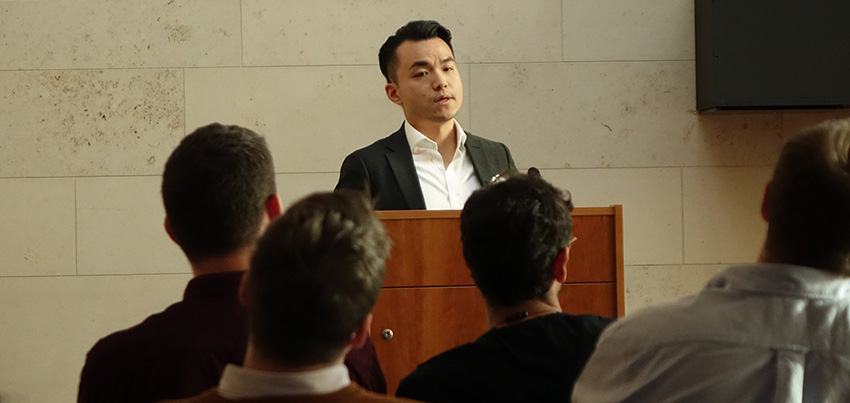 Above: Xuan Wang, 'Money Creation in Modern Banking System'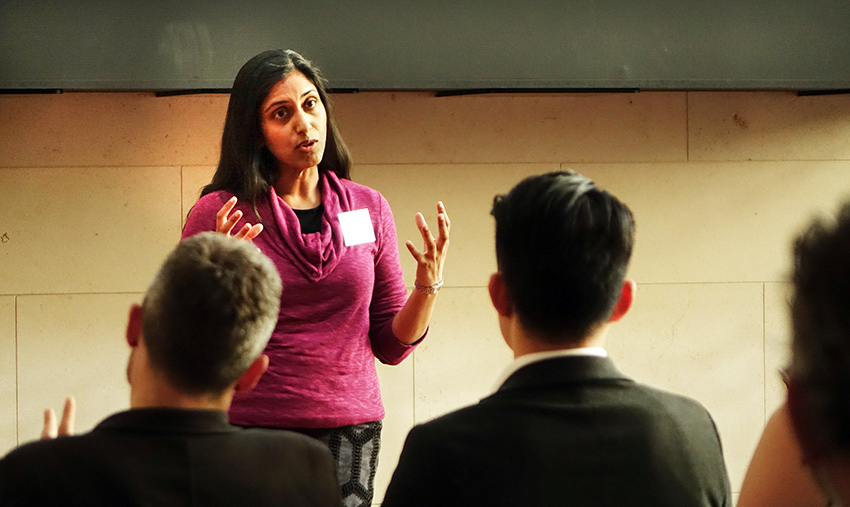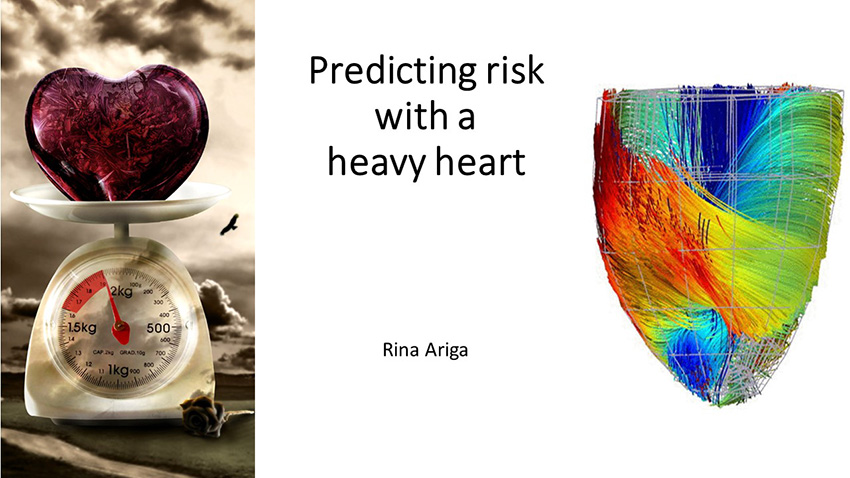 Above: Rina Ariga, 'Predicting the unpredictable with a heavy heart'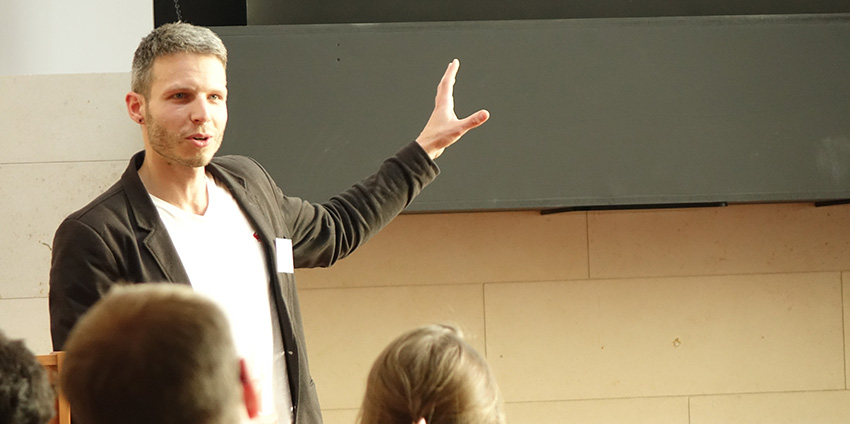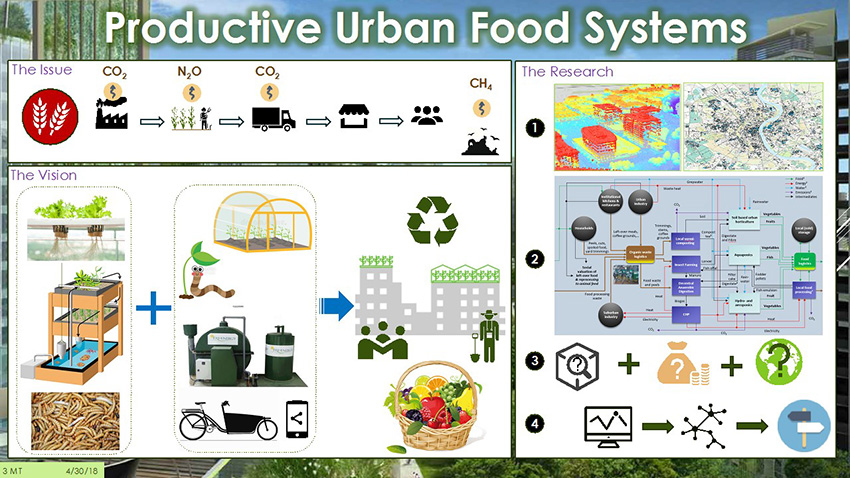 Above: Till Weidner, 'Optimising the urban resource nexus with large-scale urban horticulture and decentralised organic waste management'