30th November 2021
Costi Levy (2019, Philosophy and Spanish)
A successful return to rowing for Exeter College Boat Club
'ECBC's Michaelmas season is progressing better than we could have imagined', writes Exeter College Boat Club's President, Henry Hampson. After two years of restricted water time on account of flooding and Covid-19, ECBC are back training on the water on a regular basis.
Bee Dutton, who was a coach and key member of the ECBC community for many years, has just started a new role at Abingdon School. ECBC has welcomed two new coaches, both rowers and students at Oxford Brookes: Rachel Cannon and Louis Nares. Rachel, who has represented Scotland three times, learnt to row at Glasgow Schools Rowing Club, and Louis comes to ECBC from Shrewsbury School.
Rachel and Louis have spent Michaelmas term developing novice rowers and coxes. It's been all about converting teaching on the rowing machine to teaching on the water: 'the athletes all move well on an ergo', notes Rachel. 'I would argue that the hardest thing this year is trying to get across the language and what I mean by it'. Through regular outings, as well as support and patience from the senior rowers, the novice rowers have made great progress this term: 'they're all great people to work with', says Rachel.
Off the water, the whole squad has also been training hard. Twice a week, all the athletes come together for a land session. This is great for encouraging team morale and enables the coaches to gather essential data for putting boats together.
In 6th week, the squad had their first race of the season at Nephthys Regatta. The M1 had an incredibly tight race against Teddy Hall's M1, who ranked 5th at Summer Torpids last year. Whilst the W1 sadly had to withdraw, the W2 also had a great run down the track – for many of the rowers it was their first-time racing.
ECBC now look ahead to Christ Church regatta, the culmination of Michaelmas Term rowing. We wish them the best of luck.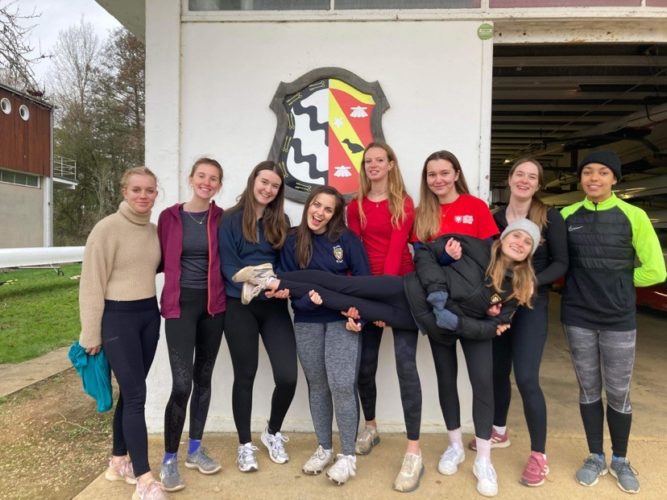 Exeter College crews at the Nephthys Regatta where many of our rowers were racing for the first time.