Overview
Being energy friendly

Lights off: turn off the lights if you're the last one to leave the room
Boil less: only boil as much water as you need (this could save £3 per day per kettle)
Switch off: turn off appliances at the socket when not in use, and try to keep electric heaters off for good (they consume up to £1 of energy per hour and can increase the risk of fires)
Layer up: bring a jumper for comfort during the winter months and close windows and doors (except during periodic air circulations) – for more information see the next section
Power down: turn off your computer and screen at the end of the working day if you're not working remotely, and make sure your computer is set to 'hibernate' if you're away from your desk

Breeze in, sun out: Let the breeze in during the cooler hours and keep the sun out by closing blinds to rooms in direct sunlight.
Drink up: Remember to stay hydrated. You may need to drink up to three litres of water on a very hot day.
Dress for the weather: loose fitting clothing and light fabrics help air flow to your body.
Cool to 26: We're cooling buildings to 26°C to save energy. If you can change local controls, don't go below this level. Remember, setting a lower temperature doesn't cool the space quicker.
Switch off: All appliances emit heat. Turn them off at the socket when not in use. If you can access local controls, turn off the air conditioning when you leave the room. And turn off your computer and screen at the end of the working day, and switch to 'hibernate' if you're away from your desk.
For more information see the University of Oxford's Be Energy Friendly page.
Understanding our heating systems
The three key rules of thumb for efficient heating are:
Open windows fully for 5 minutes to get fresh air and then close them again so that your room remains nice and warm.
Turn the heating off (if possible – see below) when you leave your room. This is a major saving as heating requires a lot of energy.
With traditional radiator valves only turn the heating to 2-3 as this will keep the temperature at a nice and comfortable level of around 20C. Anything above that will tend to mean you overheat, causing stuffy air and wasted energy.
Exeter College has various different heating systems from traditional gas boilers to modern solar thermal heating and both ground- and air-source heat pumps. Have a look at your site to understand how our heating works.
Turl Street
The main College site is heated through various big boilers using gas to heat water. Exeter is working on a decarbonisation plan to change this. However, while we still use gas, turning the heating to freeze protection setting (the snowflake symbol) whenever you leave a room empty will lead to substantial savings of both gas and carbon emissions. To help in this, the boilers are also set to standby mode at night and from midday until the early afternoon. In addition, Ecosync smart radiator valves have recently been installed in Staircases 12 to 14. These valves make it easy to turn off radiators when rooms are not in use.
Cohen Quad
Cohen Quad has underfloor heating meaning that the temperature only changes very slowly over the timespan of a day and stays constant, which is why having the temperature set to a sensible setting between 18-20C makes most sense in Cohen Quad.
Exeter House
Exeter House has a mix of gas boilers, an air-source heat pump and ground-source heat pumps. This means that some buildings have underfloor heating whereas others have traditional wet radiators meaning it is a mix of Turl Street and Cohen Quad approaches to heating.
Stapledon House
Stapledon House has the most advanced temperature control system in College as the radiators are fitted with smart thermostat valves which help to save energy. Please use the QR codes to turn off the heating when you do not need it and keep temperatures to a healthy 18-20C.
Waste management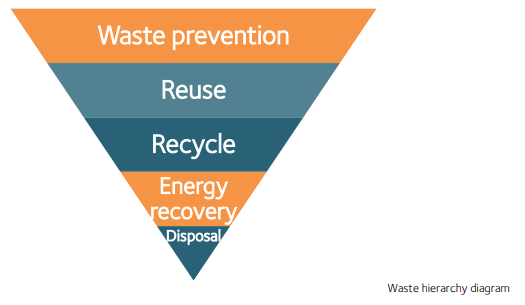 Preventing waste is the first step to reducing waste issues. Consider which items you need and act accordingly. When you no longer require items which can still be used, reusing them is the best way to go about this. You can find more information about what to do with unwanted textiles and electrical items on the City Council website. Furthermore, at the end of the year in Trinity Term, Exeter organises a charity collection for things you no longer need but are perfectly usable. Look out for information about the British Heart Foundation Collection towards the end of Trinity.
For items that cannot be reused, the next step is to check whether they can be recycled. Exeter College collects dry mixed recycling, mixed glass recycling and food waste separately. Only the remaining non-recyclable and non-hazardous items should go into general waste.
Dry mixed recycling
All containers must be clean, empty and dry.
Paper and cardboard
Drinks cans and food tins
Plastic bottles, containers and trays with a recycling triangle on them saying PET 1, HDPE 2, PVC 3, PP 5, or PS 6

Do not

add black food trays

Do not

add items with food or drink contamination
Food waste recycling
The cleanest and greenest option for disposing of food waste.
Out-of-date food
Leftover scraps and peelings
Tea bags and coffee grounds
Meat and fish (raw or cooked)

Do not

add packaging
Mixed glass recycling
For all types of glass packaging.
Glass bottles (all colours)
Glass jars (without lids)
Glassware

Do not

add heat-proof glass (e.g. Pyrex)

Do not

use sacks or bags to hold the items
For more information and an accessible version check out the University's Waste Guide and SELECT – Waste Management & Recycling Services.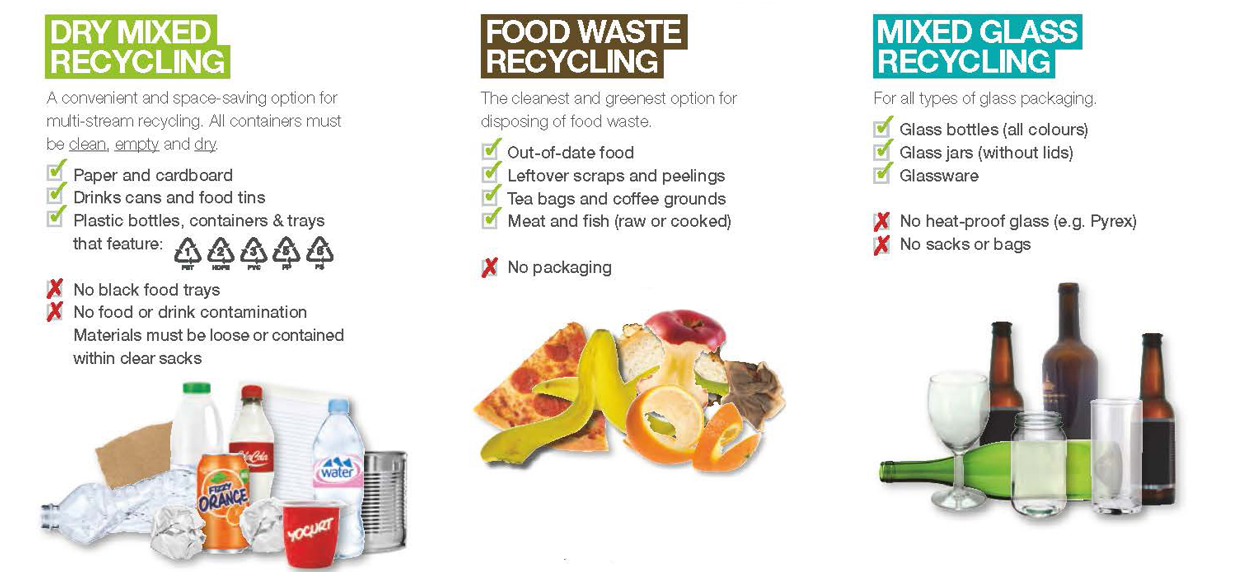 Cycling in Oxford
Cycling is a popular and quick way to get around Oxford. We have bike storage at the main site and our various accommodations. If you are bringing a bike or plan to buy one when you arrive in Oxford, you will need to register your bike at the Lodge. You may also want to consider renting a bike daily or termly through OxBikes.
If you want to learn to ride with confidence, the University provides up to six hours of free bike training. We also recommend that you register your bike on the national Bike Register at one of the University's events and that you get a Strong D-lock and good bike lights, both of which are available at a discount from the University. The University also has useful information and resources to help keep your bike in good repair and secure.
Living sustainably in Oxford
For detailed guides on how to live sustainable in Oxford see Living Sustainably in Oxford and Sustainable Consumption Guide.
Some simple tips are to:
Go small and local – support small businesses in your local community. Buy your gifts locally and more sustainably using the Oxford Local Businesses list from the Bodleian Libraries.
Check out the library of things and repair cafes – there are various options for borrowing items such as bike repair kits from the Lodge, or having a look at SHARE Oxford which has an overview of repair cafes and things you can borrow in Oxford.
Sustainable gifting
Go Fairtrade: crafts, wine, chocolate, flowers, cosmetics, olive oil, and other Fairtrade products are perfect gifts. You can find a wonderful variety in Oxford Fairtrade shops. You'll be giving twice, including the producer who earns fair payment for their products
Support a worthy cause
Buy a gift with added value such as products made from recycled ocean plastic, purchased from a charity shop or social enterprise
Give eco-friendly items that will support a more sustainable lifestyle, such as a bee house or reusable products
Give an experience such as tickets to the theatre
Use a swapping platform to give away your old toys and receive pre-loved ones
Some more ideas for a sustainable Christmas are below:
How to get further involved in sustainability in Oxford and Exeter
The easiest way to get involved in sustainability at Exeter College is to join our Green Impact Team by contacting the Sustainability Coordinator at sustainability@exeter.ox.ac.uk.
Lastly, if you are interested in getting involved in sustainability in Oxford more widely you can have a look at the Students Organising for Sustainability Website, the Sustainable Students Oxford Website, as well as the Oxford SU Sustainability Hub.