Abseiling event at Exeter College raises £6,300 for charity
On Saturday 17 June, 40 participants abseiled down the Exeter College Lodge Gate Tower to raise money for Oxfordshire-based charity Helen & Douglas House. The event raised over £6,300, which will be used to support terminally ill children and their families.
Exeter College was the ideal choice for the event due to its central location and its beautiful (and sturdy!) tower at Turl St. The tower's approximately 25-metre height provided an excellent view of Oxford's spires and rooftops. After a briefing by abseil instructor Dave Talbot, the 40 adrenaline-seekers abseiled down the tower one by one in their bright orange Helen & Douglas t-shirts, and met their families and supporters at the bottom of the tower. Participants included several Exeter College students, as well as Exeter's Development Administrator Olivia Ace, who was cheered on by her two children.
Exeter College Steward Philip Munday commented: 'Exeter College has supported Helen & Douglas House for many years, including as a base for sponsored runners before and after fun runs and half-marathons. The care the charity provides for terminally ill children and their families is absolutely wonderful and crucial. We are always happy to welcome people at Exeter and support Helen & Douglas House whenever we can. When I heard they wanted to organise a sponsored abseil somewhere a bit unusual, I immediately thought Exeter College would be ideal, with its impressive tower and beautiful setting here in the centre of Oxford. The tower is one of the tallest around and if you've got a head for heights the views are outstanding.'
After completing the descent Olivia Ace said: 'The work of Helen & Douglas house is invaluable, providing support for families in the darkest of times. As a mum of two I couldn't not take the opportunity to support them. I remember abseiling at school and really enjoying it so decided to take on this challenge. The experience on the day was brilliant! Dave Talbot's team made us feel very safe and the views were unforgettable.'
Julia Woodcock from Helen & Douglas House said 'Our abseil sold out months before the event which was amazing so if you want to take part next year, register your interest now on our website. We are so pleased this is such a popular event and we are so grateful to Exeter College for allowing us to hold this event at their college. It is the ideal venue with spectacular views from the tower. I would also like to say a big thank you to all the participants who have raised over £6,300 with money still coming in, to help local terminally ill children and their families.'
You can learn more about Helen & Douglas House and donate here.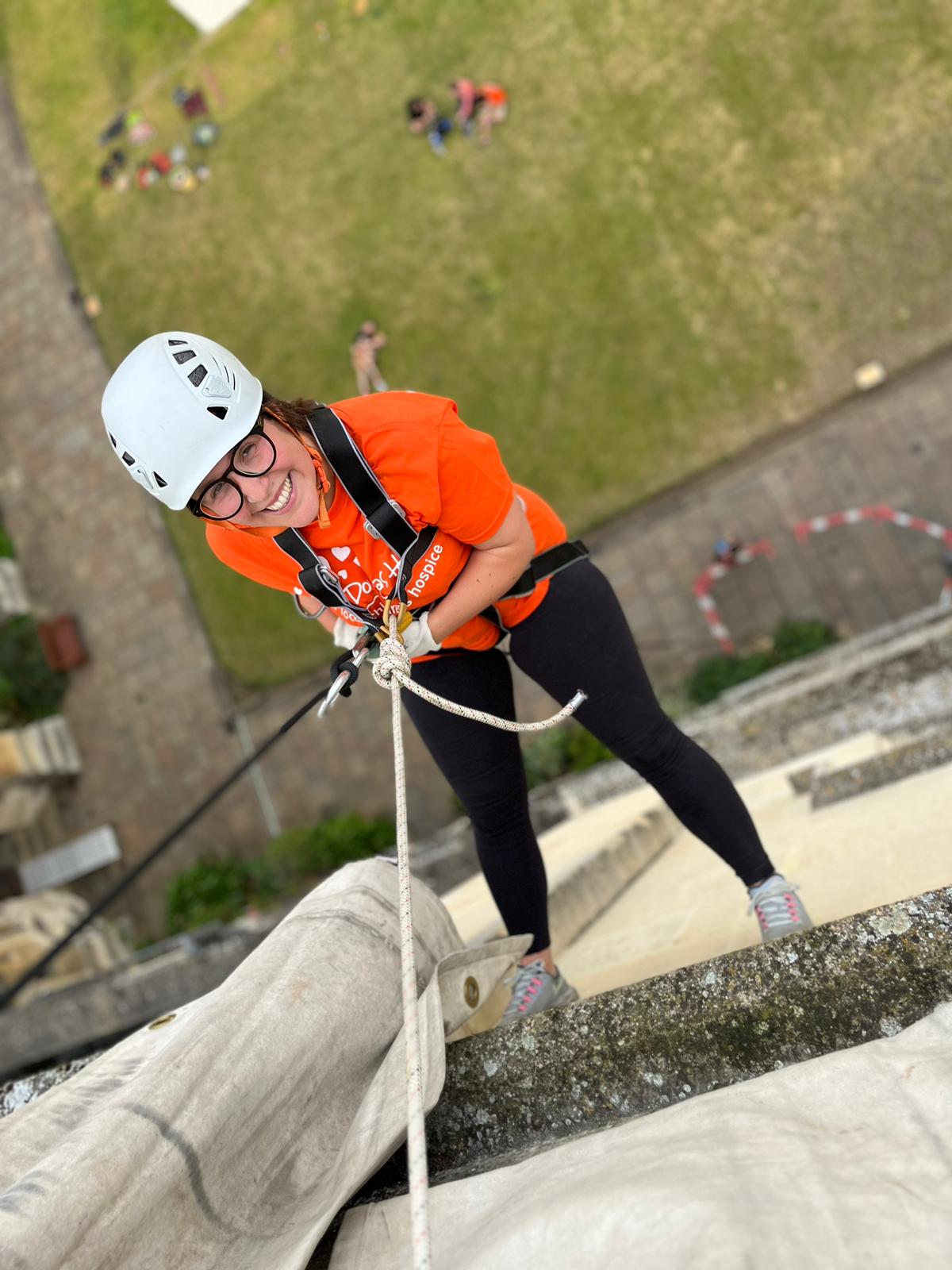 Exeter College Development Administrator Olivia Ace abseils down the Exeter College Lodge Gate Tower