30th April 2021
Rosa Chalfen (2019, English)
Academic Support Officer Waverly March to publish short story in anthology
A short story written by Exeter's Academic Support Officer Waverly March, who writes as Waverly SM, is to feature in an anthology of queer fiction.
The story, titled 'The Last Good Time to Be Alive', follows two internet girlfriends navigating ecological disasters in a futuristic town. Zuri, who lives alone in a town abandoned to climate change, and Marlo, who has been able to find a safe place to live in London, must try to endure a storm that is flooding Zuri's home. The story explores themes of home in a utopian future setting with hidden costs.
Originally published in Reckoning, a creative writing journal on environmental justice, the story will now be featured in We're Here, an anthology featuring the best queer speculative fiction of 2020. The anthology will also feature works by published authors such as John Wiswell, Lina Rather and other well-known fantasy writers.
Waverly is thrilled with this news, commenting: "I am absolutely humbled to be part of the anthology, given the sheer amount of talent in the table of contents – I submitted to it expecting nothing, and am the best, happiest kind of surprised to have been proven wrong."
Read Waverly's story here: The Last Good Time to Be Alive | Reckoning
We're Here: The Best Queer Speculative Fiction 2020 is available to pre-order via the Neom Hemlock Press website.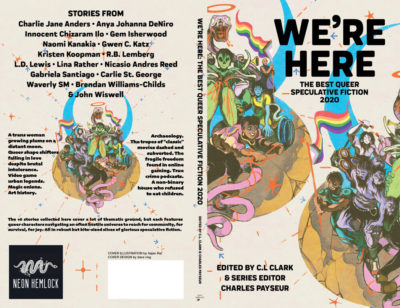 Image credit: Neon Hemlock Press, We're Here 2020, Cover Art by Sajan Rai.