27th January 2020
Alice Hopkinson-Woolley (2018, Modern Languages)
Alice Hopkinson-Woolley (2018, Modern Languages) represents Oxford in Varsity skiing races
Alice Hopkinson-Woolley (2018, Modern Languages) represented the Dark Blues at the annual Varsity skiing races, with a sports grant from Exeter College helping to make the trip possible.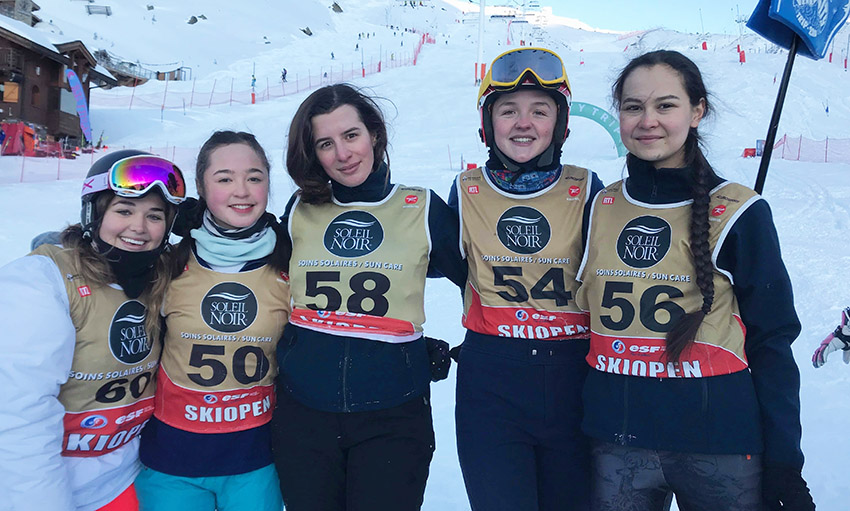 Alice Hopkinson-Woolley (second from right) and other members of Oxford's Varsity skiing team
At the end of Michaelmas Term in my first year I was more than ready to push my numerous bags down the stairs, fall into the homeward bound car and spend Christmas recovering from the chaos that was my first term in Oxford. This year however, although the bag situation remained disturbingly heavy and a cancelled flight meant I did indeed fall into another four-wheeled vehicle at the end of 8th week, a recuperation period was not part of the plan and, instead, I headed out to the Alps with the Oxford ski team to take on Cambridge in the 97th Varsity Races.
Set to be a draining week both physically and financially, I was fortunate to be travelling with the help of a sports grant from Exeter, which made a big difference when you've got to cover transport, accommodation, lift passes and race entry fees, not to mention A LOT of food!
Although our journey time had increased six-fold, from just four to twenty-four hours(!), thus curtailing our first morning's training session, we still arrived a couple of days before the remaining 3,000 students, so had time to limber up and attempt to rediscover our ski legs. With our very passionate, verging on mad instructors shouting tips and tricks up and down at us on the slopes all day long, we slowly gathered our wits and our frequently lost skis and assembled three men's and three women's teams to take on the Light Blues.
On race day itself we lost one skier to a stretcher with a torn anterior cruciate ligament, making us even with Cambridge who were down one after an elbow fractured in training. So all was still to play for as we lined up to race slalom followed by giant slalom.
Blue skies provided almost perfect visibility, but a heavy snowfall the night before necessitated hours of course slipping to ensure "adequate safety" – not a phrase to inspire confidence before your first race…ever! I somehow made it down alive, however, and after the relief of surviving had worn off, excitement set in: my team had beaten Cambridge! Although Cambridge may have "technically" won overall, with four of their six teams winning, the general mood was high on both sides and we even went as far as celebrating that evening with the skiers from "the other place"!