Many congratulations to Exeter College alumna Dr Emily Jones (2010, Modern British and European History), who has won the 2018 Longman-History Today Book Prize for her debut book, Edmund Burke and the Invention of Modern Conservatism, 1830-1914. The book, published by Oxford University Press in 2017, is based on Dr Jones's DPhil research, which she undertook at Exeter College. It explores the transformation of Edmund Burke (1730-97) from Whig politician to 'founder of modern conservatism' in Britain.
Awarding the prize at St Ethelburga's Bishopsgate in London, History Today editor Paul Lay remarked on the work's timely nature.
After receiving the award Dr Jones wrote on Twitter: 'Absolutely gobsmacked & delighted to have won the History Today Longmans Prize! The book was once my DPhil – so LOTS of ups & downs on the way – but it's brilliant to be able to say that intellectual history/political thought can be accessible & deserving of a wider audience.'
Established in 1997, the Longman-History Today awards are made jointly by the publishers Longman and History Today magazine to foster a wider understanding of, and enthusiasm for, history. Also on the 2018 Book of the Year shortlist was Law & Order in Anglo-Saxon England by former Fellow of Exeter College Dr Tom Lambert. Dr Lambert was Bennett Boskey Junior Research Fellow in Medieval History between 2012 and 2015.
You can read more about Edmund Burke and the Invention of Modern Conservatism here and about Law & Order in Anglo-Saxon England here.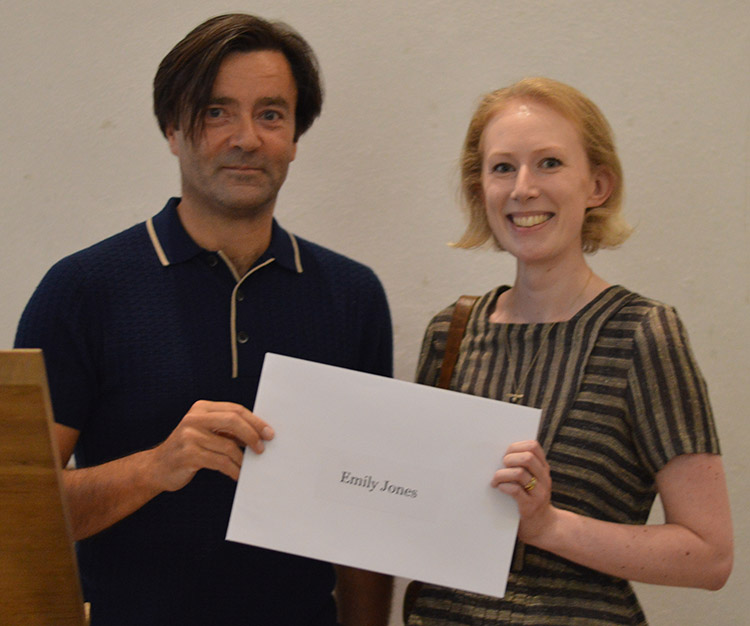 Emily Jones collects her prize from Paul Lay (Image credit: History Today)