Alumna Louise Biddle (2008, Earth Sciences) studies Southern Ocean currents using elephant seals
Exeter College alumna Louise Biddle (2008, Earth Sciences), a researcher at the University of Gothenburg, has found an innovative way to map ocean currents and study climate change: by tracking southern elephant seals.
Ice sheets make the currents of the Southern Ocean exceptionally difficult to study. Large icebreaking ships cannot consistently observe small-scale ocean activity, and sea gliders – small instruments that sink in the water and surface periodically to transmit data – don't work under the ice. And yet recording conditions in the Southern Ocean is crucial to improving our understanding of climate change.
To overcome this blind spot, Louise and her colleague at the University of Gothenburg, Dr Sebastiaan Swart, turned to seals, which have been monitored in the Southern Ocean for decades. Trackers placed on the seals transmit information from dives, including depth, lateral distance, water temperature and salinity, all of which gets filed into open-access databases, providing a wealth of information. Their analysis of the data has led to some surprising revelations.
Louise and Sebastian published a paper about their research in May, which received coverage in the New York Times. To read their paper click here or to read the New York Times article click here. To read more about Louise's research visit louisebiddle.com.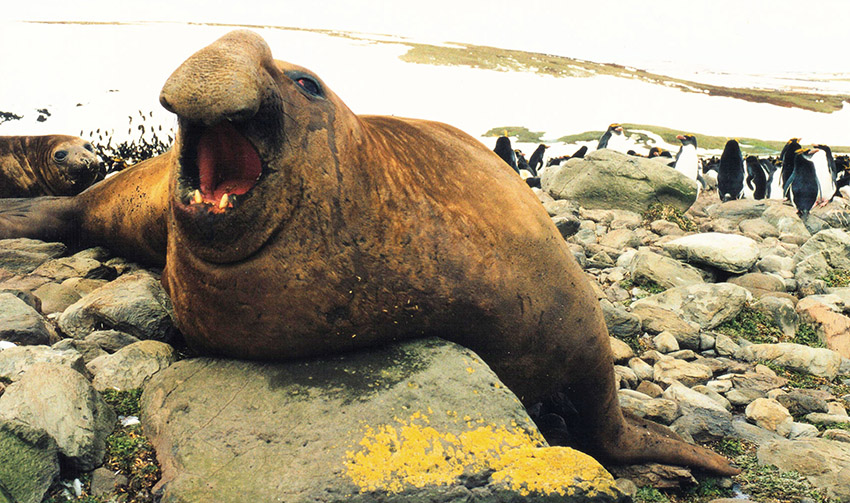 A southern elephant seal. Photo by B.navez