24th March 2021
Costi Levy (2019, Philosophy and Spanish)
Alumna research: Michelle Fernandes investigates early child development around the world
To mark Women's History Month Exeter College news intern Costi Levy has been speaking to Exeter students and alumnae about their work. In this report alumna Dr Michelle Fernandes (2008, DPhil in Child Psychiatry) reveals her investigation of early child development around the world and how it debunks racially driven myths about intelligence.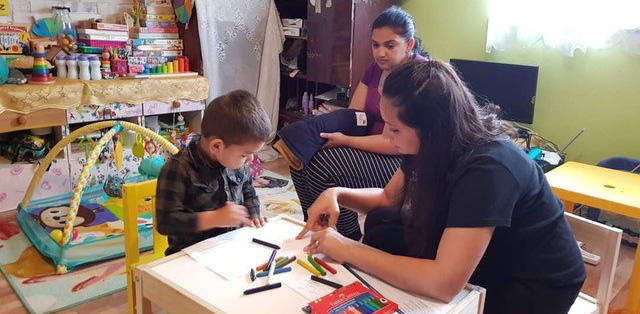 'I've always been interested in child health,' Michelle says. 'Tiny neonatal brains are fantastic things: they can be changed whichever which way you want, they're incredibly plastic. We call them a double-edged sword.'
Michelle trained at St John's Medical College in Bangalore, then studied a DPhil in Child Psychiatry at Exeter from 2008-2012. She was a central part of the Exeter community, acting as Junior Dean for three years. Her DPhil focused on how depression and stress in mothers during pregnancy affects the foetal brain. Her global research showed a parabolic relationship between maternal stress and the child's welfare, an indication that 'there's a happy middle of maternal stress'. Michelle describes the intrauterine environment as a 'kind of weather forecast,' providing a clue to the environment into which the foetus will eventually be born. With a moderate level of stress in the womb, the foetus is likely to develop to handle moderate insecurity well.
Following her DPhil, Michelle continued to work with children around the world from 0-1000 days of age (conception until second birthday). Honorary research fellow at Oxford, she is the infant development lead for the INTERGROWTH-21st Project and the INTERBIO-21st Study. These international networks are funded by the Gates Foundation and aim to improve perinatal health globally. 'What are we doing when we try to push our children into following one growth curve? Do we really know what normal is?', asks Michelle. 'That's why INTERGROWTH was such a great project for me – I was able to ask and answer that question.' Investigation of healthy, well-nourished women in a good environment with adequate medical care displayed a growth difference of less than 10 percent between countries. These findings indicate that, if given an equal start in life, foetal growth potential is very similar in all of us. Michelle's findings are of great importance as they iterate, yet again, that nurture is far more important than nature, and that racially driven myths about intelligence are misconceptions, at best.
A specialist doctor in neonatal medicine, Michelle divides her time between working as a clinician and extending her research. She has devised a model which predicts developmental delay early – a crucial tool in the mission to 'rescue' developmental issues. 'If you need to treat a developmental delay in a child, it has to be done before the child is three years of age,' she notes. 'It's an 80 to 90 percent rescue before then'. Whilst her model has been used on 15,000 children in 14 countries, Michelle emphasises that there is a large logistical challenge involved in the process. Assessment takes time and requires a human being: 'it's not something you can do for every single child across the world.'
Commenting on her experience as a woman in research at a high level, Michelle stresses that it is essential that women are hired on account of their intellectual contribution to their field. 'It should not become a checkpoint exercise,' she says. 'People need to be rated on their ability and on their potential … we need to say, yes, women can have bright innovative ideas, they can make cutting edge discoveries.'