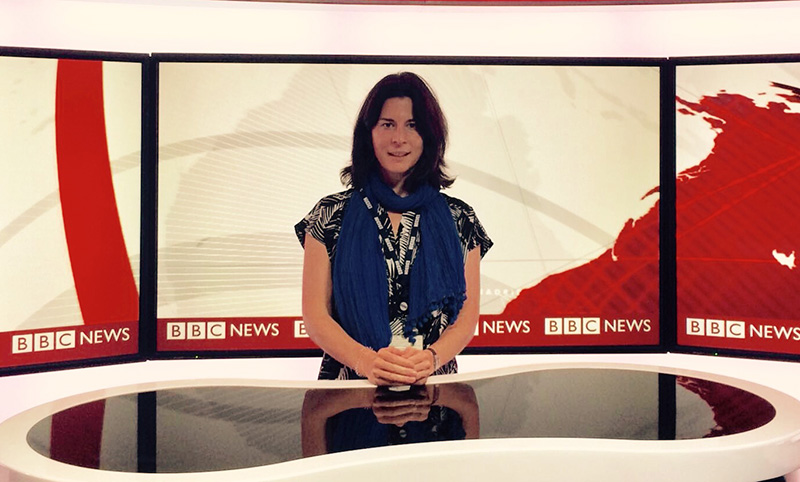 Charlotte Morgan, Senior Head of Communications for BBC News
I soon realised that although there was disappointingly little demand for my knowledge of Beowulf, the Exeter tutorial system had equipped me perfectly to be put on the spot during high-pressure meetings with Secretaries of State…
I applied to Exeter because of its West Country connections (I'm from Cornwall), and because I was very taken with the huge and beautiful horse-chestnut tree in the Fellows' Garden. By the time I arrived for interview, the tree had been felled, but that was my only disappointment with Exeter.
I often say I chose English so I could read books all day, which is my idea of fun rather than work. Learning Anglo-Saxon certainly tested this theory, but there was something satisfying about a syllabus which covered over a thousand years of language and literature. Much to my surprise, I also took up rowing. I'd never been remotely sporty nor early-rising, but even now I'm becoming nostalgic thinking of the mists rising over the Isis on a May morning. No doubt this gave me teamwork and leadership skills, as well as calloused hands…
Initially I had no ambitions of going into PR, which I didn't think sounded remotely serious; yet I've had a series of interesting, challenging jobs working alongside formidable and influential people, where I have a seat 'in the room where it happens', to quote Hamilton. After College I drifted a bit, workwise. My stint in publishing was fun, with champagne lunches but beans on toast wages, and then I saw a newspaper advert for the Government Information and Communication Service – a rather Orwellian title. In the heyday of New Labour, communication was taken seriously, and fledgling spin doctors had a promising career ahead.
I became a civil servant, starting as an Assistant Information Officer and ending up as Head of News at the Department for International Development. Along the way I rode in the Prime Minister's cavalcade, visited slums and embassies, and flew over Camp Bastion in a Black Hawk – my personal career highlight. I also spent hours outlining, explaining, and justifying government policy – of all political hues – on everything from local government finance to international disaster relief. I soon realised that although there was disappointingly little demand for my knowledge of Beowulf, the Exeter tutorial system had equipped me perfectly to be put on the spot during high-pressure meetings with Secretaries of State, to deal with difficult questions from journalists, and to summarise key points of a detailed document I'd speed-read.
I'm now Senior Head of Communications for BBC News: a fascinating and testing job in which I lead a team of publicists around the world. Lately I've organised the launch of a new bureau in Seoul (BBC news is available in more than 40 languages, from Korean to Pidgin), co-ordinated the introduction of the new Question Time presenter, and dealt with numerous controversies about our output. The fact everyone has a stake in the BBC means we're under particular scrutiny – especially at a time of such polarised opinion in the UK.
It will come as no surprise that the internet, and social media, have changed much about this job over the years; yet the principles of working out what you want to say and the best way of saying it have held true throughout. Remarkably like writing an English essay, in fact.