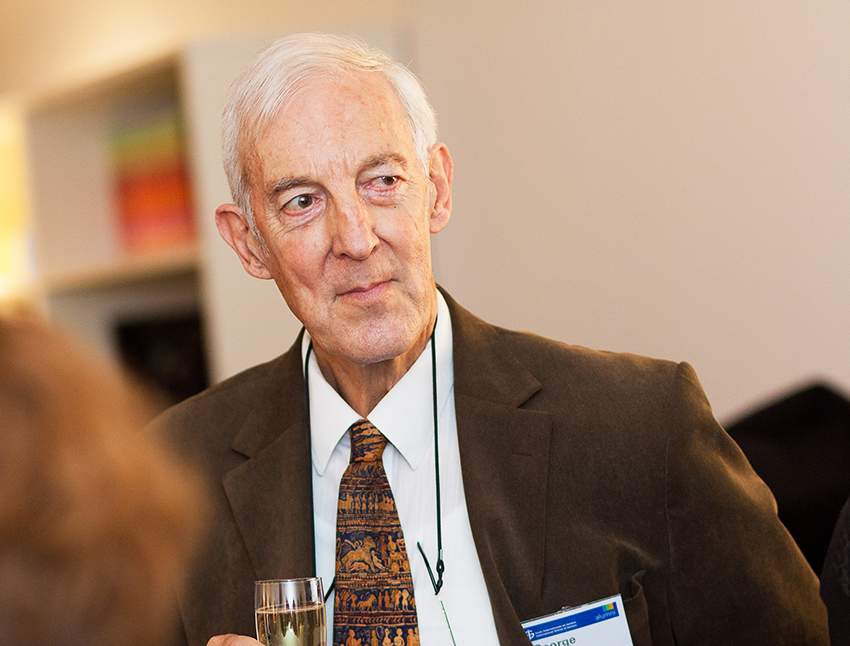 Dr George Walker
Winston Churchill once remarked that 'Headmasters have powers at their disposal with which Prime Ministers have never yet been invested', and he was right…
Only one thing was clear as I approached the end of four very happy years at Exeter: I was not going to teach.
The reason was simple. All my family – both parents and two siblings – were teachers or lecturers. Surely it was time for one of us to do something different. Instead I had ambitions to become a concert pianist; ambitions which were put on hold while I acquired a 'serious qualification' as an insurance policy. I loved chemistry, because it retained elements of the mystery of alchemy and used beautifully shaped glass vessels. I graduated with a BA and a BSc, but Exeter gave me more than degrees: the opportunity to perform, a supportive tutor, and an Amelia Jackson bursary which took me to the University of Cape Town and a year's post-graduate study with the distinguished American pianist, Lamar Crowson.
Trivial events can sometimes determine the whole direction of one's life. The academic year at UCT did not start until January, so I had the autumn term to fill. How to fill it? By teaching, of course, and no sooner had I closed the classroom door than I knew this would be my career. There were many reasons: teaching is intellectually stimulating, teachers never have to justify their choice of career, schools are places of perpetual regeneration, and a lively staffroom provides a wonderful social base for a young teacher.
Fast-forwarding ten years: I decided not to try and earn a living as a pianist (I had left it too late) but I shall always be grateful to Exeter for helping me develop from a gifted amateur to a semi-professional, with music enriching every aspect of my life, including my marriage. Instead I became a teacher, and at the age of thirty-four, I became Headmaster of a state comprehensive school in Hertfordshire. Winston Churchill once remarked 'Headmasters have powers at their disposal with which Prime Ministers have never yet been invested' and he was right: very few jobs offer a greater possibility of bringing about change.
My second headship came with a huge professional challenge – the amalgamation of two very different schools into a single unit.  To do this without losing the confidence of the teachers, the parents, and the students was a severe test of my management skills.  It was about this time that my connection with the University of Bath began, first as an external examiner, then a visiting lecturer and finally as a visiting professor.
Now I needed a very different challenge, so fast forward another ten years and I am in Geneva, Director General of the International School of Geneva.  One of the world's great schools, 'Ecolint', as it is known, educates 3,000+ students of 150 different nationalities, in both French and English.  It is a mini United Nations and the school's values are indeed those of the UN. And so to my final post: Director General of the International Baccalaureate at a time of huge expansion from a niche qualification to a mainstream programme studied by more than a million students in 4,500 state and private schools in 150 different countries.
And the future?  In retirement I am researching Cecil Rhodes' career at Oxford, which means visits to the Rhodes Collection in the Bodleian Library.  This gives me an excuse to stay overnight in Exeter, and to be reminded how fortunate I was to spend four years in such cordial and beautiful surroundings.