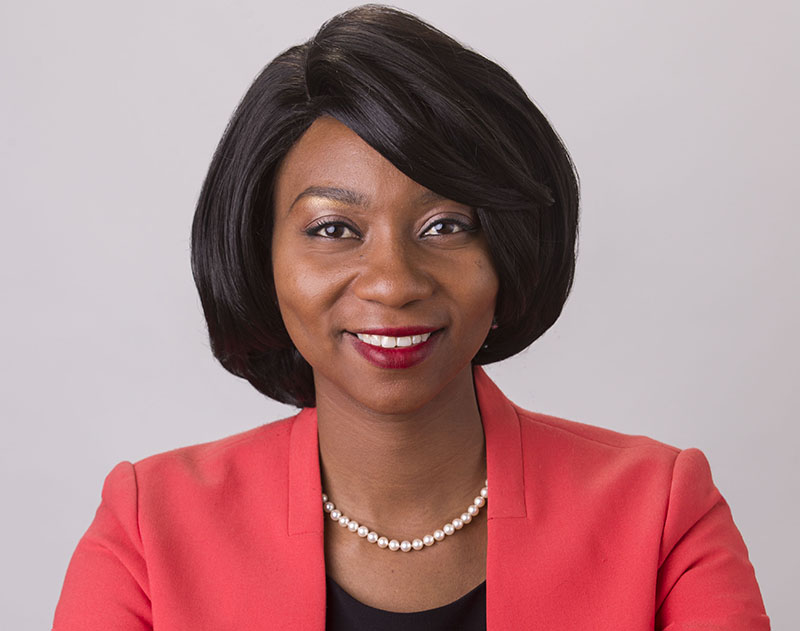 Namukale Chintu, Executive Director at UBS.
I began to appreciate that, for developing markets, wealth creation is key to poverty reduction…
I am an Executive Director at UBS: assisting African clients in navigating global capital markets, and supporting both their sustainable investments and their philanthropic goals to raise living standards of fellow Africans. My work means I can contribute to African development through managing African clients' investments – that is what gets me up every morning!
Representing African investors in global markets is extremely rewarding, and I owe this in many ways to my ubiquitous relationship with Oxford University, despite my humble beginnings in Zambia. My fascination with Oxford started when I was ten years old. This had nothing to do with its global reputation, but rather my awe with an innocuous set containing a protractor, stencils and compass. It was used in secondary school and branded the 'Oxford Set of Mathematical Instruments' – as a young girl I believed it must have been designed at the epicenter of world knowledge in Oxford!
By the time I was reading Economics at the University of Zambia, I had a more refined, better researched goal – to contribute to African development by studying at Oxford. I graduated with a distinction and landed the Rhodes Scholarship, before reading one MSc in Financial Economics and another in Management Research at the Said Business School. I applied for membership at Exeter College, as the Rector, Frances Cairncross, had been an Editor at The Economist, and the former President of Ghana, President John Kufuor, was an Alumnus. So economics and Africa resonated well with me, and Exeter became my calling.
I underestimated the profound impact Exeter would have on my personal and professional life. Many evenings spent in the MCR, and attending College dinners and talks, brought me into contact with remarkable individuals. I lived with a physicist, an engineer, and a public health specialist; I became friends with two lawyers, a pharmacologist, a software engineer, and an anthropologist. I discovered the exhilaration of rowing and competed at the collegiate level. When I later did my PhD at Cambridge I was immersed in rowing life, and every year I experience a constant internal struggle during the Oxford & Cambridge Boat Race! Exeter stamped on me the exigency of personal lifelong learning.
Studying at Oxford introduced me to banking, and I left a career in development cooperation with the United Nations to work for Morgan Stanley, Lehman Brothers, and Nomura International. I began to appreciate that, for developing markets, wealth creation is key to poverty reduction – rather than exclusive reliance on development aid. Wealth creation directly empowers Africans to improve their livelihoods themselves.
Armed with renewed ambition, my PhD at Cambridge sought to better understand investment in Africa and its connection to reducing poverty. My research contributed towards developing local supplier networks, and a UN framework for African countries with natural resources in structuring infrastructure development deals. Later, at Sumitomo Mitsui Banking Corporation, I developed a strategy for the bank to expand its commitment to Africa.
In London I continued developing strategic engagements in Africa when I joined Syntaxis Capital, a boutique mezzanine fund, as Managing Director. I subsequently joined UBS Asset Management to manage the Bank's proprietary portfolio of co-investments and then joined the Wealth Management Division where I'm deepening my work with African clients. This is my story of Oxford and Exeter College – a commitment to serve in Africa. Floreat Exon!