07th July 2022
Rosa Chalfen (2019, English)
Watch online now: celebrated actor Adjoa Andoh in conversation with Professor Nandini Das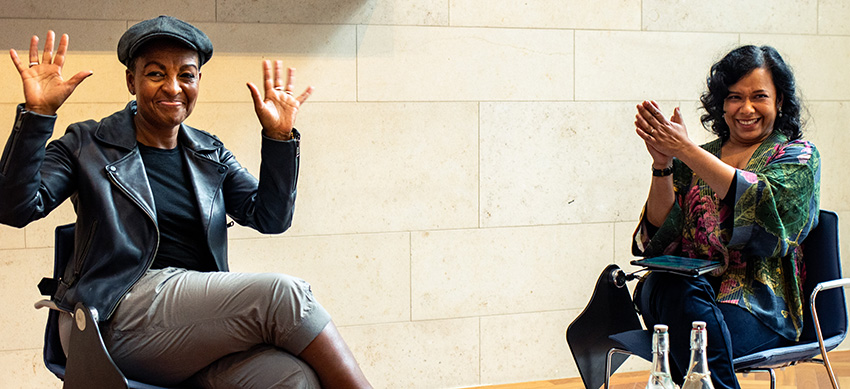 Adjoa Andoh and Prof Nandini Das at Cohen Quad. Photo by Faith Wong (2020, English)
Exeter College was delighted to welcome celebrated actor, writer and director Adjoa Andoh in June as she spoke with Exeter College Fellow in English, Professor Nandini Das. Adjoa spoke at Cohen Quad to a packed audience in the Fitzhugh Auditorium. A recording of the talk is available to watch below and on YouTube.
Adjoa has recently enjoyed acclaim for her iconic role as Lady Danbury in the hit Netflix series Bridgerton, but she has had a long and distinguished acting career, including roles in Doctor Who, Casualty and EastEnders. She played Nelson Mandela's Chief of Staff, Brenda Mazibuko, in the 2009 film Invictus. She is also renowned for her stage performances, with critically acclaimed lead roles at the National Theatre, the RSC, and Shakespeare's Globe, and made theatre history when she directed and starred in the first major production of Richard II with a company entirely made up of women of colour at the Globe in 2019.
The discussion covered Adjoa's life and work, and explored themes of identity, human rights, and the importance of creating opportunities for all. Adjoa talked about how her experiences of racism growing up in a small Cotswolds village shaped her later years, and her vision for improving BAME theatre at Oxford as part of her new role as the University's Cameron Mackintosh Visiting Professor of Contemporary Theatre.
Connecting the wide range of topics discussed was Adjoa's message of inclusivity: "I'm super interested in what happens when we slow down enough in our interactions, in the stories that we pay attention to, what happens to our understanding of resonating soul to soul, as opposed to social prejudice to social prejudice."
The conversation also reflected on the link between both Adjoa's and Nandini's work in excavating lost histories and stories, with Adjoa commenting that "I have to be in a position now where if I don't call it out, who's going to call it out? It's just the lived experience of going 'Can I be in the conversation please?' All human beings want that. We all want to be seen and heard and in the conversation."
View the talk here or using the media player below. You can also read a blog about the talk by Exeter student Dominic Madera (2021, English) here.