Available now: Exeter's history told through sixty objects
We are delighted to share a new book that explores sixty fascinating objects owned by Exeter, their association with the College and their part in Exeter's long history, available to purchase now.

Above: Objects featured in the book include the Bohun Psalter, an ostrich egg cup, and William Morris's spectacles and paint brushes
Exeter College possesses many beautiful, rare, and interesting 'objects': not just pictures, silver and manuscripts, but also curiosities and memorabilia of all kinds from the College's 700-year past. In Exeter College in Sixty Objects, lead author Dr John Maddicott (Emeritus Fellow in History) and other contributors present a selection of such objects, each one illustrated in colour and with an accompanying commentary. The book is available to purchase now from the Porters' Lodge and online (details below).
Letters from Queen Elizabeth I and Winston Churchill, J. R. R. Tolkien's Sub-Rector's card, William Morris's purse and pipe, a gold cup, a Japanese lacquer cabinet, the Bohun Psalter, a manuscript annotated by Petrarch, and 18th century plans for a striking Palladian building that was never built are among the fascinating objects presented in the 136-page book. Exeter College in Sixty Objects is an entertaining and enlightening contribution to the history of the College and to the wider history of the material world, which reveals Exeter's celebrated and hidden treasures alike.
Purchase your copy of Exeter College in Sixty Objects
Exeter College in Sixty Objects is available to purchase now for £10 plus post and packaging (£4 for UK addresses and £8 for overseas). It is also available directly from the Porters' Lodge.
To order your copy online click here and use the payment description "[your surname]/Exeter in 60 Objects". Please remember to include the appropriate payment for post and packaging, as noted above. After making your online purchase please email development@exeter.ox.ac.uk to confirm your preferred postal address.
Preview the book
Each object is revealed in colour photograph(s) with an accompanying commentary. Below we reproduce two of the entries: two James I gold coins and a letter from Winston Churchill written to Rector Marett in 1940.
Object 17: Two James I Gold Coins (1612–15)
According to a contemporary note, these two gold coins were 'found with two others [now lost] on a beam under the flooring of the porter's lodge, August 1835', presumably when the lodge was undergoing one of its periodic refurbishments. Each is a so-called 'unite', minted to commemorate the union of England and Scotland under James I and bearing an appropriate inscription: 'Faciam eos in gentem unam', 'I will make them one nation' (Ezekiel 37:22). One, pierced for probable suspension as a necklace or bracelet, dates from 1613 to 1615, the other from 1612–13, both being part of James I's second coinage running from 1604 to 1619. Unites originally had a face value of one pound (i.e. a sovereign), but this was raised to twenty-two shillings in 1612 to reflect the increased purchasing power of gold in terms of the much more prolific silver coinage. Each would now be worth about £700 to £800. How the coins came to be hidden under the lodge floor is, of course, unknown, but they may well have been concealed for security during the civil wars of the 1640s, when Oxford was the headquarters of the royal army and intermittently besieged by the parliamentarians. After their discovery the coins came into the possession of John Collier Jones, rector from 1819 to 1838 (see No. 38 below). They passed to his sisters on his death and thence to the College in 1865.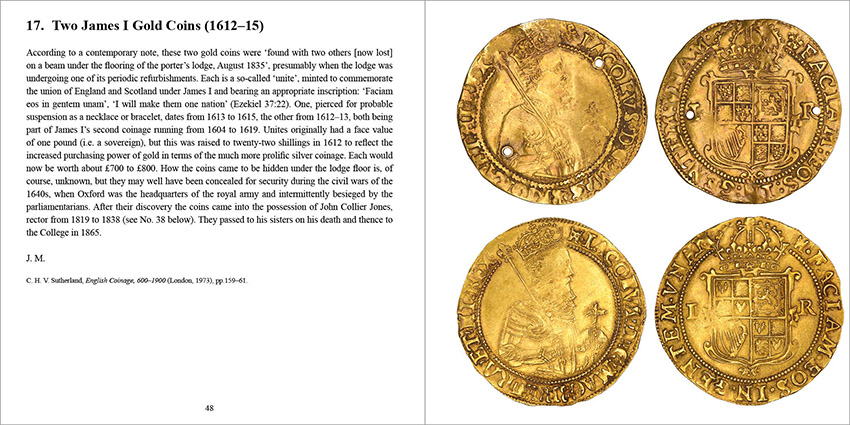 Object 54: Letter from Churchill to Rector Marett (1940)
This letter from Churchill, now in the College archives, commemorates the College's vicarious link with the first naval engagement (and victory) of the Second World War. In December 1939 the College's warship namesake, HMS Exeter, played a major part in the battle of the River Plate, which resulted in the scuttling of the German heavy cruiser, the Admiral Graf Spee, in the estuary of the River Plate, near the coasts of Argentina and Uruguay. The British force sustained heavy losses, especially the Exeter, whose many dead were buried at sea. The College evidently felt a strong attachment to the ship, and it was decided to present the captain and crew with a silver-gilt replica of one of its greatest treasures, the gold cup bequeathed to Exeter by Bishop George Hall in 1669 (see No. 27 above). This was reported to Churchill, who had been appointed first lord of the admiralty on the outbreak of war in 1939, and he responded with this appreciative letter. The cup was presented to seven of HMS Exeter's officers at a grand dinner in College on 24 February 1940: 'a very modest but very sincere tribute of the College to brave men, both living and dead', as Rector Marett put it. The College toast FLOREAT EXON was drunk, to cover both College and ship. (The occasion was a doubly auspicious occasion since the College boat had on the same day reached second place on the river in Torpids.) The Exeter spent a year in dock for repairs and then went on to convoy duties before sailing for the Far East in 1942.There it was sunk by the Japanese in the Second Battle of the Java Sea, and the survivors carried off into captivity.
Exeter College in Sixty Objects is 136 pages long, including a foreword from Rector Trainor, an introduction from Dr Maddicott, 60 objects with commentaries and 80 colour images. The book is 210 mm by 210 mm.