10th March 2022
Costi Levy (2019, Philosophy and Spanish)
Blades, bumps and unparalleled success for ECBC at Torpids
Costi Levy reports on one of the most successful weeks for Exeter's rowers in years.
After an extended period of disruption because of the Covid pandemic and poor weather in previous years, Exeter was able to boat three eights at Torpids 2022. Torpids is a four-day race in which crews are set off in single file. The aim of the race is to catch up with the crew in front of you, 'to bump', and bumping every day entails the honour of securing 'blades'. ECBC had an incredibly successful campaign, totalling 11 bumps, one of the highest results across all colleges.
The Men's second and Women's first boats both secured blades, an impressive step on from their results last year and an enormous feat. The Men's first boat bumped on the first three days and rowed over on the third to end the week unbeaten. Less than half a length off securing blades, they finished in a very strong position for summer racing. The Women's second boat was also just 3.5 seconds off qualifying for Torpids and played a large role in the team effort. In the days of tight races and fierce competition, M1 cox Victoria Fletcher describes the electric atmosphere at the boathouse: 'The best bit of Torpids was definitely seeing the whole Club come together to support each other'.
These results are the product of a term of hard training and enormous efforts by the athletes. Rachel Cannon, who joined ECBC as a coach in late 2019, is also responsible for the success, having injected incredible energy into the Boat Club. Commenting on the crews' success, she commends not only the team's dedication to training over the last few months, but also the quality of their racing performance and attitude. 'I'd like to give a special mention to the M1', Rachel notes, 'who after having some of the hardest racing throughout the course of the week were only a couple of feet from bumping on the final day. They took the race right to the line and as a coach I couldn't have asked for anything more.'
Exeter College congratulates the Boat Club on their success. The exciting week of racing and incredible results fuel the fire for the athletes to continue to push on their standard of rowing ahead of Summer Eights next term.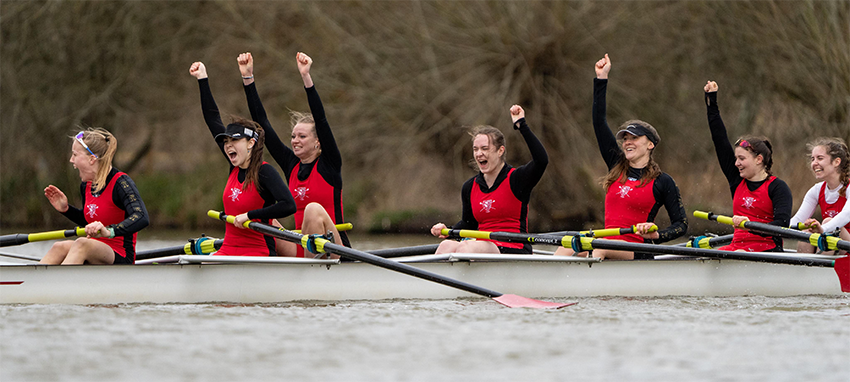 The Women's crew celebrate earning Blades at Torpids