10th October 2021
Costi Levy (2019, Philosophy and Spanish)
Cohen Quad hosts Photo Oxford Festival exhibition
The exhibition, 'Images of Liberation: Sally Fraser's photography of women's protest', will be displayed in Exeter's Cohen Quad throughout November as part of Photo Oxford Festival 2021.
Photo Oxford aims to bring internationally acclaimed photography and photographic debate to the city of Oxford. The month-long festival will complete and expand on the 2020 programme, Women and Photography – Ways of Seeing and Being Seen, which could not be fully presented due to Covid-19 restrictions. 
In the upcoming weeks, the city will be filled with exhibitions that focus on the evolving relationship between women and photography, examining the role of women as both photographers and muses. 
We are delighted that Exeter's Cohen Quad will host the exhibition Images of Liberation: Sally Fraser's photography of women's protest, which will feature striking images by Sally Fraser of the beginnings of second-wave feminism in Britain. It will include unseen photographs of the first Women's Liberation Conference, held in 1970 at Ruskin College, now the site of Cohen Quad. The exhibition will return the pictures to their source, highlighting the rich history of a space now home to many Exonians and keeping the memory of this pivotal moment in history alive.
The exhibition will be open to the public daily from 10 am until 4 pm throughout November and is free of charge. 
Other Photo Oxford Festival 2021 exhibitions to look out for include Thames Log on Christ Church Meadow and Line and Texture: The photography of Nancy Sheung (1914-1979) at St Hugh's College.
More information about Photo Oxford Festival is available here.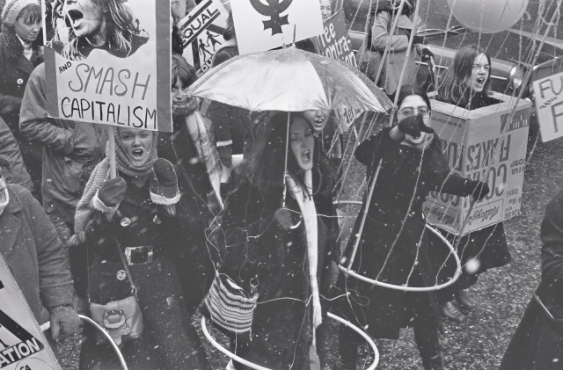 Women's March, 6 March 1971 © Sally Fraser