Cohen Quad wins national architectural award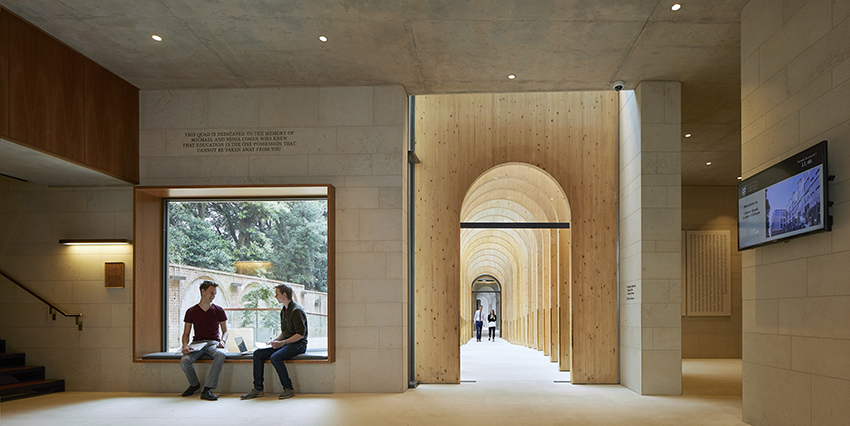 Cohen Quad main foyer and colonnade. Photo by Hufton and Crow
Cohen Quad, Exeter College's newest premises, has been awarded a national level Civic Trust Award for its outstanding architecture. The site, initially nominated for a regional award, was crowned with a national level award at a virtual ceremony in March.
Founded in 1959, the Civic Trust Awards recognise outstanding architecture, planning and design in a built environment. One of the only remaining independent built environment award schemes, the Civic Trust focuses on celebrating projects that have made a positive contribution to local communities.
Cohen Quad, situated on Walton Street, opened in 2017. Just a 10-minute walk from Exeter College's main site, on Turl Street, it is a pivotal part of College life. Its en-suite study-bedrooms enable Exeter College to guarantee all students three years of accommodation in College rooms, and a large auditorium, multiple seminar rooms, and an open-plan study space known as the Learning Commons make the site an excellent space for teaching and learning. These spaces, and more, lie within a beautiful environment designed by multi-award winning architectural firm Alison Brooks Architects.
On receiving news of the award, Rector Professor Sir Rick Trainor said: 'The Civic Trust Award is testament to the outstanding design created by Alison Brooks Architects. Alison and her team took inspiration from Jericho's beautiful architecture when designing Cohen Quad and created a building that not only provides exceptional accommodation, study and performance spaces but also enhances a much-admired area of Oxford.'
Architect Alison Brooks said: 'I'm delighted the Cohen Quad has been recognised by this Civic Trust Award, not only for its contribution to Oxford's architectural culture but for the way it serves Exeter College's wider communities with open, accessible social learning spaces. It's been an honour to work with the College to re-imagine their much-valued model of collegiate education for the 21st century.'