College mourns the death of Honorary Fellow Sir James Gowans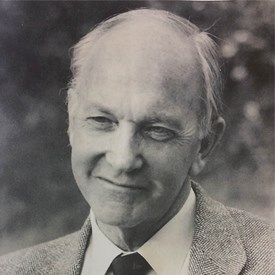 Professor Sir James Gowans FRS
It is with sadness that we announce the death, on 1 April, aged 95, of Sir James ('Jim') Gowans, who was Staines Medical Research Fellow at Exeter 1955-60 and an Honorary Fellow of the College since 1983. James maintained close ties with Exeter into his later years, including attending College events when he was able.
A native of Sheffield, James studied medicine at King's College Hospital Medical School;  he graduated in 1947, having assisted at the liberated Bergen-Belsen concentration camp as a voluntary medical student. Subsequently James developed deep Oxford roots. As a member of Lincoln (of which he was also an honorary fellow) he obtained a first-class honours degree in physiology and then a D.Phil. (under Howard Florey at the Dunn School of Pathology). After his time at Exeter, James was a Fellow of St Catherine's (of which he was also an honorary fellow) 1961-87 and Royal Society Research Professor 1962-77.
James was a very distinguished biomedical scientist. He made significant discoveries about the role of lymphocytes in the immune response. He also had an eminent administrative career, serving as Secretary of the Medical Research Council 1977-87 and as Secretary-General of the Human Science Frontier Programme between 1989 and 1993.
James was elected to a Fellowship of the Royal Society in 1963. He was appointed CBE in 1971 and knighted in 1982. In addition, he was a foreign member of the National Academy of Sciences and the recipient of many honorary doctorates.
James is survived by his wife Moyra and by a son, two daughters, and eight grandchildren. Our thoughts are with them at this very sad time.