25th April 2020
Costi Levy (2019, Philosophy and Spanish)
Community in the lockdown
Costi Levy (2019, Philosophy and Spanish) reports on the community spirit among Exeter's students that is keeping morale up during the ongoing lockdown.
Exeter's student community has continued to thrive during the lockdown. The 'Entz' team have been quick to organise opportunities for students to come together virtually.
An effort has been made for our college traditions to be kept up: MAD rep Cara Murphy organised for a much-anticipated live music night to be streamed online, and weekly welfare tea will continue to take place over Zoom, albeit without the snacks. Exeter's darts athletes have been practising for next year's tournaments, and a virtual 8-ball pool competition has been organised to add the usual competitive edge to college sport.
The entz reps have been keeping morale high by initiating inventive challenges. In the first week of lockdown, students across the college participated in a virtual bake-off. In the live awards ceremony, Joe Lloyd won 'best cake', and Jennifer Knight's cake, which featured 'wash your hands' written in icing, won 'most important'. The second week of lockdown brought a new challenge: a 'virtual bop' characterised by a 'corona cancellations' dress-up competition. Out of a number of innovative submissions, the overall winning prize for creative dress-up was awarded to a dress which combined ball gown chic with the fun of beach wear.
Other initiatives students have been set up to help dodge boredom during the lockdown, including a film club, podcast recommendations, and the 'Exon music share', in which Luke White-Thompson has been curating music recommendations from across year groups, and publishing witty and insightful collections on our Facebook page.
The college has not shied away from the 'Zoom pub quiz', an event which seems to have characterised lockdown socialising across the UK. Unsurprisingly, the college quizzes, coordinated by Hannah Taylor and Charlie Ford, have been unique. There was a black-tie dress code, to which compliance was mixed, and stock rounds were replaced by more inventive themes: a round called 'real beer brand or fake beer brand?', and a set of one-liners which were either spoken by celebrities or college members.
It has been of no surprise that Exeter has been as supportive as ever during these challenging times, and the huge range of initiatives have encouraged inter-year relationships to thrive.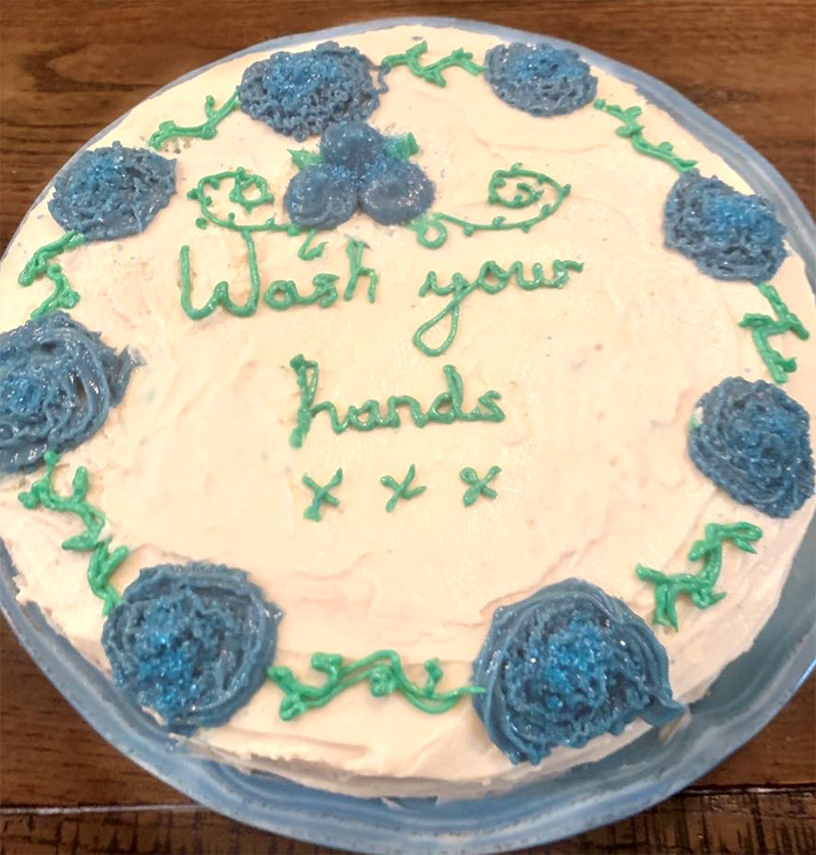 Jennifer Knight's cake reminded people to maintain good hygiene during the ongoing crisis