12th February 2021
Rosa Chalfen (2019, English)
Discussing LGBTQ+ History Month with the JCR's LGBTQ+ rep
Rosa Chalfen (2019, English) talks to LGBTQ+ JCR rep Holly Barker (2019, Modern Languages) to find out about LGBTQ+ History Month and how it is being celebrated by Exeter students.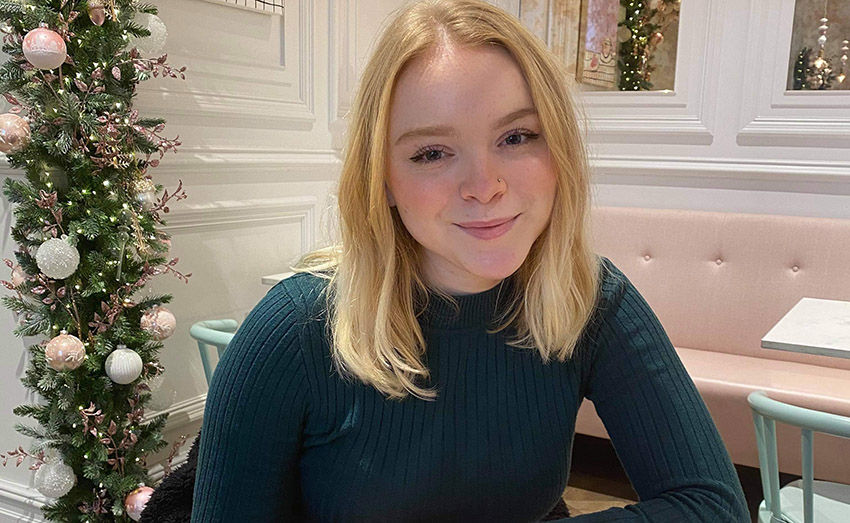 Holly Barker, LGBTQ+ representative for the JCR
In the UK and around many parts of the world LGBTQ+ History Month is celebrated each February, an annual observance of lesbian, gay, bisexual and transgender history. Holly Barker (2019, Modern Languages), the JCR's LGBTQ+ representative, has been working closely with College staff and the Exeter student community to mark this important month.
'I think this month is about looking back to the people who have brought us where we are today,' Holly explains. 'I think so easily we can forget that even 20 or 30 years ago how little we had as a community and often, as young people, we aren't taught about the people who helped decriminalise homosexuality.'
Although homosexuality was technically made legal in the UK in 1967, persecution of the LGBTQ+ community extended well beyond this point – and indeed continues to this day. Section 28, a 1988 law that prohibited the 'promotion of homosexuality' by local authorities, was only abolished in 2003 after mass campaigning by LGBTQ+ activists. Holly notes that 'the oppression that LQBTQ+ people face in the UK is often swept under the carpet – even any historical role models that we might have normally come from the US.'
Holly's favourite LQBTQ+ historical figure is the late Jan Morris (1926-2020), the Welsh historian, author and travel writer who was one of the first people to write openly about life as a transgender woman. As well as celebrating people from the past, Holly praises current cultural landmarks such as the popular Channel 4 TV series It's a Sin, set in the midst of the AIDS crisis. 'Things like this are making LGBTQ+ history more accessible to a wider audience.'
To mark LGBTQ+ History Month, Holly is sharing resources with the entire JCR to celebrate important LGBTQ+ figures throughout history and encourage all students to educate themselves. She also organised an online crew date with St Hugh's College for LGBTQ+ students from both colleges to socialise and celebrate together. 'It was a nice way to be together, even virtually, to remind each other that we have a community.' Later this month she plans to hold an LQBTQ+ History Month talk with speaker and writer Sarah Prager.
Throughout February Exeter College will fly the pride flag in the front quad. There is also a message of support posted on the front gate a which reads: 'Exeter College is flying the rainbow flag for the whole of February, national LGBT History Month, in support of not only its own members who identify as LGBTQ+ in any way, but also in remembrance and support of the ongoing struggle for LGBTQ+ people worldwide to have their human rights respected, and especially in support of those worldwide who are not in the privileged position of being able to show their support in such an open, public setting.'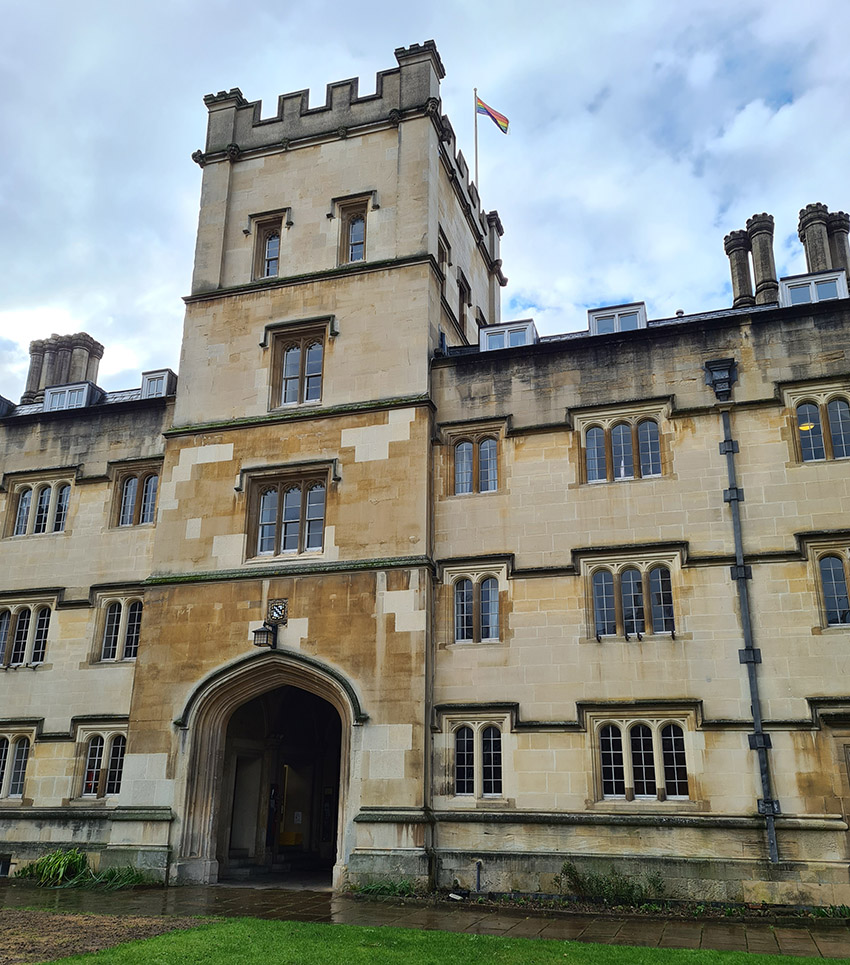 The rainbow flag is flying above the College tower throughout February