19th May 2021
Rosa Chalfen (2019, English)
Dr David Goldbloom (1975, Physiological Sciences) publishes latest book
Exeter alumnus Dr David Goldbloom has published a new book, We Can Do Better: Urgent Innovations to Improve Mental Health Access and Care with Simon & Schuster.
The book explores problems in mental health care systems using fictional examples drawn from Dr Goldbloom's real-life experiences in his work. It then reveals the simple, yet startlingly effective tools for improving access and treatment that can help people now, including the use of technology like apps and e-tools for treatment and rehabilitation, increasing self-referrals for faster care and personalized care to ensure a higher quality of patient treatment. At a time when mental health conditions and their treatment are so much in the public eye, We Can Do Better offers a realistic set of solutions to this dire problem.
As well as writing and editing books, Dr Goldbloom maintains an active clinical and teaching role at the Centre for Addiction and Mental Health, where he serves as Senior Medical Advisor. He served as Vice-Chair and then Chair of the Board of the Mental Health Commission of Canada from 2007 to 2015. He is an Officer of the Order of Canada.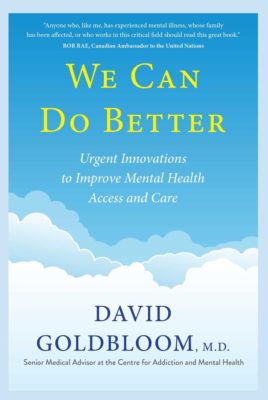 Image credit: Simon & Schuster