"An understanding of the natural world and what's in it is a source of not only a great curiosity but great fulfilment."
David Attenborough
Average number of places available at Exeter College each year:  6
There are two courses available to students of Earth Sciences at Exeter:
The three-year Bachelor's Degree (BA in Geology)
The four-year undergraduate Master's Degree (MEarthSc)
For the first three years the courses are identical and include extensive fieldwork and a substantial mapping project in the Summer Vacation of the second year; the fourth year offers students the option of deepening their knowledge through a choice of higher-level specialisations and an independent research project, which runs for the duration of the year under a departmental supervisor of their choice.
Overview of available courses.
Why study Earth Sciences at Exeter?
The discipline has a long and distinguished tradition at the College. One of the fathers of modern geology was Exeter's own alumnus Sir Charles Lyell in the late nineteenth century. Since then, the University's department has expanded and, in 2010 moved into new, bespoke facilities on Parks Road which are just a few minutes' walk from Exeter. The College remains committed to this broad and popular subject and ensures that students receive tutorials in each of the different areas of study together with support in mathematics and practicals.
The College's own library, which is open 24 hours a day, has an excellent collection of texts for undergraduate students and provides access to all the relevant online papers and journals which are required reading for the different courses within the Earth Sciences degree. Earth Sciences students also have access to the departmental library and the Radcliffe Science library, both of which are within 10 minutes' walk of the College.
Exeter's Earth Scientists are supported in the fieldwork – particularly their second year mapping projects – with travel grants from the College. This enables them to be more adventurous when choosing where to go rather than being restricted to staying within the UK. Recent graduate Robert Fox was able to do his fieldwork in Greenland as a direct result of receiving this support.
Students who read Earth Sciences at Exeter can expect to receive regular tutorials from our College Fellows or with members of the Department who specialise in other fields, together with regular mathematics classes. These tutorials are in addition to daily departmental lectures and practical classes.
The Lyell Society is a student-led College group for Earth Scientists, the primary meeting of which is at a biennial dinner with alumni who enjoy returning to the College to hear about students' mapping projects and research and offering careers advice.
"Choosing Exeter for Earth Sciences was a great decision. The tutors are fantastic teachers, but also very friendly and approachable. The Exeter Earth Scientists are a very close group. We even have our own society named after the geologist Charles Lyell who went to Exeter in the 1800s. Also, out of the colleges that offer Earth Sciences, Exeter is closest to the department. Google Maps says it's a 9-minute walk, but I've definitely managed it in 6 minutes without breaking to a jog – definitely something to keep in mind when applying!"
Luke Maxfield, Earth Sciences student
Exeter's Earth Sciences Fellows and Research Staff
Careers
Following graduation, Exeter's Earth Scientists take up employment in diverse areas, including petroleum and mining companies, geological surveys and museums, industrial and civil engineering concerns, administration, broadcasting, merchant banking, publishing, etc. Many continue research in Earth Sciences leading to a higher degree.
Earth Sciences is one of the most suitable subjects for a scientific, but non-vocational, higher education. This is because of its wide range, its contact with so many other physical sciences, and its relevance to the environment in which we live.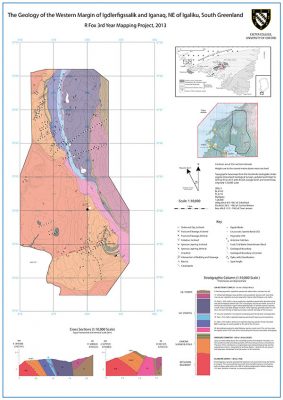 Earth Sciences student Robert Fox (2011) was able to undertake his mapping project, pictured above, in Greenland thanks to a grant from Exeter College.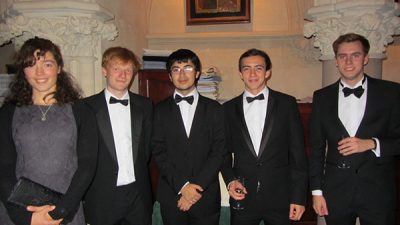 Exeter's Earth Sciences society – the Lyell Society, named for Charles Lyell who studied at Exeter College in the 19th century and is widely credited as the "father" of Geology as an academic discipline – is very active and holds a black tie dinner every year for students and alumni.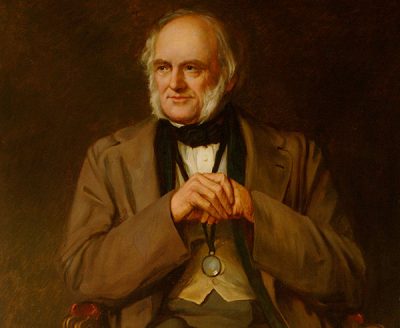 Portrait of Charles Lyell, who studied at Exeter College from 1816 and is widely acknowledged as the "father" of the study of Geology.