Edward Burne-Jones stained glass illuminates Cohen Quad
Stained glass designed by Edward Burne-Jones and executed by William Morris has been installed at Exeter's new premises, Cohen Quad, thanks to support from alumni and friends.
Thanks to the support of alumni and friends of Exeter College, stained glass designed by Exonian Edward Burne-Jones (1852, Theology) and executed by his friend and fellow Exonian William Morris (1852, Classics) has been installed at Cohen Quad. The panels have been placed outside the Neil Blair Special Collections Reading Room and are beautifully backlit, making them an unmissable feature students and visitors to Cohen Quad are sure to admire.
The windows were commissioned by marine engineer Alfred Burges, father of the Victorian artist William Burges, in memory of civil engineer James Cooper. They were executed in 1863 at the Morris, Marshall, Faulkner & Co works, which were established to promote craft-based manufacturing, and were installed in Kentish Town Parish Church, London, until its decommissioning when they were put into the care of the church of St Benet and All Saints in Kentish Town.
In 2013 St Benet's offered Exeter College the opportunity to purchase the two panels. The lead architect of Cohen Quad, Alison Brooks, immediately recognised how the glass could enhance Exeter's new premises and reinforce the links between the 21st century quadrangle and two of Exeter College's most celebrated alumni, both of whom were good friends with essayist and social critic John Ruskin, for whom Ruskin College (the former owner of the Cohen Quad site) was named.
Alumni and friends of Exeter College raised over £50,000 for the purchase and restoration of the windows, and we are delighted that they are now in place and look so magnificent. They join a carpet designed by William Morris, which hangs outside the FitzHugh Auditorium. Together they help draw links with Exeter's historic Turl Street site, which is home to a splendid tapestry designed by Morris and Burne-Jones, The Adoration of the Magi, as well as tapestries by Burne-Jones, Flora and Pomona, several drawings by Burne-Jones, and Burne-Jones's and Morris's own copies of the spectacular Kelmscott Chaucer – still considered a masterpiece of book design today. They also celebrate the work of these two great proponents of the Pre-Raphaelite and Arts and Crafts movements, which helped to inspire elements of the design of Cohen Quad including its award-winning chequered roof.
The two panels contain four roundels depicting the parables of The Labourers in the Vineyard, Christ with Three Disciples, Noah Building the Ark and Solomon Building the Temple. They are of stained and painted glass, each measuring 200 cm x 60 cm.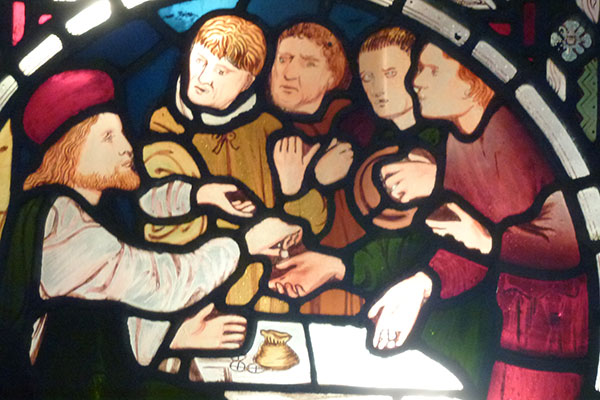 Detail from the stained glass