05th July 2022
Tristan Marris, Alumni Relations and Events Officer
Exeter alumni return for their Gaudies!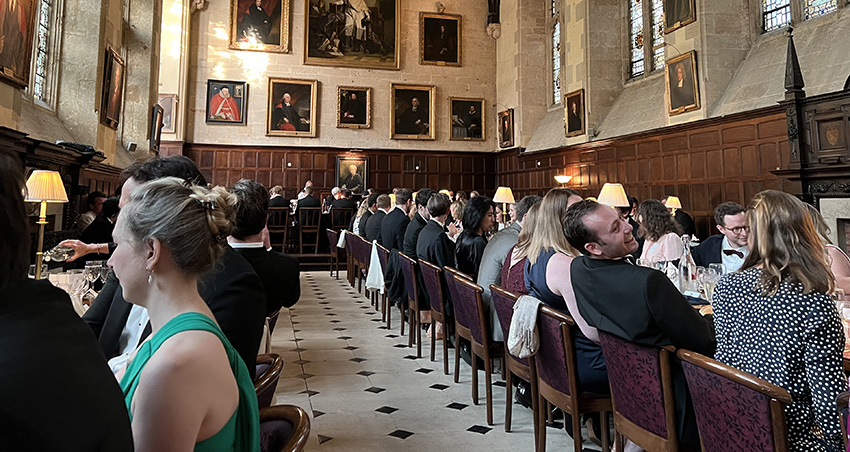 Exeter College has been a hive of alumni activity over the last fortnight, as not one but two sets of year groups have returned for their Gaudies.
On Saturday 25 June, alumni who matriculated between 1995 and 1999 inclusive returned to celebrate, reminisce and catch up with familiar faces. Although breezy, the weather stayed mostly dry, allowing alumni a long overdue opportunity to reconnect with each other over drinks in the beautiful setting of Front Quad.
Likewise, a week later, alumni from the 2000 to 2004 cohorts gathered at Exeter's Turl St site. Evensong was held in the Gilbert Scott-designed Chapel, and we are particularly grateful to those alumni who volunteered to sing alongside a number of the current Exeter College Choir and singers from the wider Oxford musical network.
We also owe thanks to Sam Hinton-Smith (1997, Modern History) and Charlotte Millard (2000, Jurisprudence) who gave short and amusing recollections of their and others' time at Exeter over dinner.
Those with a keen eye will note that the usual pattern of Gaudies is a little different this year – and they would be right. Both the 1995-1999 and the 2000-2004 Gaudies were postponed due to pandemic regulations in force when they were due to be held (in June of 2020 and 2021 respectively). There was a notable buzz in the air at both occasions that reflected the excitement among Exeter alumni to be able to gather in College once again.
Yvonne Rainey, Director of Development and Alumni Relations, said: 'It has been wonderful to be able to welcome back our alumni from 1995 to 2004 after an extended period of absence for many of them. My thanks go to our speakers, Sam and Charlotte, as well as everyone who rallied their respective year groups to ensure the high turnouts that we enjoyed.'
These were not the last Gaudies that Exeter will host this year. In September, alumni who matriculated between 1975 and 1978 inclusive will attend their own Gaudy, details of which can be found here.
Floreat Exon!