Exeter alumnus Howard Rosen becomes Distinguished Friend of Oxford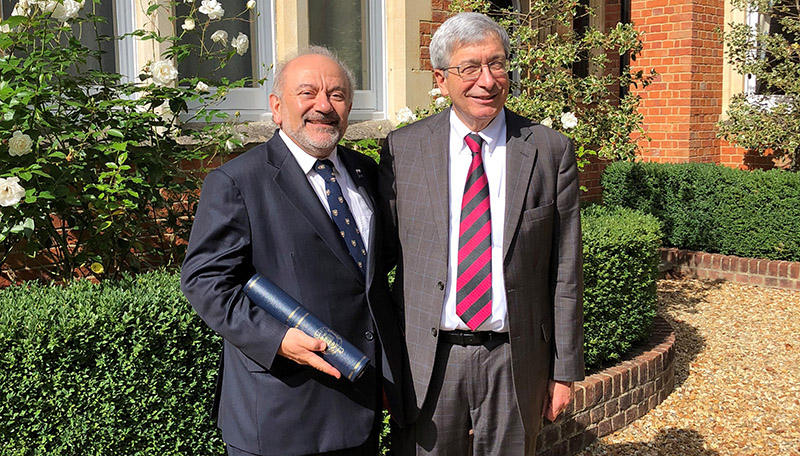 Howard Rosen (left) after being made a Distinguished Friend of Oxford, pictured with Professor Sir Rick Trainor
The title of Distinguished Friend of Oxford was conferred to Exeter alumnus Howard Rosen (1974, Jurisprudence) during the University of Oxford's alumni weekend earlier this month. The award is recognition of Howard's support of Exeter and of his leading role in founding Swiss Friends of Oxford University (SFOU), which facilitates tax-efficient donations for Oxonians located in Switzerland to the University and its colleges and departments.
SFOU is an association (Verein) under Swiss law and has recognised tax-exempt status, which means donations from Swiss residents via SFOU are tax deductible. At the launch of SFOU Howard said: 'Not only are donations from Swiss residents now tax deductible, legacies and gifts in kind are also exempt from any applicable cantonal tax. We're confident this will increase support for Oxford and look forward to welcoming lots of members.'
Laura Smith, Senior Development Executive at Exeter College, said: 'The very exciting impact of Swiss Friends of Oxford is that it's now much easier for Exonians living in Switzerland to donate, and their donations will do even more to support the College and its students. For the first time, alumni resident in Switzerland can make tax-efficient donations to capital and research projects, academic posts and student scholarships at Exeter. They can also become a member of Swiss Friends of Oxford, with fees contributing to a special scholarship fund for Swiss residents studying at the University of Oxford. There will be regular meetings and events for SFOU members and guests in Switzerland, and we hope to see Exonians there.'
To find out more about Swiss Friends of Oxford University click here.