18th March 2019
Bartosz Thiede - Former Parry-Wood Organ Scholar
Exeter College Chapel Choir to release new album
Bartosz Thiede was the Parry-Wood Organ Scholar at Exeter College between 2015 and 2018 and currently works for Monteverdi Choir and Orchestras and is the Director of Music at the church of St Mary and St John, Oxford. Here he describes some of the themes and the influences in Exeter College Chapel Choir's new album, Mater Mundi.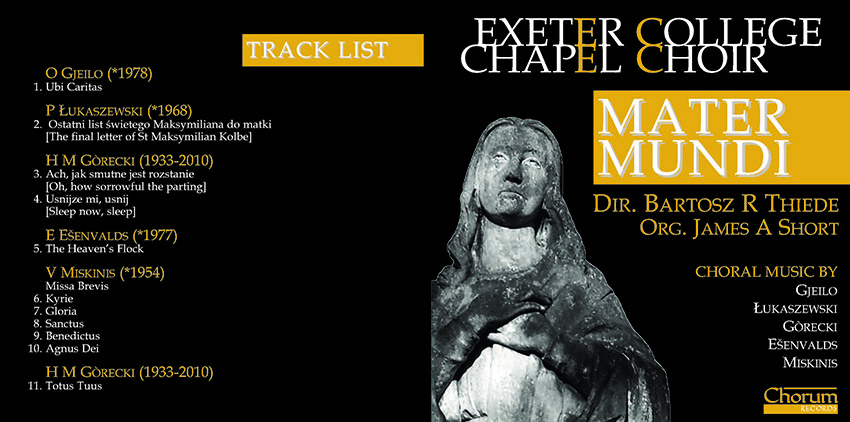 The cover artwork for Exeter College Chapel Choir's new album, Mater Mundi
Curating music for Exeter College Chapel Choir's new album, Mater Mundi, was a long process which develop very organically. I knew that, following the success of the Christmas disc On Christmas Night (still available for purchase from the College!), I did not want to record just another disc of 'Evensong' music purely for the sake of recording a disc on my final year as the Organ Scholar at Exeter College. What made my time at Exeter so enjoyable was the artistic and musical freedom that I had at my disposal. A completely unique set-up which is not replicated with such quality anywhere in the UK. Being able to mould and collaborate with a choir of incredibly talented twenty-odd-year-olds (with their incredibly vibrant sound) was such a privilege – and one that I will always remain grateful for.
Being a Northern Irish-Pole who came to Oxford via Bristol, I decided on a tracklist that centres around notions of Marian devotion and identities.
We recorded the album over a period of just over a week during a cold and wet January. A number of tracks are sung in Polish by people who have never spoken a word of Polish in their life. The energy behind the album comes not only from the ambition and novelty of the music but also the exploration of linguistics boundaries. As a native Polish speaker, I am incredibly proud and satisfied with the results; it's impressive, in a space of only a few days and a handful of hours, to master phrases such as wszystko o wszystkim.
The mass-setting on this album, while a little unusual, celebrates the admission of women sopranos and altos into Exeter College Chapel Choir in 1996. While a topic which causes much debate, I do believe that Exeter (and Oxford in general) is a fine example of how old and new choral traditions can co-exist: safely side-by-side. Something which caused much controversy and questioned the identity of Exeter College Chapel Choir. My favourite track from the mass-setting has to be the Benedictus for its incredibly fun and in places 'funky' alto line!
Other tracks include, an Ubi Caritas by Gjeilo; followed swiftly by Łukaszewski's stunning setting of a letter written from Auschwitz by Saint Maximilian Kolbe (Ostatni List). What follows is a Marian text, O how sorrowful the parting (Górecki) – a text in which a mother narrates her weeping for the loss of a child; followed by a simple, yet incredibly effective lullaby. The Heaven's Flock (Ešenvalds), one of my personal favourites, sings of one's hopelessness at a time of need. Following that, you will find an exciting mass-setting and the ultimate act of Marian devotion in the form of the stunning opening chords of Totus Tuus (Górecki).
I do hope that this album will introduce those kind enough to listen to at least one track that they were not familiar with. If you find a track you have particularly enjoyed, please let me know!
The new album will go on sale from 22 May, priced at £10, and to celebrate its launch there will be a free concert in Exeter College Chapel. The concert starts at 7.30 pm and everyone is welcome. Click here for more details.
To pre-order the album please email development@exeter.ox.ac.uk. Proceeds from the album will help to subsidise the Choir's annual overseas tour so that all members of the Choir can participate.