Exeter College elects ten new Honorary Fellows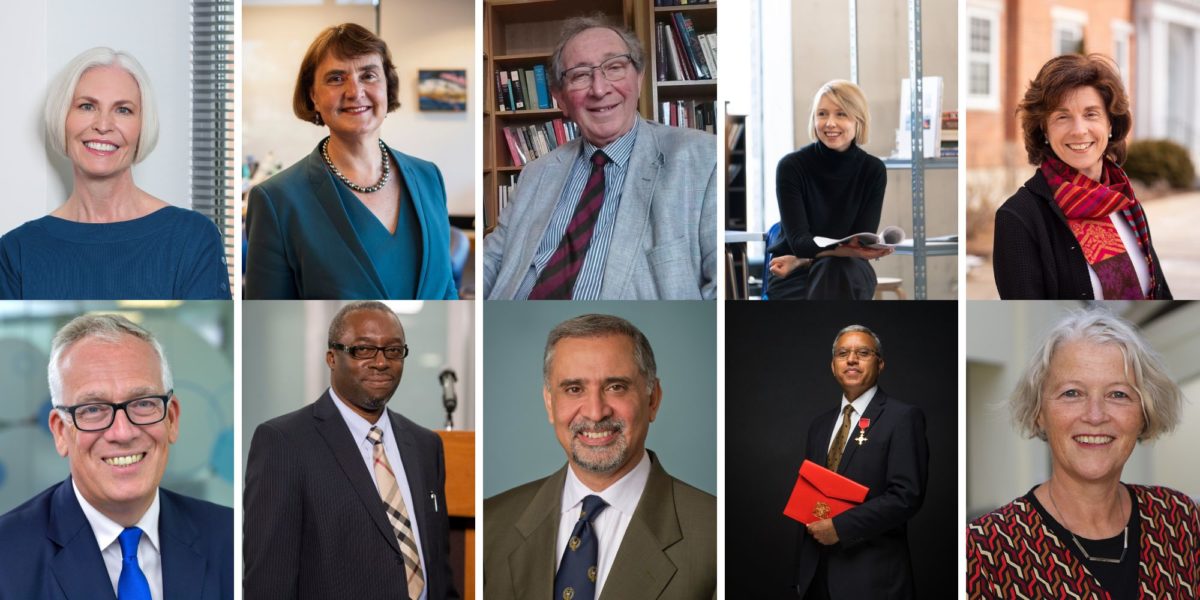 From left to right: (Top Row) Christina Blacklaws, Carolyn Evans, David Feldman, Polly Findlay (photo by Johan Persson), Maud Mandel, (Bottom Row) Richard Meddings, Kenneth Mwenda, Vikram Nehru, Surya Subedi, Charlotte Watts
Exeter College is pleased to announce the election of ten new Honorary Fellows, each highly distinguished in their field and elected by Exeter's Governing Body. Nine of the new Honorary Fellows are alumni of Exeter College. The other new Honorary Fellow, Professor Maud Mandel, is President of Williams College, Massachusetts, which has long had a close partnership with Exeter through the Williams at Exeter Programme in Oxford (WEPO).
Christina Blacklaws (1985, Jurisprudence)
Christina Blacklaws was the President of the Law Society of England of Wales between 2018 and 2019. In this role, she spearheaded the largest ever global research project on women in law involving thousands of lawyers in over twenty countries. She has developed and managed law firms, including a virtual law firm, since 1991. In 2022, the Lord Chancellor appointed Christina Blacklaws as the Chair of the Judicial Pension Board for three years. She is an award-winning published author, speaker and lecturer and frequent media commentator. In 2019, Christina Blacklaws established her own consultancy firm with a focus on Diversity and Inclusion, about which she is particularly passionate.
Professor Carolyn Evans FASSA (1995, DPhil Law)
A Rhodes Scholar, Carolyn Evans is the Vice-Chancellor and President of Griffith University in Queensland, Australia. Prior to joining Griffith in 2019, Professor Evans was Deputy Vice-Chancellor (Graduate and International) and Deputy Provost at the University of Melbourne, and Dean and Harrison Moore Professor of Law, University of Melbourne Law School. In 2019, Professor Evans was elected a Fellow of the Academy of the Social Sciences in Australia. She is President of the Australian Higher Education Industrial Association, and was Chair of the Innovative Research Universities from 2021 to 2022 and board member of Universities Australia from 2019 to 2023. A widely published legal scholar, she is an internationally recognised expert on religious freedom and the relationship between law and religion. A former lecturer in law at Exeter, she is the first female graduate of Exeter to be head of a university.
Professor David Feldman KC FBA FRSA (1972, Jurisprudence)
David Feldman is the Emeritus Rouse Ball Professor of English Law at the University of Cambridge Faculty of Law and Emeritus Fellow of Downing College, Cambridge. He has held academic positions at the University of Bristol, the Australian National University, the University of Birmingham, the University of Melbourne, and the University of Nottingham. From 2002 to 2010, Professor Feldman served as the Judge of the Constitutional Court of Bosnia and Herzegovina; he was also a Vice-President of the Court from 2006 to 2009. He has published extensively in a broad range of public law fields, as well as legal methods, and is considered to be a leading legal scholar. In 2013, he was awarded the degree of Doctor of Laws honoris causa by the University of Bristol.
Polly Findlay (2001, English)
Polly Findlay is a theatre director with over twenty-five directing credits. In 2011, she won the Olivier for Best Entertainment for Derren Brown's Svengali. She has directed seven productions for the National Theatre, and four for the Royal Shakespeare Company, where she is an associate artist. Polly Findlay has also directed internationally in Germany and Denmark, including War Horse (Gefährten) at the Theater des Westens in Berlin and August Strindberg's Frøken Julie at Aarhus Theatre. In 2022 she directed Middle, the second play in David Elridge's trilogy, at the National. She is currently working on a BBC feature film.
Professor Maud Mandel
Maud Mandel is President of Williams College, Massachusetts, the first woman to hold the role since the College was founded in 1793. A highly accomplished historian who specialises in the interaction of Muslim, Jewish and Armenian communities in 20th century France, Professor Mandel was Professor of History and Judaic Studies and Dean of the College at Brown University before joining Williams. Under her leadership, Williams College became the first higher education institution in the United States to launch an all-grant financial aid programme. Professor Mandel has supported efforts to make Williams more sustainable, which resulted in the College earning a Gold STARS (Sustainability Tracking, Assessment and Reporting System) rating from the Association for the Advancement of Sustainability in Higher Education. Professor Mandel has also encouraged a culture of shared, community-wide responsibility for diversity, equality and inclusion.
Richard Meddings CBE (1977, Modern History)
Richard Meddings is the current Chair of NHS England. From 2002 to 2014, he was a Group Executive Director at Standard Chartered, and Group Finance Director for eight of those years. Prior to that he was Group Finance Director at the Woolwich and Group Finance Controller of Barclays. Richard Meddings has also served as Chairman of TSB Bank, served on the Board of HM Treasury, and been a Non-Executive Director on the Boards of Legal & General, 3i Group, Jardine Lloyd Thompson Group and Deutsche Bank A.G. From 2004 to 2014 he was Chairman of Seeing is Believing, a charity focused on curing avoidable blindness. He was a Trustee and Deputy Chair of Teach First and for the past four years has been Chairman of the Hastings Opportunity Area.
Professor Kenneth Mwenda, PhD, LLD, DSc(Econ) (1992, BCL)
A Rhodes Scholar, Professor Kenneth K. Mwenda serves as the Manager and Executive Head of the World Bank Voice Secondment Program (VSP) at the World Bank in Washington DC, USA. He also serves concurrently as Extraordinary Professor of Law at the University of Western Cape (UWC) in Cape Town, South Africa. At the World Bank, Professor Mwenda has served previously as Senior Counsel in both the Legal Vice-Presidency and Integrity Vice-Presidency.
With a balanced dual career in international development and academia, Professor Mwenda has also held the esteemed position of Extraordinary Professor at the Law Faculty of the University of Pretoria, South Africa, in addition to serving as Adjunct Professor of Law at American University's Washington College of Law (WCL) in Washington DC as well as Extraordinary Professor of Law at the University of Lusaka in Zambia. In the UK, Professor Mwenda served as a law professor at the University of Warwick before joining the World Bank. Further, he has held Visiting Professorships in Law at several universities in Europe and Africa, including Miskolc University in Hungary and the University of Cape Town (UCT) in South Africa. Professor Mwenda is the author and editor of thirty scholarly books and over a hundred peer-reviewed articles in leading law journals and reviews. He holds, among many other qualifications, the esteemed and rarely awarded Higher Doctorate Degree of Doctor of Laws (LLD) from Rhodes University in South Africa. He also holds a second Higher Doctorate, the degree of Doctor of Science in Economics (DSc(Econ)), from the University of Hull. Professor Mwenda's PhD, earned from the University of Warwick, is in the field of Corporate and Securities Law. In 2019, he was awarded Zambia's highest civilian honour, the President's Insignia of Meritorious Achievement (PIMA). A US and UK-Certified Anti-Money Laundering Specialist (ACAMS and ICA), Professor Mwenda holds additionally management and leadership qualifications from Harvard, Yale, Stanford, Wharton, MIT, INSEAD, Cornell University, Kellogg, London Business School and Georgetown University, respectively.
Vikram Nehru (1972, PPE; 1975, BPhil Economics)
Vikram Nehru is the Distinguished Practitioner-in-Residence at the Johns Hopkins School of Advanced International Studies. From 2011 to 2016, he was the Chair in Southeast Asian Studies at the Carnegie Endowment for International Peace, where he continues to serve as a Non-Resident Senior Fellow. Prior to that, Vikram Nehru served in the World Bank, including in a number of senior management positions. His last position there was chief economist and director for poverty reduction, economic management, and private and financial sector development for East Asia and the Pacific. Before moving to the World Bank's East Asia Region, Vikram Nehru was the Director of the World Bank's Economic Policy and Debt Department. His portfolio at the World Bank also included serving as lead economist on Indonesia and China, as well as senior economist for Ghana. Prior to joining the World Bank, he held an administrative position with the government of India.
Professor Surya Subedi OBE KC (1989, DPhil Law; 2019, Doctor of Civil Law)
Surya P. Subedi is Professor of International Law at the University of Leeds and a practising barrister in London. He has also been a visiting faculty member on the international human rights law programme of the University of Oxford since 2016 and has taught at five other universities in the UK, USA, and the Netherlands. Professor Subedi has published twelve books and more than sixty scholarly articles in all major areas of international law in leading international law journals throughout his academic career. His publications are focussed on promoting fairness in international relations, strengthening the rules-based international order, and advancing human rights. He served as the United Nations special rapporteur for human rights in Cambodia between 2009 and 2015. He also served for five years, starting in 2010, on an advisory group on human rights to the British Foreign Secretary. In 2021 he was appointed legal procedural advisor to the World Conservation Congress of the International Union for Conservation of Nature held in Marseille, France. Her late Majesty Queen Elizabeth II made Professor Subedi an honorary Officer of the Order of the British Empire (OBE) in 2004 for his services to international law. He was awarded one of Oxford's highest accolades – the degree of Doctor of Civil Law (DCL) – in 2019.
Professor Charlotte Watts CMG FMedSci (1981, Mathematics)
Charlotte Watts is Chief Scientific Adviser and Director for Research and Evidence at the UK Foreign Commonwealth and Development Office (FCDO). She is seconded from the London School of Hygiene and Tropical Medicine, where she is Professor of Social and Mathematical Epidemiology. Professor Watts is the most senior scientist in FCDO, with responsibility for providing scientific advice to the Foreign Secretary, Ministers, the Permanent Under-Secretary and Executive Committee, including during the COVID-19 pandemic and other emergencies. She heads the Research and Evidence Directorate, which brings together leadership of FCDO's expert geopolitical and development advisors, FCDO's significant research and technology development investments, and jointly oversees (with the Department of Science, Innovation and Technology) the UK's overseas science and innovation diplomatic network. Between 2015 and 2020 she was Chief Scientific Adviser at the Department for International Development (DFID). In her academic career Professor Watts has made important contributions in infectious disease epidemiology, HIV prevention, and violence research, including showing that domestic violence is preventable.