09th December 2022
Yat Fung (Ivi) (2022, DPhil in History)
Exeter College Summer Programme graduate relishes studying for DPhil at Exeter College
Ivi came to Oxford on the Exeter College Summer Programme in 2017. This year she was offered a scholarship for a DPhil at Oxford and there was only one college she wanted to call home, as she reports.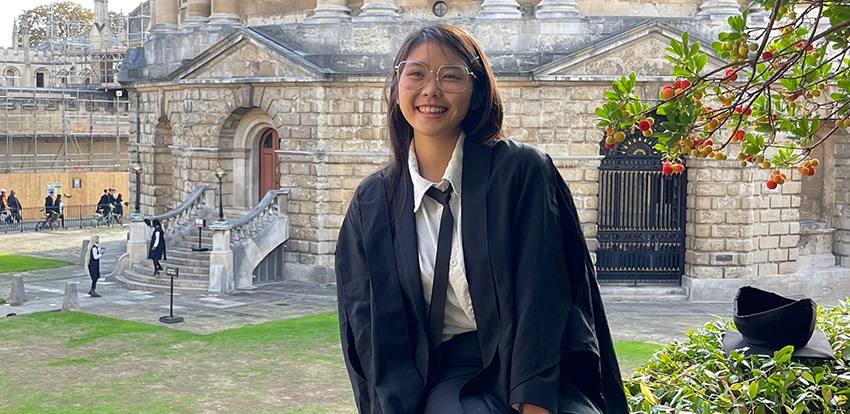 Five years ago, a 17-year-old came to Oxford and to the UK for the first time in her life. She was amazed by the beauty and elegance of the city. She was so impressed and inspired by the people at the University that she vowed to come here again. And so here I am once again, this time staying and calling Oxford home.
I participated in the Exeter College Summer Programme in 2017, when I was a first-year undergraduate student in Hong Kong. I was honoured to receive the Exeter College Summer Programme Scholarship, which enabled me to make this eye-opening journey. During the two months at Oxford, I had a taste of a regular academic term that Oxford undergrads have, which included lectures, seminars and tutorials for two courses. In addition, we also lived in Exeter undergrad accommodation – while the canteen food was not always the best, the comfort and aesthetics of Cohen Quad made up for it!
In the beginning of the Summer Programme, I found it quite intimidating to have such a long reading list, and I spent a lot of time catching up. I was even more scared when I found out how intelligent my classmates were, and I felt like I was underachieving. However, these challenges actually made me more motivated and I became more intellectually thirsty. I love learning from the smartest teaching staff and students in the world, and they pushed me to be more diligent and think more critically. It was also my first time exposed to so many people from different countries, backgrounds, and genders, which enriched my cultural understanding and sensitivity. Most importantly, I would never have thought of doing postgraduate study in such a prestigious institution before the Summer Programme, but this opportunity ignited hope in me – that one day, this girl from Hong Kong who could never afford the tuition fee and has serious mental health issues, can do research in Oxford.
Therefore, when I  knew that I had been accepted by Oxford for my DPhil in History, I chose Exeter as my college without a doubt. It is great that Exeter has been collaborating with the Jardine Foundation, which generously awarded me a scholarship with full funding. The Oxford students and staff I met in the Exeter College Summer Programme did a great job in representing the College – everyone I met in the Programme, and now as I start my DPhil, has been extremely nice, supportive, and smart. Although the MCR population is not quite as diverse as that of the Summer Programme, they are all passionate about their study and create an encouraging studying environment. The MCR has been a warm community and I have good fun in Bops, formal dinners, and other MCR events. I have decided to join the MCR committee as the welfare officer in the coming year.