Exeter College to restore and renovate Library
We are delighted to announce that Exeter College is moving ahead with plans to restore and renovate its 19th century Library, adapting it to meet 21st century study needs while preserving its much-loved appearance and character. The renewed building will be suitable for all, including people who use wheelchairs, and will be much improved throughout, seating substantially more readers in a well-lit and well-ventilated study space.
The College Library was designed by George Gilbert Scott in the neo-Gothic style and opened in 1857. It is a building of considerable architectural importance and one of the College's most distinctive landmarks, remaining central to the student experience and College life.
Over the past two years Exeter has worked with Nex, a London-based firm of architects, as well as conservation architects and historic buildings advisors Donald Insall Associates, to consider how we can sympathetically modernise the building and its study spaces.
The resulting plans, which have now been approved by Oxford City Council and the College's Governing Body, will provide a host of improvements including:
A fully accessible Library, with step-free access from the Fellows' Garden, a lift, and a WC suitable for all
Over a third more reader spaces, increased to 90 from 65
A variety of study spaces and a more flexible design that can be modified easily to accommodate changing study habits
Environmentally friendly ventilation and lighting improving the building's sustainability
Modern electrical wiring
Conservation and restoration of the original Victorian bookcases, labels, windows and flooring
Refurbishment of roofs and conservation of the architectural stonework including reinstatement of lost details
A half-width mezzanine in the Library's annexe, revealing George Gilbert Scott's original vision for full height Gothic windows and a finely crafted roof structure
Dedicated Librarians' facilities
Display cases for treasured books and objects
Rector Professor Sir Rick Trainor said: 'I am delighted that the College's exciting plans for renewing its Library have met with such a positive response and can now go ahead.
'The Library is a tremendously popular building at the heart of College life. It is essential that we preserve the historic fabric of the Library inside and out while making it fit for use in the 21st century and beyond.
'Exeter College's Library has been a place of inspiration to so many of our students past and present, including Sir Philip Pullman and JRR Tolkien. Our vision is to provide a study space tailored for modern students and academics, whilst maintaining the Library's inspirational atmosphere and exceptional beauty for generations to come.'
Exeter's Director of Development and Alumni Relations Yvonne Rainey commented: 'Nex's design for the Library seamlessly balances the needs of a modern, high-tech study space alongside preserving and highlighting the beauty of the original Victorian architecture. The restored Library will be fully accessible for the first time in its history, signalling our commitment to providing a welcoming and inclusive environment for all.
'We know that many of our alumni remember the Library with great fondness (whether or not they spent much time there!) and this has been reflected in the support we've seen so far with over £4 million in donations to the project during its quiet phase. We will shortly be launching a major appeal for the Library which will offer our alumni the opportunity to help us write the next chapter in the life of this very special place.'
Exeter College Librarian Joanna Bowring said: 'The renovation of Exeter's Library will make it a much better, more suitable space for studying and for housing books. I am pleased that the College is going to restore the original bookcases, while new display cases will allow us to show off some of the extraordinary items from the College's special collections. The renewed Library really will be a very special place in which to study.'
Alan Dempsey, Director at Nex, said: 'It has been a unique privilege to work with Exeter College on the renewal of one of their most distinctive landmarks. The Library is a key part of George Gilbert Scott's legacy, containing impressive reading rooms and intricately detailed joinery. Unusually for such a fine building, parts of it have been extensively altered over the years. Our goal has been to sensitively restore the Library to reveal its original mastery, while improving accessibility and increasing reading spaces for the next generation of Exeter students.'
Work on the Library will begin in June 2022, with the Library scheduled to reopen in October 2023. During that period around five thousand books will be housed at Cohen Quad with the Library's remaining books – those that are used less often – being stored at a facility shared with the Bodleian, allowing them to be delivered promptly when needed. A marquee in the Front Quad will provide additional study space.
Images: Computer-assisted designs courtesy of Nex Architects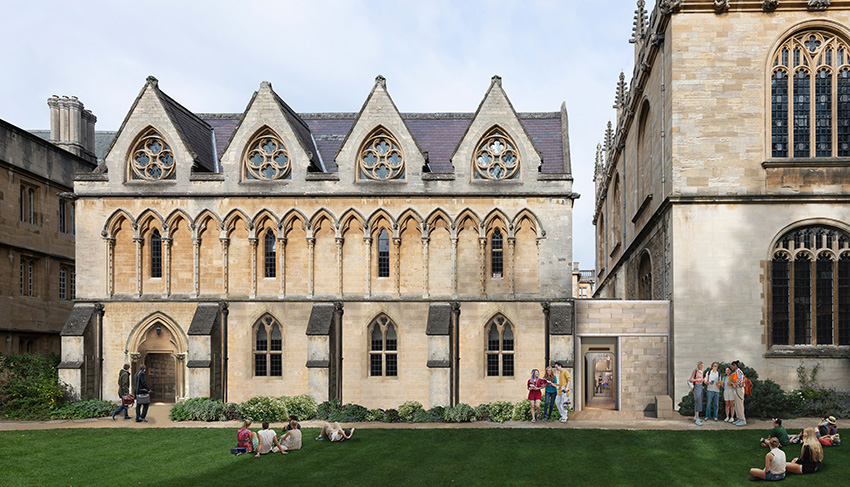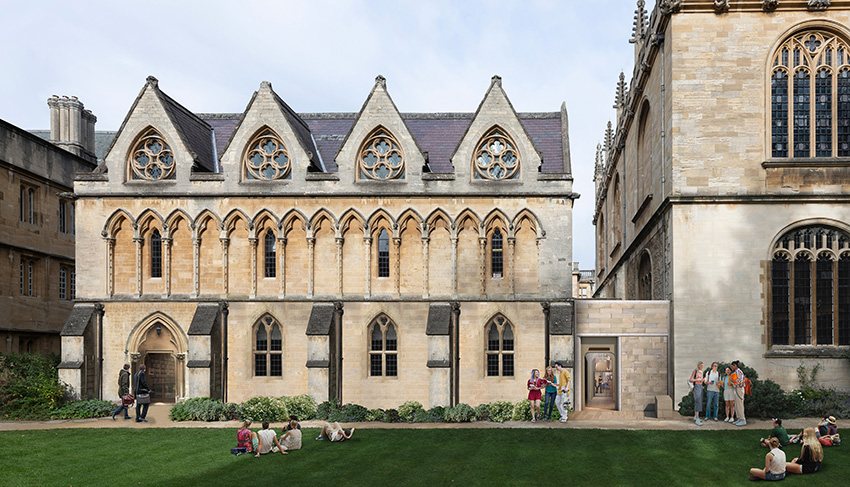 The main entrance to the Library will be moved to the east, adjacent to the Bodleian, providing easy access to a new lift and fully accessible WC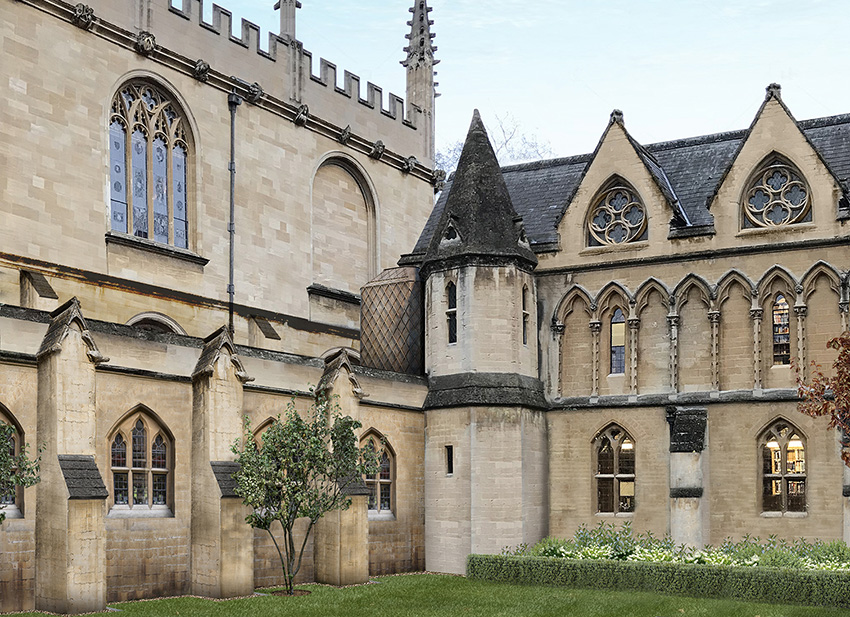 The new lift shaft (left of the staircase spire) will be discreet and in harmony with the rest of the Library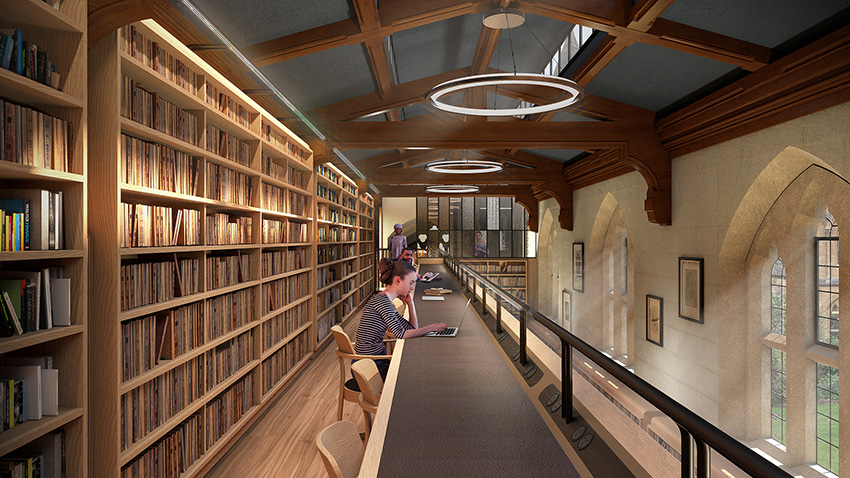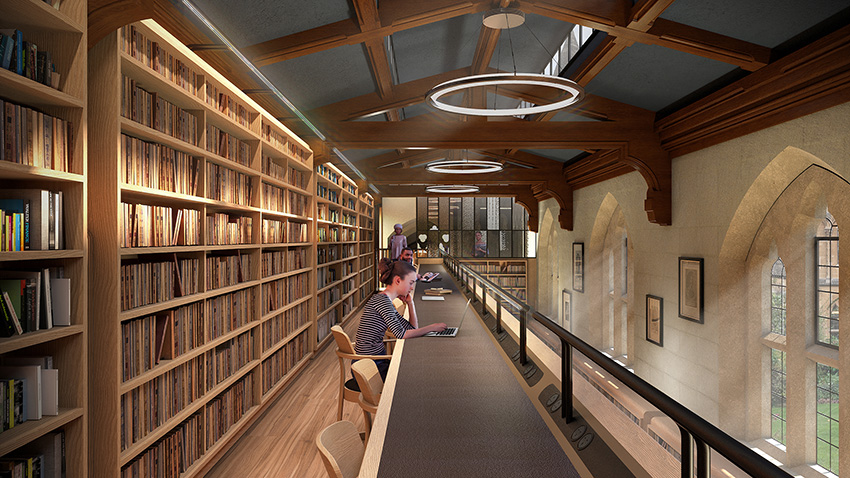 The new half-width mezzanine level in the Library's annexe will provide additional seating and allow us to reveal the full height of George Gilbert Scott's Gothic windows as originally intended, while improved lighting will enable people to appreciate the finely crafted roof structure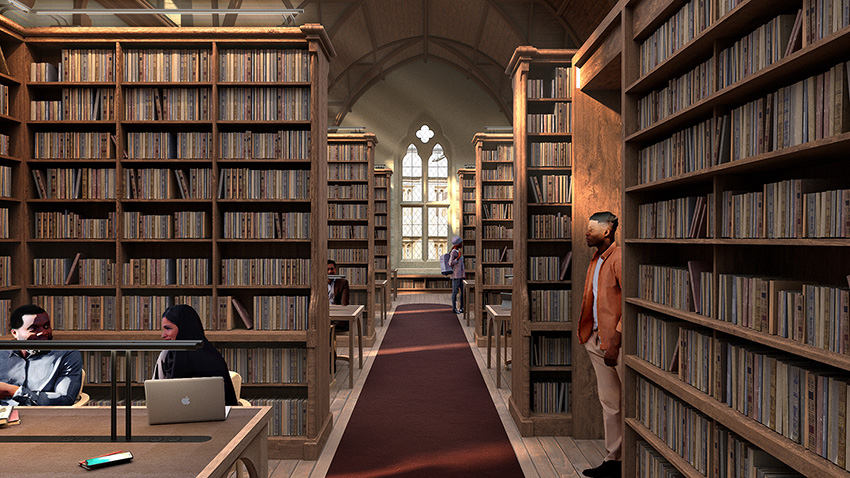 We will preserve the interior of the Library and restore the original bookcases, while providing much improved environmentally-friendly lighting and ventilation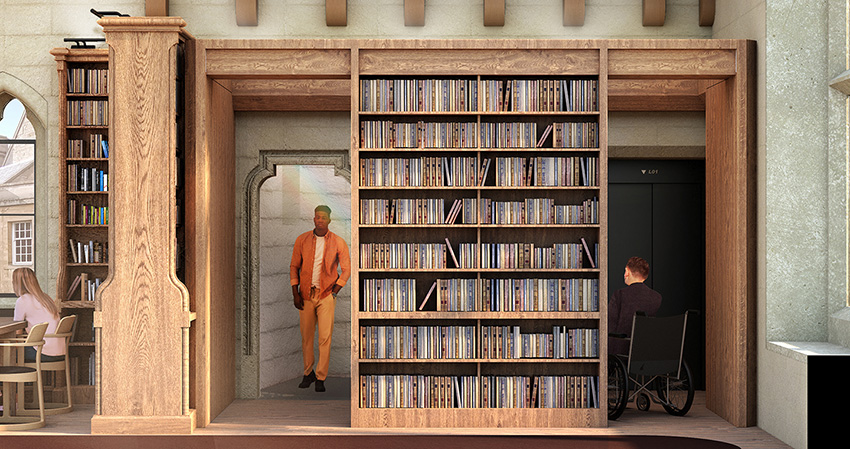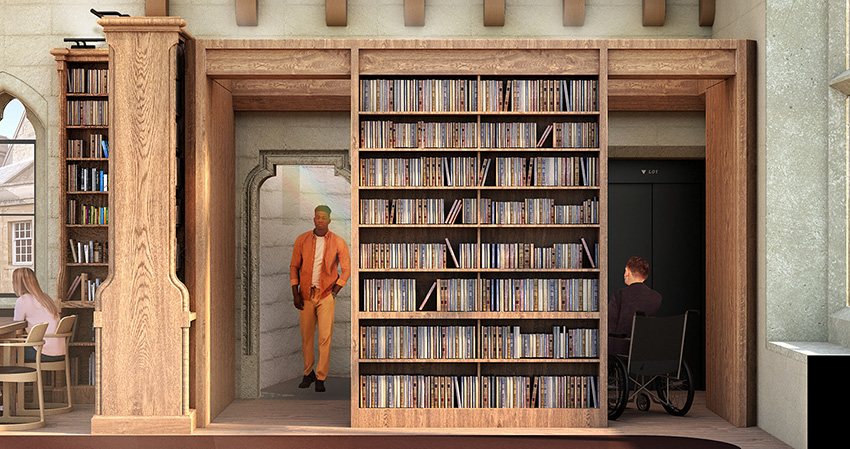 Step-free access from the Fellows' Garden and a lift will make the Library accessible to all