Exeter College to unveil Oil Portrait of His Excellency John Kufuor
Exeter College is proud to announce that a portrait of His Excellency John Kufuor (1961, PPE; Honorary Fellow), former President of Ghana, will soon hang in Hall at the College's historic Turl Street site.
John Kufuor served as the President of Ghana from 2001 to 2009, as well as the Chairperson of the African Union from 2007 to 2008. During his influential career he has received a number of prestigious awards, including the Face-of-Good-Governance Award, the World Food Prize, and the Chatham House Prize, as well as being named a Global Ambassador Against Hunger for the UN's World Food Programme. He was made an Honorary Fellow of Exeter College in 2002.
In recognition of his distinguished career, Exeter College decided to commission a painting of John Kufuor to hang in the College Hall, which would complement his photographic portrait on display in Cohen Quad, captured by Fran Monks in 2016. To ensure the right artist was selected for such an important commission, Exeter College contacted the Royal Society of Portrait Painters. A team of Exeter Fellows—including Finance and Estates Bursar Nick Badman, Chaplain and Chattels Fellow Andrew Allen, and Director of Development and Alumni Relations Yvonne Rainey—conducted a thorough consultation process to select the artist. The team viewed some 200 portraits by over 100 artists at the annual exhibition at Mall Galleries. Upon deciding on a long-list of candidates, the team, augmented by other members of Governing Body including the Rector, reviewed digital portfolios in College to make their final choice.
Ultimately Naima Aouni, a self-taught artist from Belgium who started painting at 23, was chosen. Born in 1987, Naima cites old masters such as Velazquez and Gericault as her greatest influences. Nonetheless, she brings a fresh and youthful approach to her work.
Naima described her sitter as very generous with his time. She had many opportunities to engage with John Kufuor, providing her with valuable insights. She enjoyed her time with the former President, commenting: "Regardless of his grand lifestyle, we managed to hit it off, which I think is very telling of how approachable he is. I truly felt very welcome and had an absolutely amazing, unforgettable experience."
Colour is a language in which Naima is well versed. Initially, she had intended to use a dull grey background, but on meeting John Kufuor, with his forty peacocks in the garden, she changed her mind. Naima felt that his larger-than-life personality merited a more daring colour scheme. She chose a red background for its vividness and because it complemented his skin tones. The gold pin on his collar represents the abundant mineral wealth found in Ghana. Finally, a rich forest green armchair has parliamentary tones and completes the colours of the Ghanaian flag.
Rector Rick Trainor said, "This splendid portrait by Naima Aouni highlights the dignity, humanity and natural authority of President John Kufuor, alumnus and Honorary Fellow of Exeter College. President Kufuor's importance as a democratically elected and high achieving President of Ghana, and in more recent years as an international statesman, more than justifies his portrait's inclusion in Exeter's historic Hall alongside other eminent people associated with the College since its foundation in 1314. Like the President's photographic portrait in the College's Cohen Quadrangle, his oil portrait will inspire high achievement in public service by Exeter's diverse student population, present and future."
The portrait of John Kufuor will be unveiled in the Rector's Drawing Room on 9 May, before being moved to the Hall.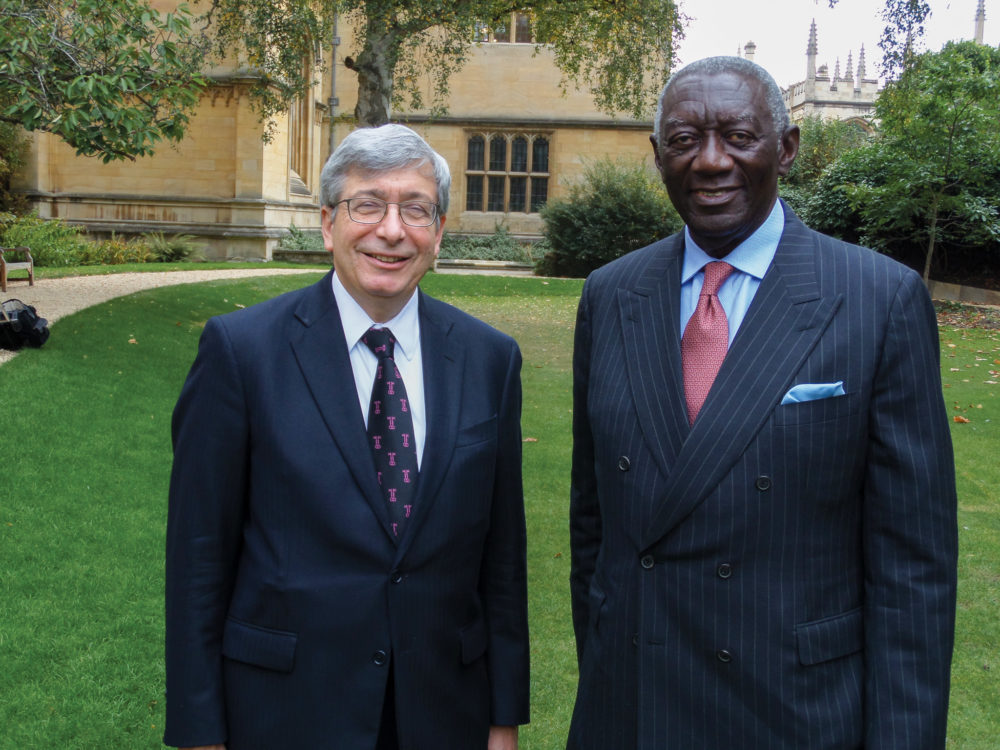 Rector Rick Trainor with President John Kufuor in the Fellows' Garden in 2013