Exeter College's 2023/2024 Visiting Fellows announced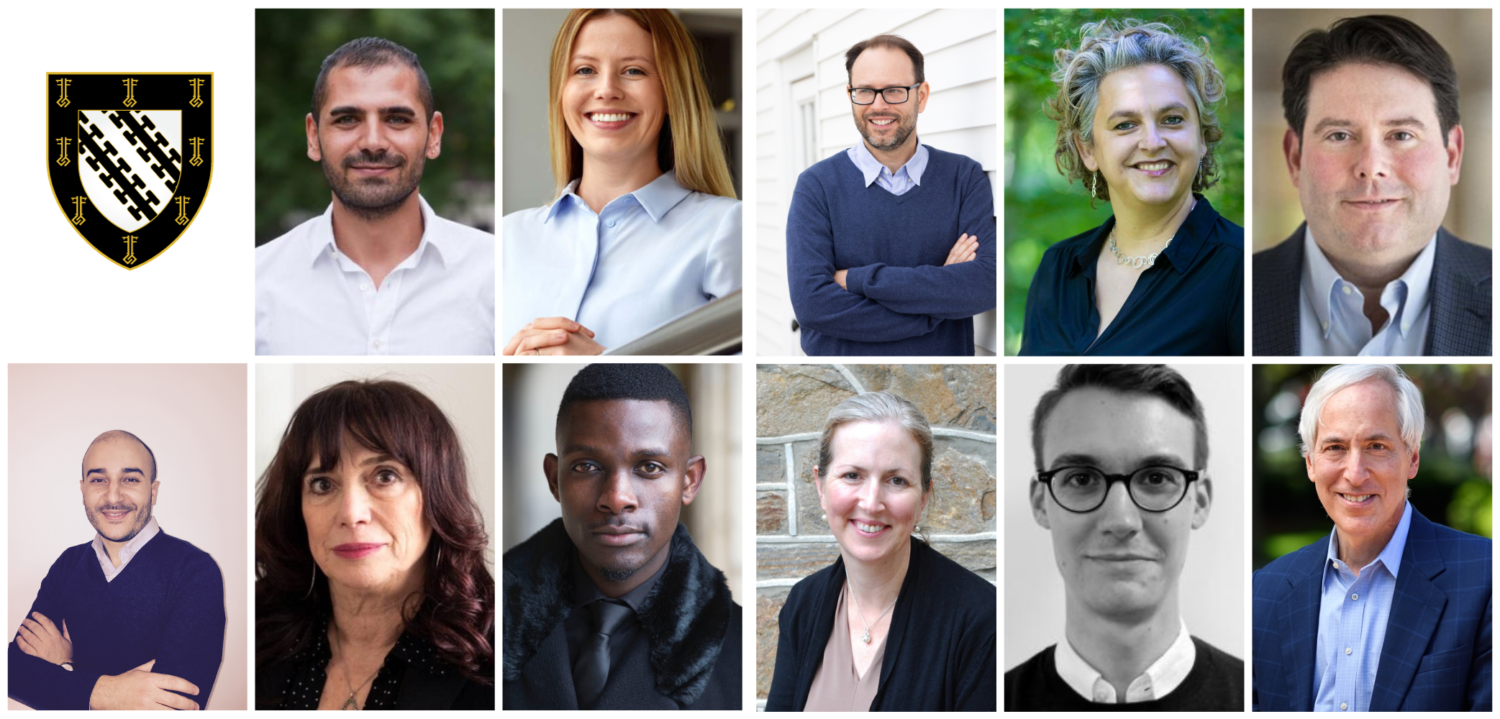 From left to right: (top row) Abdulhamit Arvas, Hannah Bows, Delvyn Case, Tine de Moor, Brian Denton; (bottom row) Khalid Lyamlahy, Debora Marks, John Pfumojena, Kristen Poole, Tim Sommer, Stuart Green
Exeter College is pleased to announce its Visiting Fellows for the 2023/2024 academic year. Each year, Exeter College appoints a number of distinguished scholars as Visiting Fellows. The Fellows will spend between one and three terms in Oxford engaging in research and playing an active role within Exeter College. We are delighted that they will augment College life and enrich our academic community.
Professor Abdulhamit Arvas (Hilary Term and Trinity Term 2024)
Abdulhamit Arvas is an Assistant Professor of English at the University of Pennsylvania. He is a scholar of early modern literature and culture, comparative histories of sexuality and race, queer studies, trans history, cross-cultural encounters, and Islam in the Renaissance. He has published widely in these fields, and is currently working on a monograph under contract with Duke University Press. His book project Abducted Boys: The Homoerotics of Race and Empire in Early Modernity will read across English and Ottoman literature to explore the abduction and circulation of male adolescents in the transnational Mediterranean space during the sixteenth and early-seventeenth centuries. Prior to his current appointment at Penn, Professor Arvas was Assistant Professor of Theatre at the University of California Santa Barbara.
Dr Hannah Bows (Michaelmas Term 2023)
Hannah Bows is an Associate Professor in Criminal Law and Deputy Dean of Durham Law School. She has held panel and advisory roles across public bodies and inquiries such as His Majesty's Inspectorate of Constabulary and Fire and Rescue Services, the Crown Prosecution Service, and the Law Commission. Her research focuses on violence against older people, especially domestic violence, sexual violence, and homicide of older women. She is working on a review of justice outcomes and decisions in cases with victims aged 60 and over. Moreover, Dr Bows recently conducted projects on the 'rough sex' defence, sexual violence at music festivals, DNACPR (do not attempt cardiopulmonary resuscitation) during COVID, and safeguarding responses to domestic abuse among older people.
Professor Delvyn Case (Hilary Term and Trinity Term 2024)
Delvyn Case is a Professor of Music at Wheaton College, Massachusetts. Professor Case currently conducts the Great Woods Symphony Orchestra, the Quincy Bay Chamber Orchestra, the Deus Ex Musica Ensemble, and Seven Seasons. His compositions have been performed by over 80 orchestras worldwide, including the Atlanta, Toronto, Baltimore, and National Symphony Orchestras, and the Royal Liverpool Philharmonic. Professor Case writes for both general and academic audiences, and composes both Christian and secular music, including a sacred symphony, an oratorio, an opera about anti-Semitism, and numerous chamber and vocal pieces.
Dr Tine de Moor (Michaelmas Term 2023 and Hilary Term 2024)
Tine de Moor is a Professor of Social Enterprise and Institutions for Collective Action at the Rotterdam School of Management. Previously, she was Professor of Institutions for Collective Action in Historical Perspective at Utrecht University. Dr de Moor holds a PhD in History from Ghent University and a postgraduate degree in Environmental Sciences from the University of Antwerp. She has been president of the International Association for the Study of the Commons and set up the peer-reviewed International Journal of the Commons, and she acts as expert in several national and international boards. In the past 10 years she received several large research grants, such as a European Research Council Starting Grant and an NWO (Dutch Research Council) Vidi.
Professor Brian Denton (Michaelmas Term 2023)
Brian Denton is the Stephen M. Pollock Professor of Industrial and Operations Engineering and the Chair of the Department of Industrial and Operations Engineering at the University of Michigan with a co-appointment in the School of Medicine. Before joining the University of Michigan, Professor Denton worked at IBM, Mayo Clinic, and North Carolina State University. Professor Denton is an expert in data-driven decision making and optimisation under uncertainty. He applies his research to healthcare delivery, public, health, medicine, and scheduled systems. Professor Denton has co-authored more than 100 journal articles, conference proceedings, book chapters, and patents. He has also received a number of national research prizes, including the National Science Foundation Career Award, the INFORMS Service Section Best Paper Prize, the INFORMS Daniel H. Wagner Prize, the Institute of Industrial Engineers Outstanding Publication Award, and the Canadian Operations Research Society Best Paper Award.
Professor Khalid Lyamlahy (Trinity Term 2024)
Khalid Lyamlahy is an Assistant Professor of French and Francophone Studies at the University of Chicago. He attained his DPhil in French and Francophone Studies from Oxford's St Anne's College. Professor Lyamlahy works on Francophone North African literature, and his research interests include contemporary fiction and poetry in French, literary and postcolonial theory, and translation. Along with two other research projects, Professor Lyamlahy is working on a book that examines subversive and nostalgic modes of writing in the works of three eminent Francophone Moroccan writers from the Souffles generation. His first novel, Un Roman Étranger, was published in January 2017 in Paris by Présence Africaine Editions.
Professor Debora Marks (all year)
Debora Marks is a mathmatician and computational biologist at Harvard. She has a passion for interpreting genetic variation in a way that impacts biomedical applications. During her PhD, she quantified the potential pan-genomic scope of microRNA targeting and combinatorial regulation of protein expression and co-discovered the first microRNA in a virus. As a postdoc, she and her colleagues cracked the classic, unsolved problem of ab initio 3D structure prediction of proteins using a maximum entropy probability model for evolutionary sequences. She has developed this approach to determine functional interactions, biomolecular structures, including the 3D structure of RNA and RNA-protein complexes and the conformational ensembles of apparently disordered proteins. Her new lab at Harvard is interested in developing methods in deep learning to address a wide range of biological challenges including predicting the effects of genetic variation and sequence design for biosynthetic applications.
Mr John Pfumojena (all year)
John Pfumojena is a Zimbabwean music composer, theatre director and practitioner, actor, and musician. His work is published by Warner Chappell Music. Mr Pfumojena's practice is concerned with devising performances and training that integrate traditional Zimbabwean and Shona Mbira/culture for the modern age and audience. It has been a key feature in his workshops with performers and young people, as well as his practical lectures at the London Academy of Music and Dramatic Arts (LAMDA) and Guildhall School of Music and Drama. He has produced a collaborative album entitled 'Sounds of Refuge' with Mohamed Sarrar, written and performed on Sunny Jain's album 'Phoenix Rise,' and worked on the critically acclaimed play 'The Jungle' by Good Chance Theatre. Mr Pfumojena has created a multi-disciplinary show called 'Bunker of Zion', which is performed using Zimbabwean marimba and mbira instruments and is co-produced with The Collaborative Touring Network. Mr Pfumojena is currently a Visiting Fellow within the Humanities Cultural Programme at Oxford.
Professor Kristen Poole (Michaelmas Term 2023)
Kristen Poole is the Ned B. Allen Professor of English at the University of Delaware. Her interests lie in early modern literature, especially the history of religion and the history of science. She is the author of Radical Religion from Shakespeare to Milton: Figures of Nonconformity in Early Modern England and Supernatural Environments in Shakespeare's England: Spaces of Demonism, Divinity, and Drama. She has co-edited several essay collections: with Thomas Fulton, The Bible on the Shakespearean Stage: Cultures of Interpretation in Reformation England, with Lauren Shohet, Early Modern British Literature in Transition 1557-1623, and with Owen Williams, Early Modern Histories of Time: The Periodizations of Sixteenth- and Seventeenth-Century England. Professor Poole is currently working on a book about Philip Pullman's (1965, English) trilogies His Dark Materials and The Book of Dust and their relationship with seventeenth-century science, language, and religion; this book is under contract with Oxford University Press.
Dr Tim Sommer (all year)
Tim Sommer is a Thyssen Foundation Postdoctoral Fellow in English at the University of Heidelberg. Prior to his current post, he was a Visiting Fellow at Harvard University and an Academic Visitor at the University of Cambridge. Based in literary history, heritage studies, and the digital humanities, Dr Sommer's current project seeks to analyse literary manuscipts as a cultural heritage phenomenon. Entitled Manuscript Fictions: Literature and Cultural Heritage from the Nineteenth Century to the Digital Revolution, it explores how authors, scholars, and the wider public have responded to manuscript material from the historical emergence of modern philology to the transformations of our own digital present. Reading literary texts in conjunction with institutional contexts and disciplinary history, the project offers a contribution to current debates in literary studies and cultural history about the forms of veneration, consecration, and appropriation that cluster around authors and the material artefacts associated with them.
Professor Stuart Green (Michaelmas Term 2023)
Stuart Green is Distinguished Professor of Law and Nathan L. Jacobs Scholar at Rutgers University. He holds a J.D. from Yale Law School and previously taught at the Louisiana State University Law School. He has received fellowships from the Leverhulme Trust, the Fulbright Commission, and Corpus Christi College, Oxford. He is a former consultant to the Law Commission for England and Wales and to the Human Dignity Trust. Green's work centres the underlying moral content of criminal law. He is especially concerned with the question of criminalisation – what kinds of behavior are justifiably punished, and why. His books and articles, which have been translated into six languages, have focused in particular on the moral limits of theft, white collar crime, and a wide range of sexual offenses.