02nd December 2019
Coral Kim (2019, English)
Exeter community gathers to share Thanksgiving
First year English student Coral Kim reports on a delightful evening in Hall celebrating Thanksgiving with students and Fellows from across the College and the wider University.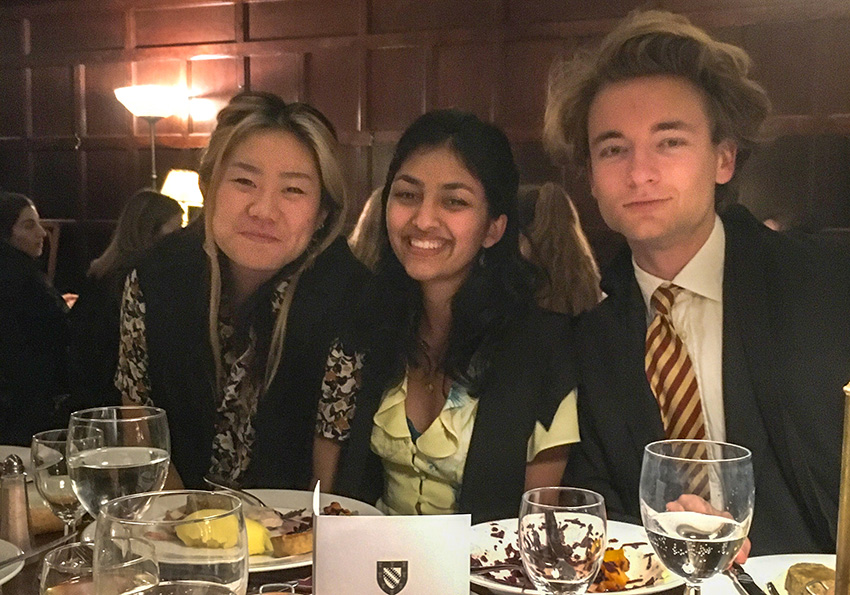 Students enjoy the Thanksgiving celebrations. Photo: Coral Kim
On 28 November, Exeter students, Fellows, staff, and guests gathered in Hall for a hearty Thanksgiving celebration. The Thanksgiving formal dinner is one of many cultural celebrations that College organises throughout the year, with other recent and upcoming highlights including Diwali and Christmas dinners.
Before the classic Thanksgiving dishes – turkey, cranberry sauce, mash, and all the trimmings – were served, Rector Trainor gave a brief, humorous speech delineating some reasons to celebrate the occasion, lightheartedly mentioning the fact that he is American. His speech was followed by another by Dr Lucie Schmidt, Director of the Williams at Exeter Programme, who was cheered by enthusiastic Williams students.
Tucker Drew, an American student from Brasenose College, commented, "I appreciated how the positive and negative aspects of the holiday were discussed in the speeches. It allowed for a more complete celebration of togetherness and gratefulness."
The cooperative format of the dinner, which involved passing around sauces and gravy and several side dishes that were served on large sharing plates, reinforced the sense of togetherness and gratitude central to the celebration of Thanksgiving. The evening concluded with a generous dessert, which featured three different pies and ice cream, and a cèilidh dance.