06th December 2019
Sam Ritblat (2019, Engineering)
Exeter darts team makes it to intercollegiate darts final
Sam Ritblat (2019, Engineering) reports on an extremely impressive first season for Exeter College Darts Club.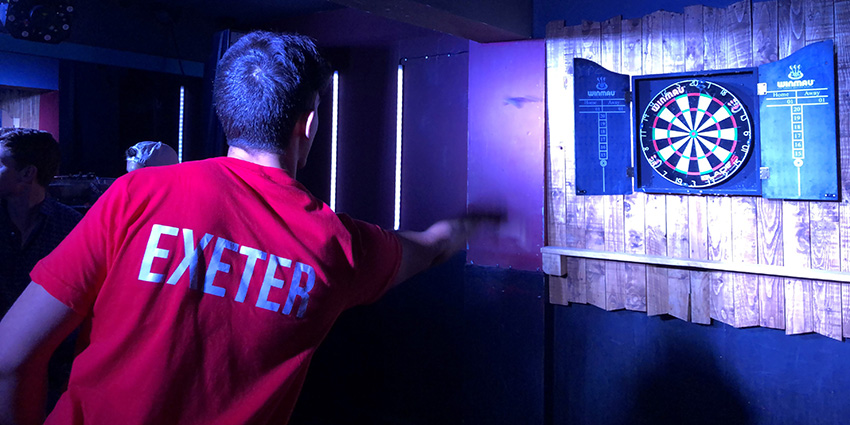 It has been a fantastic term for the Exeter College Darts Club. Going from foundation to finalists in only eight weeks is impressive by any standards, but the rise in popularity of the sport within College can't be overstated. Team captains Nick Whitley and Jack Hughes put out a team of eight players for every game, and rallied support from everyone else in College.
Although the season began with a loss to St Peter's in the group stage of the intercollegiate competition, the introduction of key players Patrick West and Patrick James, in the next game against Brasenose kick-started our winning streak. The final group stage game against Worcester was going to be a challenge, but we won the match 7-5 in an intense evening, featuring some mesmerising darts from Guy Nehushtan in the captain's leg and impressive first-time performances from Yasmine Copley and Rachel Tudor, as well as Phoebe Anderson filling in at short notice to win her doubles leg.
With the knockout stage of the competition completed, we were drawn against St Catz, last season's champions, and once again ECDC rose to the occasion, winning 7-2. Easy. The semi-final was a tight match, and we defied the odds yet again, winning the match in a playoff between the two captains, and with yours truly scoring the first 180 in inter-college darts history.
The final against Teddy Hall took place at Cirkus, where the atmosphere was electric. With over 100 spectators, tensions were running high, with chanting coming from all sides. Unfortunately, this is where the fairy tale comes to an end. Teddy Hall proved to be too good for us, and after losing a couple of very close legs they found themselves winning 7-3, a score that doesn't quite do us justice, despite individual performances worthy of credit: Henry Hampson and Matt Willo. Henry won his singles leg with a delicious checkout from 64, and Matt took the win in the doubles match.
This, however, is not the end of our story. With so many positives to take from the term, both players and supporters have high hopes for next season and beyond. We'll keep working hard and enjoying our darts, and we'll be back.