Exeter-East Lothian study programme students to take up places at Oxford
Two East Lothian students are set to take up places at Oxford University after participating in a unique study partnership between Exeter College and East Lothian Council.
Lewis Miller and Thomas Jeffrey were among 12 young people from across East Lothian's secondary schools who travelled to Oxford for a week of learning and social activities at Exeter College in 2019, undertaking a rigorous series of assessments. The school pupils took part in seminars, tutorials and museum visits, experiencing what it's like to be a student in a prestigious Oxford college.
The Exeter-East Lothian study programme is a fully funded residential programme aimed at encouraging high aspirations and inspiring more students from Scotland – who are currently underrepresented at the University – to apply to Oxford.
After continuing their studies at school, Lewis, from Longniddry has been offered the opportunity to read Ancient and Modern History at Christ Church College. Meanwhile, Thomas, from North Berwick, is planning to read Politics, Philosophy and Economics at Corpus Christi College.
Lewis, who is now in S6 at Preston Lodge High School, thoroughly enjoyed his experience. He said: 'Not only was the week engaging and enjoyable, it also made Oxford seem like a normal, achievable place for all of us. I don't think I would have applied without it.'
Thomas, now in S6 at North Berwick High School, is grateful to the staff who supported him throughout the programme. He said: 'I wouldn't have even thought of applying to such an institution had I not been told to apply for the study programme in the first place and I really look forward to providing as much help and support as needed for future generations using the programme.'
Exeter College Rector Professor Sir Rick Trainor said: 'I am delighted to see that two pupils from the East Lothian and Exeter College study programme will soon commence undergraduate degrees at Oxford. Exeter is committed to encouraging more applications from groups underrepresented at Oxford, including students from Scotland, and Exeter's study programme aims to do this by giving school pupils a taste of what studying at Oxford is like. It is wonderful that our partnership with East Lothian Council has already succeeded in encouraging talented young scholars from Scotland to apply to Oxford. I hope Lewis and Thomas are the first of many students who experience the study programme and then set their sights on studying at Oxford.'
East Lothian Councillor and Cabinet Spokesperson for Education and Children's Services Fiona Dugdale said: 'The partnership between East Lothian Council and the University of Oxford is unique and it's great to see it flourishing. I'm delighted to hear that Lewis and Thomas had such a positive and beneficial experience as part of the first programme in 2019, and that this has inspired them to apply to become Oxford students.
'We are keen to see the partnership continue as a success, offering significant educational and social opportunities. It provides young people from East Lothian with the chance to sample university life and helps build the confidence to apply for a place. I'd like to thank everyone involved in the programme so far.'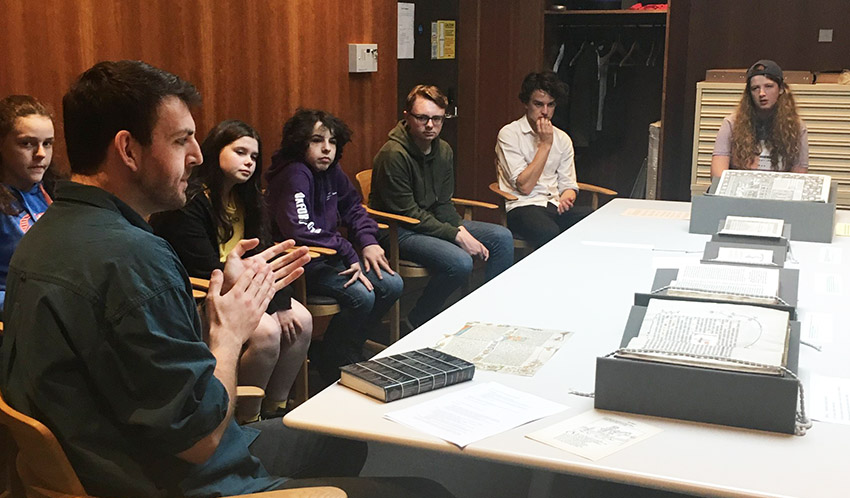 During the 2019 Exeter-East Lothian study programme participants were able to explore Exeter's special collections