Exeter Fellow Professor Cath Green honoured at Pride of Britain Awards
Many congratulations to Exeter's Senior Research Fellow, Professor Cath Green, who received a Special Recognition Award as part of the Oxford Vaccine team at this year's Pride of Britain Awards.
The Daily Mirror's Pride of Britain Awards celebrates and recognises 'the achievements of truly remarkable people who make our world a better place.' Screened on ITV in November, it is the biggest awards show of its kind on British TV.
The Awards recognised 'the incredible impact' of the team of Oxford scientists who together created a vaccine that: 'helped give us our lives back, and is also the most potent weapon against Covid in the developing world.'
Pride of Britain added: 'Amid the vast wave of vaccination statistics, one in particular stands out. By the end of July 2021, seven months after it was licensed, a billion doses of the Oxford vaccine had been delivered to more than 170 countries around the world.'
This award joins the whole host of recognition the team has received, including the Heroes of the Year award at this year's British GQ Men Of The Year Awards in September. 
Prince Harry, Duke of Sussex, honoured the team via live stream at the GQ Awards, describing them as 'heroes of the highest order.' Before introducing them to the stage, Prince Harry's speech warmly underlined the team's incredible contribution to the fight against Covid-19 and vaccine equity. 
Find out more about the Pride of Britain 2021 winners.
Read Prince Harry's full speech honouring the scientists behind the vaccine live at the British GQ Awards 2021.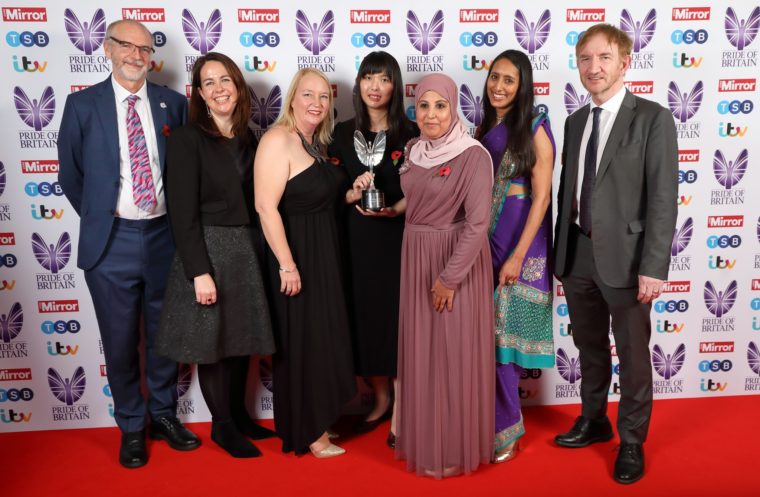 The Oxford Vaccine Team on the red carpet at the Pride of Britain Awards (Prof Cath Green, third from left)