10th November 2020
Rosa Chalfen (2019, English)
Exeter freshers celebrated for contribution to University and inspiring black students
English student Rosa Chalfen spoke to Exonians Amgad Salih and Deborah Ogunnoiki after they were included in an Oxford University feature celebrating the contributions of black people in enhancing the University's reputation.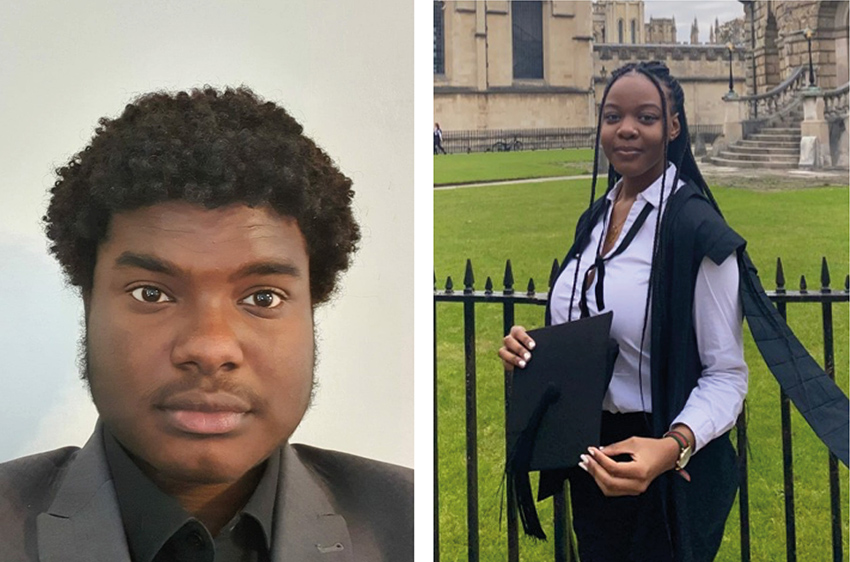 Amgad and Deborah featured in the University's 'Black History Month 100'
Two Exeter first years recently featured in the University's 'Black History Month 100', a series dedicated to understanding the experience of black people at Oxford and celebrating how black people have contributed to the University's reputation.
Amgad Salih (2020, Economics and Management) was featured for having co-founded the Black Excellence Network, a mentorship scheme for aspirational black students going into higher education. He explains: 'What we do is target underprivileged black students – as a black student from a working class background, I wanted to give back in some way after I got my Oxford offer. Essentially what we do is provide mentorship and other opportunities to black students, providing them with the tools that they need to apply to top institutions.
'The biggest thing is closing the information gap. A lot of black students from working class backgrounds are able to apply, they just don't know anyone else who has.'
Deborah Ogunnoiki (2020, Classics) was nominated for her work setting up an Afro Caribbean Society at her secondary school. She is working with other local state schools to create an ACS network and send out a regular newsletter to black students. On the impact that she would like to have at Oxford, Deborah says: 'I want to see how much I can change the perspective of black people in my subject. I'm the only person from my sixth form to have ever done Classics at Oxford. Being at Oxford, I feel like it's up to me to change the narrative.'
The series also featured Exeter Fellow Professor Dapo Akande (Professor of Public International Law), who regularly advises governments around the world about international law and was recently one of the drivers of a major step forward for the protection of civilians involved in conflict. Among Exeter alumni, Chisanga Puta-Chekwe (1977, PPE) was nominated by the College for his extraordinary career and voluntary work helping children from low-income families receive post-secondary education.
To view the University's Black History Month 100 click here.