27th January 2022
Rosa Chalfen (2019, English)
Exeter holds annual Burns Night Dinner
On 23 January, Exeter held its annual Burns Night Dinner to celebrate the life and legacy of the Scottish poet Robert Burns.
The dinner was a great success, with a busy programme of events. After a drinks reception in the marquee, guests took part in a candlelit procession into the Dining Hall, preceded by a bagpipe player. This was followed by the traditional parade and stabbing of the haggis, accompanied by Lachlan White's (2020, History) dramatic rendering of 'The Address to A Haggis'.
After guests had enjoyed the formal dinner, which included traditional Burns Night food such as haggis, neeps, tatties and cranachan, Mhairi Tait (2018, Modern Languages) replied to 'The Toast to the Lassies' with a hilarious reflection on Burns' own relationship with women and its implications for modern celebrations of Burns Night. This was followed by a speech from Dame Frances Cairncross, Honorary Fellow of Exeter, who served as Rector from 2004-2014 and inaugurated the College's Burns Night Dinner.
Guests were then treated to music from the Oxford-based ceilidh band 'Mouse and Trousers' and partook in traditional Scottish dancing in the marquee.
This was the first time that Burns Night Dinner had taken place in two years due to COVID-19 restrictions, and students and staff alike were very glad to see its return.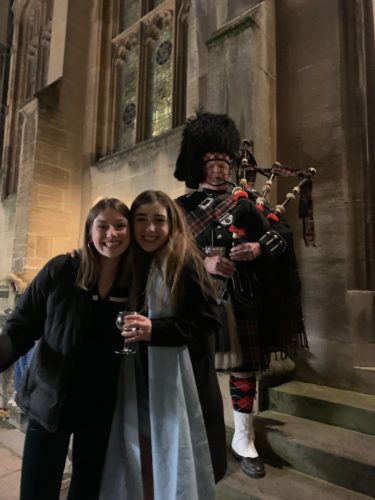 Guests took part in a candlelit procession into the Dining Hall, preceded by a bagpipe player
Lachlan White's (2020, History) dramatic rendering of 'The Address to A Haggis'