Exeter College holds fourth Exeter Plus bridging programme
On 19 September, Exeter welcomed 10 incoming students to its fourth iteration of the Exeter Plus bridging programme. The programme seeks to support freshers in acclimatising to a new and distinct academic environment. Coordinated by Access and Outreach Lead Ellie Lee, Schools Liaison Officer Evie Sutcliffe, and Tutor for Admissions and Giuseppe Vernazza Fellow in Earth Sciences Professor Conall Mac Niocaill, the Exeter Plus two-week residential is fully funded and mimics a typical schedule that Oxford undergraduates might experience during term time.
The Exeter Plus residential allows students to receive guidance in and experiment with different approaches to research, learning and sharing knowledge before they begin their studies in earnest. The fortnight kicks off with a guide to the residential before a tour of College. Students then experience a varied agenda of teaching, including lectures, small-group discussions, problem classes, and one-to-one tutorials with their designated Graduate Mentor, in addition to independent work. Students also write a short essay, for which they are given detailed feedback. The residential seeks to be an introduction to College life and the rigorous and rewarding Oxbridge teaching system, easing the transition from secondary to tertiary education.
Betty Landowski took part in the two-week residential and wrote about her experience, 'I've loved meeting people who I feel I can really relate to before the huge wave of freshers and term. We met so many people together (undergrads, graduate mentors, a certain cat) – it was so easy to make connections when everyone was at ease. Honestly that was the best assurance I could've received before term, especially because the wait until October can feel so long and daunting with nothing to do. The work is really well paced and rewarding too, which was a big relief.'
Another participant, Sophie Breward, echoed these sentiments: 'Exeter Plus has given me the opportunity to build friendships with people from similar backgrounds as me and also to settle into life at Oxford before the rush of freshers. It was exciting to get out of my comfort zone socially and academically.'
As well as the Exeter Plus programme, Exeter now offers a mentoring programme, focused on study skills, throughout the academic year where undergraduate students can receive mentoring from a graduate student with expertise in their area of study.
Rector Trainor commented, 'The Exeter Plus bridging programme has proved enormously helpful to incoming students in its first three years and I'm delighted that this year's students also found the experience well worthwhile. Both Exeter Plus and the new graduate to undergraduate mentoring scheme help undergraduate students adjust to College life, alleviate some of the pressure that comes with studying at Oxford, and develop outstanding students who will flourish throughout their time at Exeter and beyond. In addition, they provide graduate students with opportunities to develop their careers and gain valuable tutoring experience.'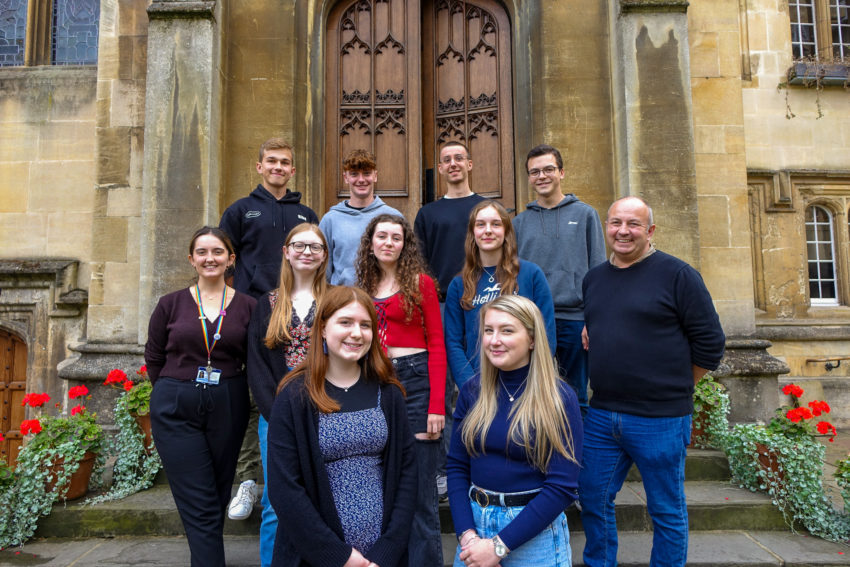 Exeter Plus students with Schools Liaison Officer Evie Sutcliffe and Tutor for Admissions Professor Conall Mac Niocaill.