14th December 2022
Frederick Crichton-Miller (2021, English Literature and Language)
Exeter student presented with Jardine Outstanding Leaders Award
Yu Ren-Chung (2015, Public Policy) has been presented with the Jardine Outstanding Leaders Award for his work as an activist and non-profit professional in Malaysia. Ren is both an alumnus of Exeter College and a current Jardine Scholar, having returned to Exeter College this year as part of the inaugural cohort of the MSc in Public Policy Research at the Blavatnik School of Government.
The Jardine Scholarship is a full scholarship provided to undergraduates and graduates at the Universities of Oxford and Cambridge, provided by Jardine Matheson Holdings Limited. The scholars are selected by their drive to lead and make an impact in the communities they work and live in, and Ren's position as a Jardine Scholar is already a notable achievement of its own. Ren cites his 'world-class training in public policy' from the Jardine Scholarship as vital in his ability to contribute to national policy reforms in Malaysia.
Ren has been presented with the Jardine Outstanding Leaders Award primarily for his contribution to policy, governance, and public affairs in Malaysia, seeking greater gender equality across Malaysia. Having spent nearly a decade in the non-profit sector, most recently as Deputy Executive Director and Advocacy Director at the Women's Aid Organisation in Malaysia, Ren has spent his time organising teams of activists, academics, and lawyers, preparing compelling analyses, engaging policymakers, and implementing effective media campaigns.
The impact of Ren's work with NGOs, activists, and politicians speaks for itself, changing Malaysian policy for the better. Some of the outcomes of his contributions as part of the Women's Aid Organisation include the creation of a seven-day paternity leave in employment law, the establishment of the National Domestic Violence Committee, increased public funding for women's shelters, and the tabling of an anti-stalking law in the Malaysian Parliament.
Reflecting on his time, Ren respectfully notes the importance of all of those he worked alongside to make this happen, expressing how he is most grateful for the opportunity to work alongside 'individuals who chose a career or made decisions towards improving society and the lives of others'.
Exeter College congratulates Yu Ren-Chung on his exceptional achievement and wishes him the best with his MSc in Public Research Policy this year. We look forward to seeing what Ren achieves in the future.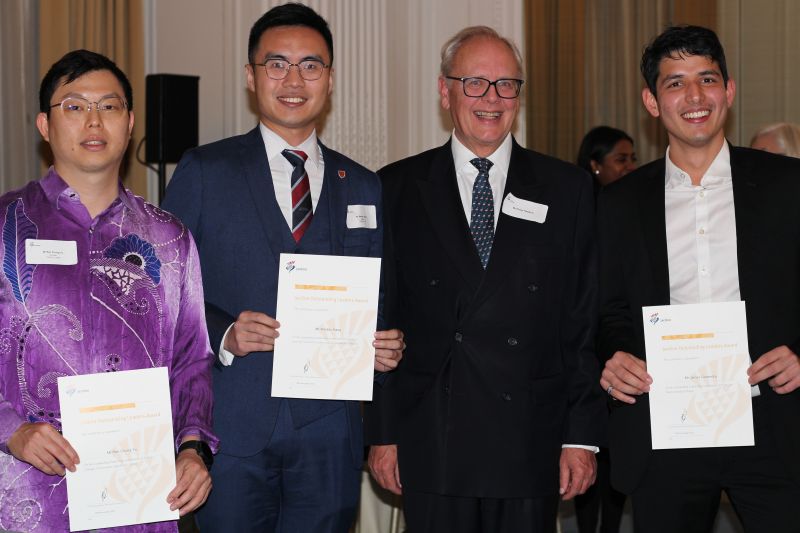 Yu Ren-Chung (left) receives his award from Philip Hawkins, Director of Matheson & Co, pictured second from the right