Exeter student Shiri Heffetz competes in hackathon at the Vatican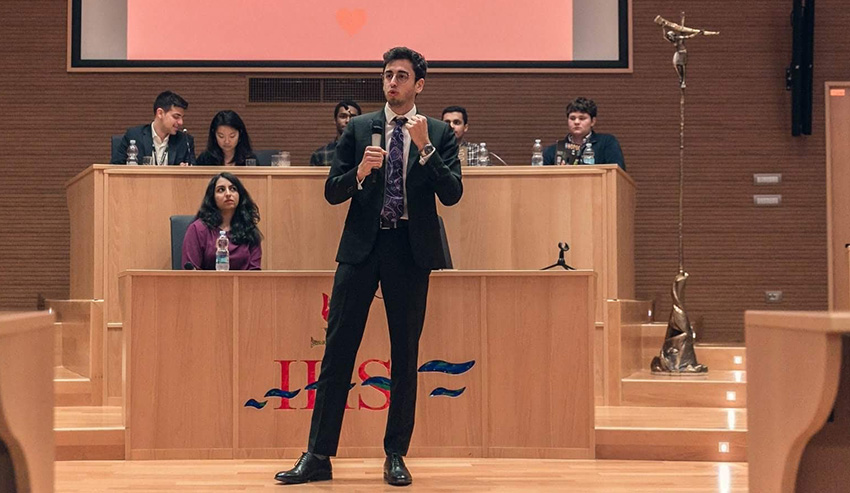 Shiri Heffetz presents at VHacks
In March Exeter student Shiri Heffetz (2017, Mathematics and Foundations of Computer Science) took part in the first ever 'hackathon at the Vatican', creating an app that could help reunite refugees with lost loved ones.
Hackathons bring together large numbers of people to engage in collaborative computer programming. The March event, VHacks, was organised by students from Harvard and MIT, with support from the OPTIC Network, the Vatican, Microsoft, Google, and other organisations. It united 120 students from 60 universities and 28 countries for a 36-hour hackathon, during which they worked in teams to tackle some of the most difficult issues of our time: social inclusion, interfaith dialogue, and migrant and refugee crises.
Shiri's team focused on the last of these and set about creating software that could help refugees. They designed Vinculum, a multi-platform application that allows users to input pictures of their missing relatives and returns the top matches of similar looking missing people, as currently recorded by NGO databases. Images can be submitted via a website, a custom Facebook chatbot or SMS. Importantly, the app places a relatively low burden on internet bandwidth, which is often very limited at refugee camps and strained by high demand. Vinculum also has potential to help victims of human trafficking and could be used to locate children who have run away or been taken from their families.
The Vinculum team presented their project at VHacks and were awarded third place in the Migrants and Refugees category by a panel of technology professionals and Vatican staff. They were also voted winners, across all three categories, of the Audience Choice Award.
Reflecting on the event, Shiri said: 'I was incredibly lucky to be working with a truly diverse team. The strong sense of purpose behind our project reflected in a great energy throughout the event. It has opened my eyes to the endless possibilities a team of motivated minds can pursue. Leveraging technology for the upcoming refugee crisis is a critical endeavour which we intend to contribute to.'
First place in the migrant and refugee category went to Credit/Ability, a 'credibility scoring application' that provides refugees with a way to collate their employment history and demonstrate their reliability, making it easier to obtain jobs and housing. Second place was awarded to Sajal, an app that enables healthcare professionals in different countries to view comprehensive medical histories of migrants and refugees using unique QR codes.
With so many potential solutions to serious problems developed in just 36 hours, as well as a new global network of talented, altruistic minds, VHacks was a tremendous success and it is hoped the event will run again in 2019.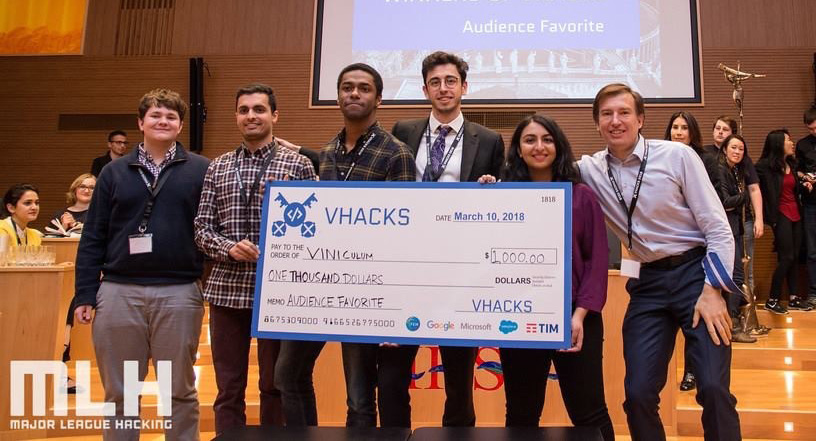 The Vinculum team receive the Audience Choice Award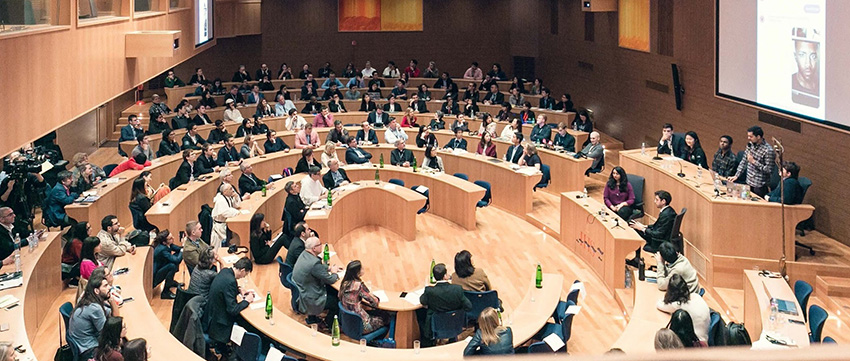 VHacks 2018