16th December 2020
Rosa Chalfen (2019, English)
Exeter students create new college drama production 'A Deed Without a Name'
Rosa Chalfen (2019, English) shares a new short film created by Exeter students in Michaelmas Term.
Like so many extracurricular activities, the majority of student drama has been cancelled this term, with the annual drama cuppers sadly becoming impossible. Nevertheless, Exeter students still managed to produce 'A Deed Without a Name', a short film featuring a range of Shakespeare monologues performed by College undergraduates and set in and around Oxford. It was an entirely Exeter-run project, directed by myself and Costi Levy (2019, Philosophy and Spanish) and filmed by resident cameraman Joshua Clarke (2017, Engineering).
It was broadcast on YouTube on Wednesday 2 December to an audience of family and fellow students. Thankfully we were able to film the entire project socially-distanced according to government guidelines at the time.
The film featured eleven students performing classic monologues from plays such as A Midsummer Night's Dream and Macbeth in a range of outdoor locations, from the Radcliffe Camera to Exeter's very own Fellows' Garden. One student even performed in their bedroom, recreating the now-familiar student experience of 'self-isolation'. The film aimed to give Shakespeare a truly modern twist by locating it in familiar student settings.
Director Costi Levy commented that 'A Deed Without a Name was a great way to delve into a range of Shakespeare plays – having to adapt to the show being filmed during lockdown was a new challenge, but it was so interesting to consider how we could use establishing shots, music and camera angles to make the most of the acting'.
Cast member Daniel McNamee (2020, Classics and English) agreed, saying that 'it was really encouraging to see members of College choosing to be inventive with drama given the circumstances – as is often the case, limitations on creativity forced us to be innovative, and in all likelihood made a more successful piece than we would have otherwise'.
The film is still available to watch and can be accessed here (footage starts at timestamp 11:30).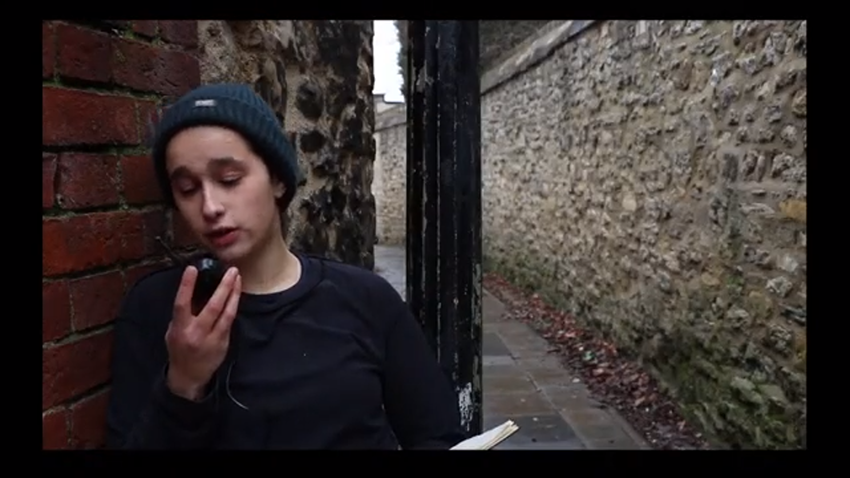 Costi Levy (above) directed and featured in A Deed Without a Name