Exeter students excel in a weekend of Varsity rugby and rowing
This past weekend saw a host of highly anticipated Varsity sporting events between Oxford and Cambridge in London. On Saturday 25 March, the Women's and Men's teams of the Oxford University Rugby Football Club faced off against Cambridge at Twickenham Stadium. The next day, between Putney and Mortlake on the River Thames, the annual Boat Race took place. The Women's and Men's Blue boats rowed against their Cambridge counterparts, and the Oxford reserve boats, the Women's Osiris and Men's Isis, went up against Cambridge's Blondie and Goldie, respectively.
Exeter was well represented throughout the weekend, with several students from the College making various Varsity teams, an exceptional accomplishment in its own right. At Twickenham, Vasco Faria (2021, Biochemistry) represented Exeter in the Men's rugby game and Annabel Rand (2020, Law) the Women's.
With a respectable final score of 15 to 10, Oxford narrowly lost the Men's game. However, after a rocky start with Cambridge securing a seven point lead of 12 to 5 at half-time, the Oxford Women's team excelled in the second half. They kept Cambridge's attack at bay while adding 26 points to their own tally to win with a final score of 31 to 12. This was the first win for the Oxford Women since 2016. Playing as hooker, Rand was a decisive member of the Oxford team.
On the water, Exeter had representation in both the Women's Blue boat and the Osiris reserve boat. Ella Stadler (2019, History; 2022, MSc History of Science, Medicine and Technology) rowed in the second seat in the Blue boat and Maria Nielsen-Scott (2018, Medicine) rowed at four for Osiris. In the lead up to Sunday, both athletes underwent rigorous training schedules to secure their places on the teams and prepare for the race itself, typically attending twelve practices a week. Despite an impressive performance, the two crews did not manage to wrestle the victory away from Cambridge.
Exeter College congratulates all who participated in the Varsity matches this past weekend. Go Dark Blues!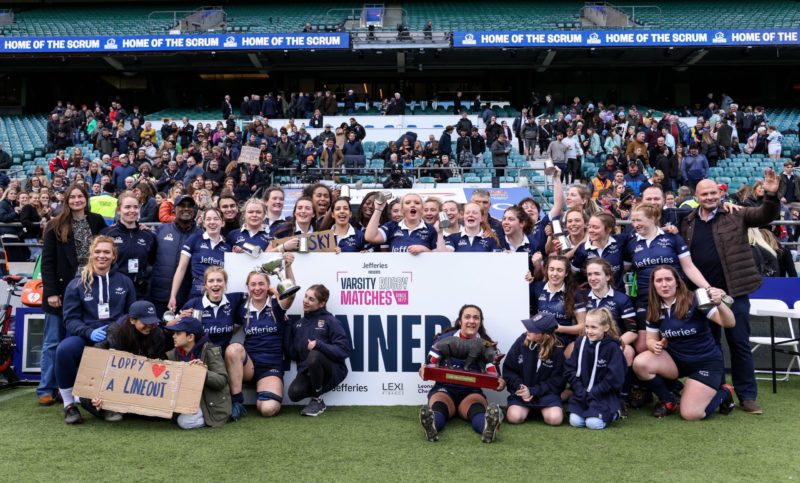 Oxford University Women's rugby team celebrating their win at the 2023 Varsity match