30th June 2022
Frederick Crichton-Miller (2021, English)
Exeter students receive Oxford Student Union awards
Exeter students Anna Gilchrist and Jack Klein were recognised at the Oxford Student Union Awards at the end of Trinity Term. Frederick Crichton-Miller (2021, English) reports.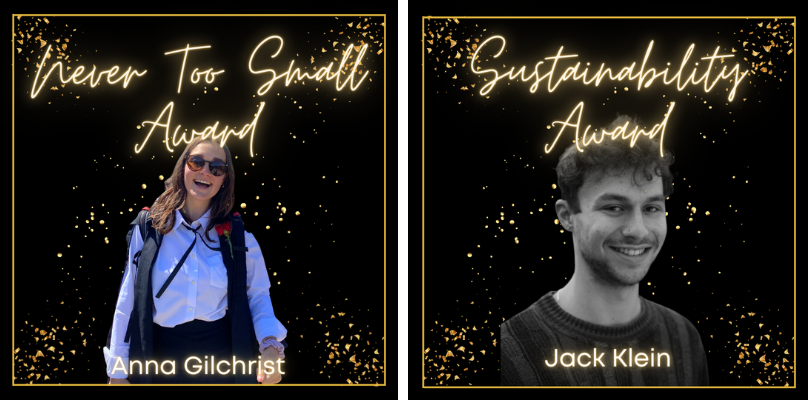 Congratulations to two Exeter students, Anna Gilchrist (2019, Earth Sciences) and Jack Klein (2020, Philosophy and Modern Languages), who have both won awards at last week's Oxford SU Student Awards Evening. Each nominee was put forward by their fellow students, with the short-list and winners selected by the SU Sabbatical Officers. Each award serves to celebrate the amazing contributions made by students to university life, rewarding and recognising them for the impact they have made. A huge well done to both Anna and Jack!
Anna was awarded the Never Too Small Award, as recognition for her outstanding loyalty and devotion to her friends. She was commended for her acts of kindness, always making an effort to be there for a chat, walking friends home after a night out, or dropping off groceries. Anna has also demonstrated her kindness by cooking and delivering meals to friends who were feeling stressed or overloaded during term, helping them through their weeks as a lovely and devoted friend. Well done to Anna – you truly deserve this.
Jack received the Sustainability Award for his passionate commitment to making the University of Oxford climate-conscious. Not only has he championed sustainability in Oxford, but Jack is an active member of Exeter College's Sustainability Working Group, as well as regional and national climate campaigning groups. His time spent campaigning for the University to use its financial, cultural and educational position for environmental justice is remarkable, indicative of his devotion to promoting sustainability. Well done to Jack – you are an inspiration to many.
The Student Awards Evening is held every year, and any current student can be nominated for a wide variety of awards. For more information on the Awards click here.