Exeter student production 'Hands and Flowers' well received at the Edinburgh Fringe
Hands and Flowers, a queer Jewish comedy drama about love languages and communication, has just returned from a successful run at the Edinburgh Fringe.
Recently co-written and directed by Costi Levy (2019, Philosophy and Modern Languages), the show was developed for the Fringe in collaboration with Last Minute Productions. Following a technical rehearsal, in which lighting designer Lucas Ipkendanz (2020, Chemistry) programmed the lights and the cast familiarised themselves with the theatre, Hands and Flowers ran five times at theSpace @ Surgeon's Hall. The five actors, amongst them Jack Klein (2020, Philosophy and Modern Languages), used each show as an opportunity to experiment with intention and delivery. As a result, and on account of moments of improvised comedy and audience interaction, each show felt different.
The run was close to sold-out, an impressive feat for a student show at the Fringe. It featured on AJ Clay's 'not-to-be-missed recommendations' in Lothian Life, which described the show as 'a joyful representation of queer experiences for those in the community, and a great place to start for those wanting to be better allies to their LGBTQ+ loved ones'.
Beyond the production itself, the Hands and Flowers team immersed themselves in the excitement and variety of the Edinburgh Fringe. Cast and crew favourite shows included Casting Off, an empowering intergenerational circus performance, the totally immersive Riss Obolensky: Saving King Herod, and Quartet, another Oxford University production, which Daniel McNamee (2020, Classics and English) performed in.
'Being part of Hands and Flowers has been an exciting and energising experience', writes assistant director Sarita Williams (2020, English and French). 'I have learnt so much and have met some very kind and talented people'.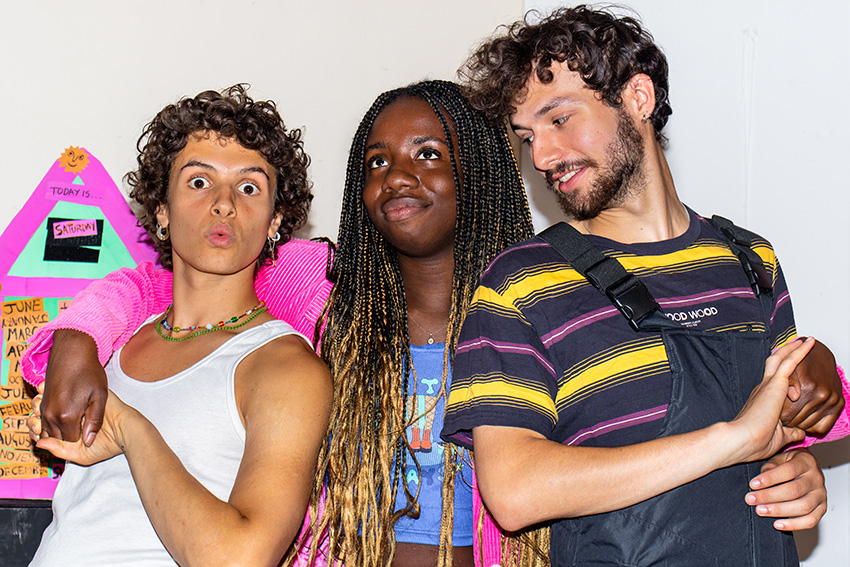 L-R: Tomer Amit (Dani), Tolu Atilola (Anj) and Exonian Jack Klein (2020, Philosophy and Modern Languages) (Guy)