17th February 2020
Rachel Muir (2018, History)
Exeter students visit Williams College, MA
Exeter student Rachel Muir reports on a memorable trip to Williams College, MA, to participate in the College's Winter Study Programme.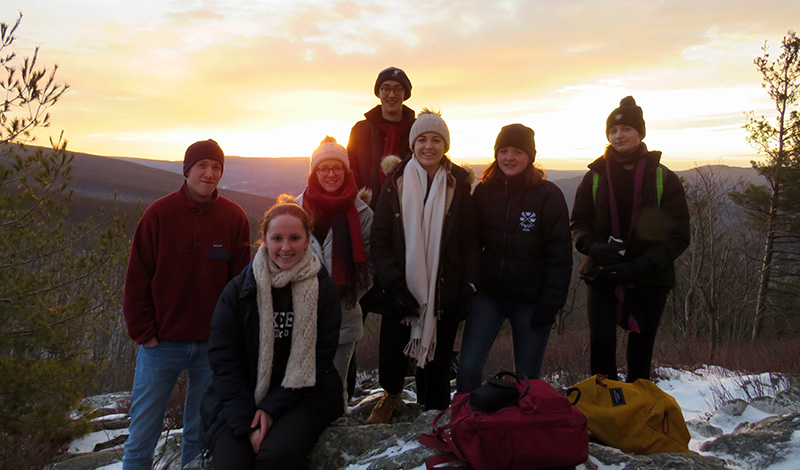 Rachel Muir (second from left) and fellow Exeter students take a dawn hike above Williamstown, MA
When we woke up to a (thin) blanket of snow on the first morning in Massachusetts, little did we know that within a week it would be up to 17 degrees. Although I had gone expecting blizzard conditions, this mild weather was not the most unexpected thing about our trip to Williams College, Massachusetts.
Firstly, we were all a bit shocked about how quiet the town was, especially when we arrived the day before everyone was due back for Winter Study. Compared to the tourist bustle of Oxford, it almost felt like a step back in time, especially visiting the single-screen, independent cinema to watch Little Women on our first night. Despite Williamstown being small and quiet, we found plenty to do and were amazed by the huge art scene in this small town in rural Massachusetts. We took a 15-minute walk (which our hosts found surprising!) down to the Clark Art Institute on our first full day there and found an array of pieces by the likes of Degas, Renoir and Turner. The following weekend we took a trip to the neighbouring town of North Adams to explore the biggest contemporary art museum in the US, MASS MoCA.
We also embraced the physical activities Williams College has to offer, making the most of their gym and Olympic-size swimming pool, and taking part in a sunrise hike up one of the many mountains surrounding the town. Entering into the spirit of an American college education, we also attended an ice hockey and a basketball game, which were very entertaining.
However, the thing that shocked me the most about Williams College was how nice all the people were, from the professors to the students, including the WEPO (Williams at Exeter Programme in Oxford) students from last year who we got to catch up with. Both in class and out, the Williams students tried to include us wherever they could, inviting us to house parties and even driving us to Bennington, Vermont in our quest to tick another state off our list. In the journalism course I took the format was much more collaborative than at Oxford, which gave me a great opportunity to get to know the students in my class. Although I missed out on a trip to New York, I did get the fantastic opportunity to meet travel photographer Ben Brody who came to give a talk to the class.
On our final day we got the opportunity to spend a few hours exploring Boston which, for a history student studying the American Revolution next term, was very exciting. Overall, our trip to Williams College was undoubtedly one to remember and we are very grateful to them for having us and for being so welcoming.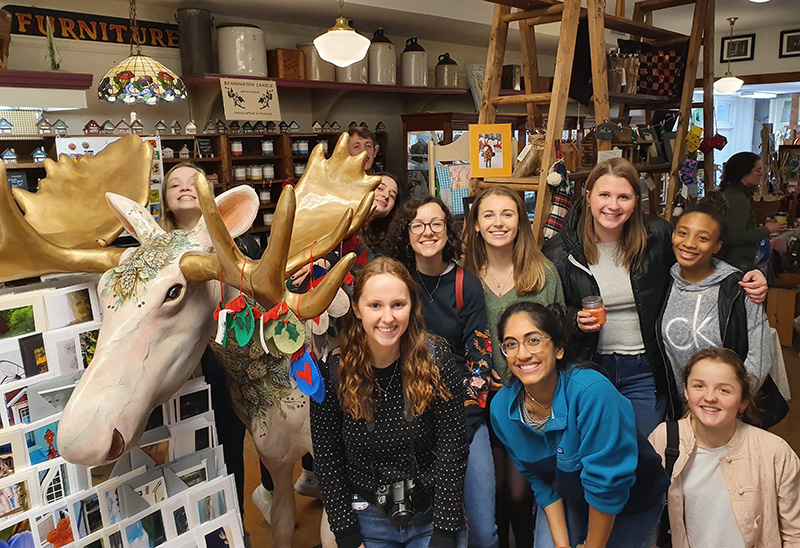 Exeter students and students from last year's WEPO programme go shopping together