Exeter students win Sailing Cuppers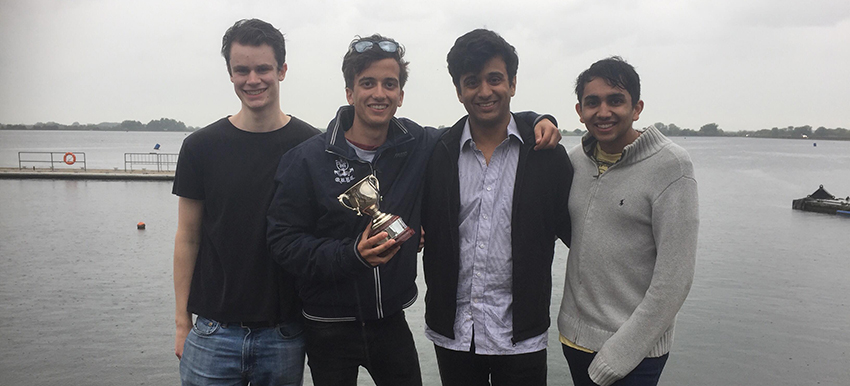 The winning crew, left to right: Gideon Lewis, James Scott, Aniruddha Voruganti, Anuj Doshi
Congratulations to four students from Exeter College who have won the Sailing Cuppers for 2018.
Aniruddha Voruganti (2016, Medicine), Gideon Lewis (2017, Physics), Anuj Doshi (2017, Mathematics), and captain James Scott (2017, Fine Art) took to water on 12 May. In challenging conditions they secured a hard-fought and narrow victory over Christ Church to take first place. Exeter's team has now been invited to race in Cambridge's equivalent of Cuppers.
Speaking afterwards, James said: 'Sailing may be seen as a niche sport, however to send an eight-person squad to the Cuppers competition highlighted a mixture of hidden talent and willing to try the sport within college. Yes it was great to come away with the win, but the Exeter spirit made the day hugely enjoyable in itself. We hope to have an even bigger and stronger squad to put forward next year!'
Congratulations to the whole team on a superb win, and we wish them the very best of luck in next year's races.