Exeter to host week-long study programme for school pupils
Exeter College is delighted to announce that it will welcome 12 school pupils aged 14 and 15 for a week-long residential study programme in June.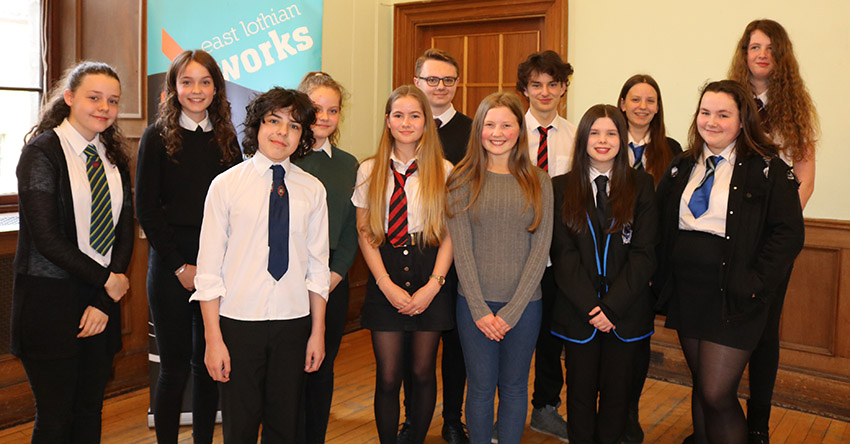 The 12 pupils who will take part in the week-long residential study programme
Exeter College is delighted to announce that it will welcome 12 school pupils aged 14 and 15 for a week-long residential study programme in June. The pupils, who have been selected for their potential for independent, creative thinking, and a whole-hearted commitment to learning, will come to the College for an intensive and academically rigorous programme of tutorials, seminars, and essay writing.
The pupils have been selected from state schools in East Lothian, Scotland, through a combination of challenging philosophical and mathematical questions plus the submission of a personal statement. This will be the first residential study programme of its kind held by an Oxford college for students from Scotland, a part of the UK underrepresented among Oxford undergraduate students.
Pupils will stay with full bed and board at Exeter's historic site in Turl Street and will have the opportunity to explore the many different parts of life, work, and play that make up an Oxford education. They will take part in tutorials, a distinctive component of an Oxford education, providing them the opportunity to explore ideas and gain new perspectives through talking in-depth about subjects and receiving individual feedback and constructive criticism from expert tutors. In addition to the tutorials, the week will include a series of interactive seminars and visits to some of the University's museums and departments.
The programme was conceived by Exeter DPhil candidate Andrew Small, who grew up in East Lothian and came to Exeter College in 2016. Andrew has been instrumental in developing the programme, with support from members of Exeter College and East Lothian Council. Following the selection of the 12 pupils Andrew said: "The enthusiasm of the pupils for the project has been infectious. My hope is that this is just the beginning of a long-standing partnership between the College and East Lothian. I am delighted to have played a part in creating a link between my two homes, East Lothian and Exeter College. I would like to thank Sir Rick Trainor, Rector of the College, and Professor Conall Mac Niocaill, the tutor for admissions, for their full support. Without them, this programme would have remained just an idea."
It is hoped that the programme will not only enrich the experience of the 12 pupils and inspire them to consider applying to study at Oxford, but also help raise aspirations among their fellow students in East Lothian as the pupils return home and share their experiences of Oxford. The residential study programme forms part of the College's strategy to encourage applications from the best possible candidates, irrespective of their background. If this pilot programme proves successful it is envisaged it would run again in future years.
The Rector of Exeter College, Sir Rick Trainor, commented: "We are delighted to be welcoming these excellent students to Exeter College, where they will receive tuition from world-leading academics, and see all that Oxford University has to offer. The College is committed to seeking out talented students from all areas and backgrounds, and this new initiative is part of that process. We look forward to this partnership developing over the coming years, and would like to thank Andrew Small and East Lothian Council for their assistance in setting up the programme."