Exeter's history told through sixty objects – pre-order your copy today!
We are delighted to share a new book that explores sixty fascinating objects owned by Exeter, their association with the College and their part in Exeter's long history.
Exeter College possesses many beautiful, rare, and interesting 'objects': not just pictures, silver and manuscripts, but also curiosities and memorabilia of all kinds from the College's 700-year past. In Exeter College in Sixty Objects, lead author Dr John Maddicott (Emeritus Fellow in History) and other contributors present a selection of such objects, each one illustrated in colour and with an accompanying commentary.
Letters from Queen Elizabeth I and Winston Churchill, J. R. R. Tolkien's Sub-Rector's card, William Morris's purse and pipe, a gold cup, a Japanese lacquer cabinet, the Bohun Psalter, a manuscript annotated by Petrarch, and 18th century plans for a striking Palladian building that was never built are among the fascinating objects presented in the 136-page book. Exeter College in Sixty Objects is an entertaining and enlightening contribution to the history of the College and to the wider history of the material world, which reveals Exeter's celebrated and hidden treasures alike.
You can pre-order your copy now for £10 plus post and packaging (£4 for UK addresses and £8 for overseas). Books will be distributed in April. They will also be available directly from the Porters' Lodge.
To pre-order your copy today click here and use the payment description "[your surname]/Exeter in 60 Objects". Please remember to include the appropriate payment for post and packaging, as noted above. After making your online purchase please email development@exeter.ox.ac.uk to confirm your preferred postal address.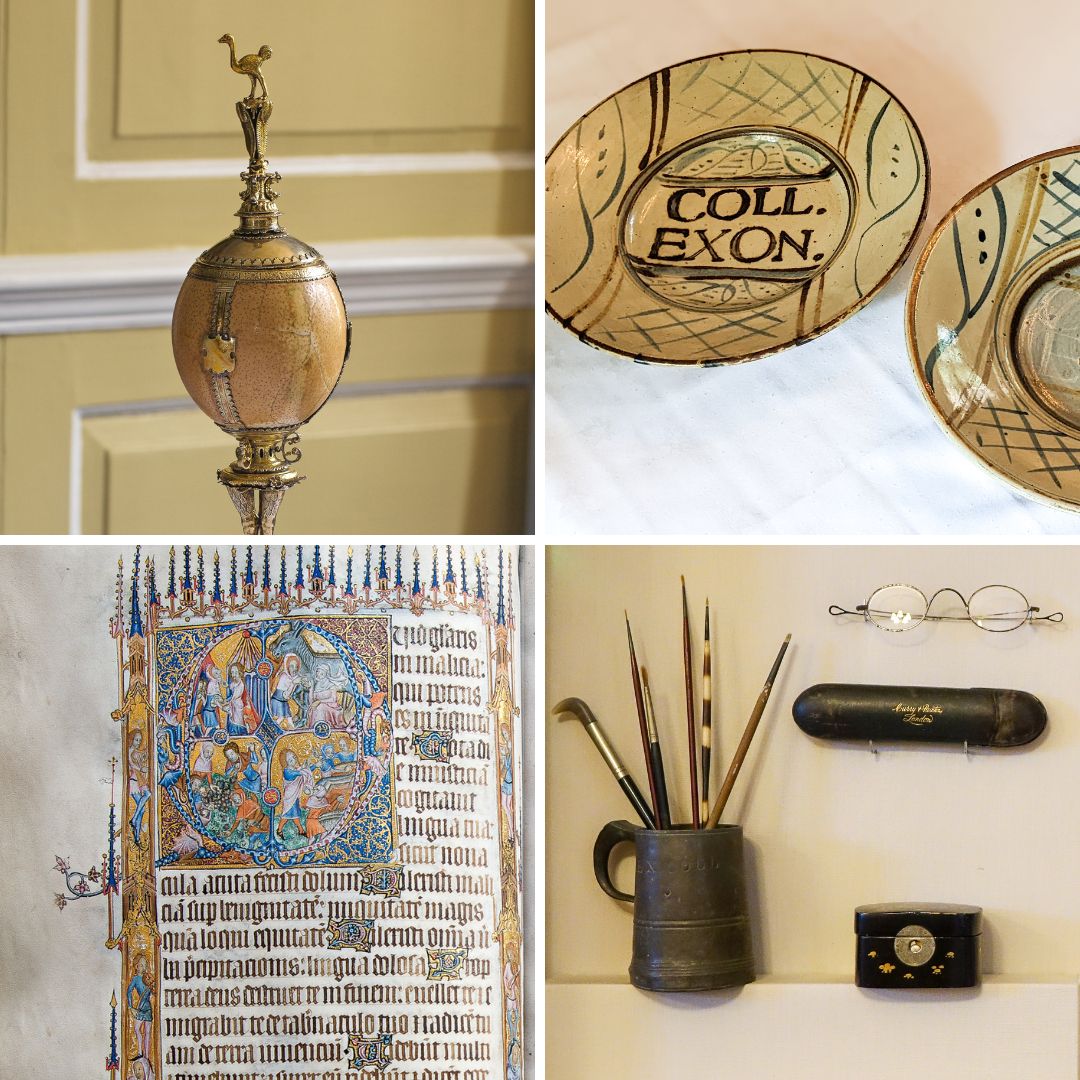 Clockwise from top left: An ostrich egg cup from 1610, two fruit dishes or chargers by celebrated potter and Exeter alumnus Michael Cardew (1977), memorabilia once belonging to Exonian William Morris (c.1890), and a page of the Bohun Psalter (c.1360–1400)